Every time I bring home some meyer lemons, I always think I'm going to make some curd and then never get around to it. This time, I was determined to make it happen and I'm so glad I did!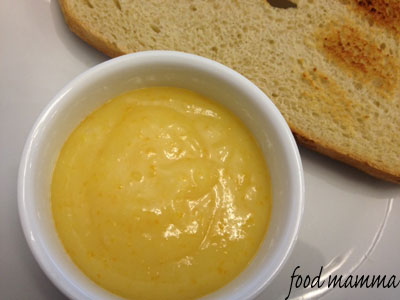 Lemon curd is made by combining lemon juice with butter, eggs and sugar and cooking it into a custard. This tangy and sweet curd is bright, both in taste and colour, I used a recipe by Ina Garten and it was super easy to make. The result was a curd that was luscious and creamy.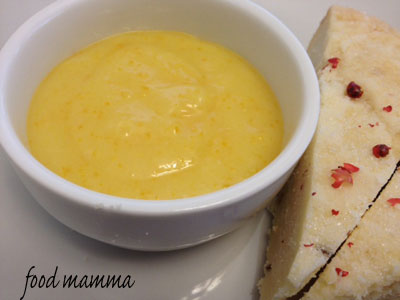 Light and refreshing, the curd is perfect with fruit, spread on toast or even served with a slice of some peppercorn shortbread.
Meyer Lemon Curd
From Ina Garten, Barefoot Contessa
3 lemons
1 1/2 cups sugar
1/4 pound unsalted butter, room temperature
4 extra-large eggs
1/2 cup lemon juice (3 to 4 lemons)
1/8 teaspoon kosher salt
Using a carrot peeler, remove the zest of 3 lemons, being careful to avoid the white pith. Put the zest in a food processor fitted with the steel blade. Add the sugar and pulse until the zest is very finely minced into the sugar.
Cream the butter and beat in the sugar and lemon mixture. Add the eggs, 1 at a time, and then add the lemon juice and salt. Mix until combined.
Pour the mixture into a 2 quart saucepan and cook over low heat until thickened (about 10 minutes), stirring constantly. The lemon curd will thicken at about 170 degrees F, or just below simmer. Remove from the heat and cool or refrigerate.