There's no better way to celebrate Cinco de Mayo than with great Mexican food. The possibilities are endless from fried fish tacos, delicious desserts like tres leches cake (or coconut, even better) or eating at your favourite Mexican restaurant. We found a new mexican fave at our house – Tequila Lime Chicken.
Since finding this recipe, we have had this chicken a few times. It is full of flavour and the resulting chicken is tender and juicy. It's delicious served with some creamy guacamole or some grilled corn. Perfect for a crowd!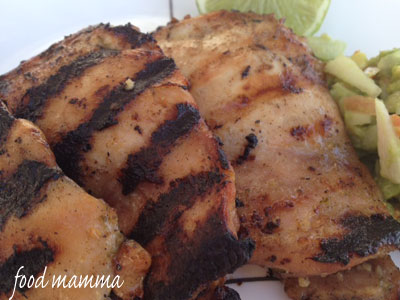 Tequila Lima Chicken
Adapted from Once Upon A Chef
3 TB olive oil
3 TB tequila
3 tsp lime zest (zest of 2 limes)
4 garlic cloves, minced
1/2 tsp ground coriander
2 tsp honey
salt
pepper
4 boneless skinless chicken breasts or thighs
Combine all ingredients except chicken breasts in a 1 gallon freezer bag. Close the bag and squish marinade around to mix. Add chicken breasts and massage marinade into meat until evenly coated. Seal the bag and place it in a bowl in the refrigerator (the bowl protects against leakage); marinate for at least 6 hours or overnight.
Grill on the bbq until chicken is cooked.