The clean up in Calgary is underway and it has been amazing to see everyone chip in one way or another to get the city up and running. Despite the fact that the Stampede grounds were affected in a huge way with the flood, the Calgary Stampede will go ahead, "come hell or high water". The greatest show on earth will go on!
I was excited to be asked to participate once again in Hidden Valley Ranch's Ranchify Recipe Challenge. Last year, I submitted cheesy ranch fried pickles, spicy ranch shrimp kebabs, and cherry tomato ranch meatballs. I had fun creating recipes again this year, one of them being the wasabi ranch glazed panko-crusted salmon (whoa, that's a mouthful!). Ned Bell will be judging all the recipes and will demo the winning recipe at the Calgary Stampede.
Salmon is a great go-to, especially since Q eats it without complaining. Paired with a salad, it's a quick and tasty meal.
The ranch dressing went really well with the wasabi and the soya sauce combined with the panko created a delicious Japanese-inspired meal. The salmon was moist and the wasabi ranch glaze added a huge amount of flavour. This will definitely be making the rounds again.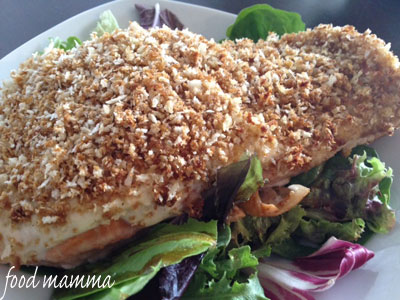 Wasabi Ranch Glazed Panko-Crusted Salmon
1/2 cup panko bread crumbs
Zest of 1/2 lemon
1/2 tsp minced garlic
1 TB soya sauce
3 TB Hidden Valley Ranch dressing
1/4 tsp wasabi
salmon
Olive oil
Sesame seeds
Preheat the oven to 350 degrees.
Combine the dressing and the wasabi and put a layer of the mixture on the salmon filets.
Combine the panko with the zest, garlic and soya sauce. Press the breadcrumbs on the salmon filets on top of the layer of ranch dressing.
Heat oil in an oven-ready pan. When hot, place the salmon filet, skin side down and sear until the skin is brown. Drizzle olive oil on top of the breadcrumbs and place in the oven until cooked.
Sprinkle with sesame seeds and serve with salad.