I'm so excited for my friend Cheryl's new book, A Month of Sundays. It just came out last week and I was excited to receive my copy.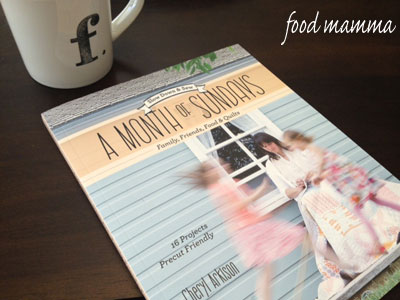 Cheryl's first book, Sunday Morning Quilts, came out last year. A few months later, Cheryl was already photographing her next book and Q and I were very excited to be involved. We went over one afternoon while the talented Kate Inglis worked her magic behind the camera. You can find my little guy's picture in the book, sitting in a tree.
Even non-quilters like me can enjoy the book which has beautiful projects that Cheryl has completed as well as some fun things that her and her family enjoy on the weekend. The projects are a work of art and Cheryl is quite the artist with her gorgeous quilts.The book also has a chapter on Sunday dinner with mouth-watering recipes for roast chicken and lemon curd. There's also a recipe for a very tasty appetizer of slow cooked tomatoes. I couldn't get enough of these!
I'd love to support Cheryl's book and what better way than to give away a copy to a reader. If you live in the Calgary area, feel free to enter. Cheryl has agreed to sign the book making it the perfect keepsake! Enter below. You can purchase Cheryl's book on Amazon or Chapters and visit Cheryl's website for more info.