I'm not one for resolutions but meatless Monday is something that we are trying to implement around here. It's not too hard to go meatless especially when it's so easy to whip together a pasta or a big pot of soup. This week, we decided to go Indian. There are so many vegetarian options and the Indian flavours make you almost forget that you're skipping out on the meat.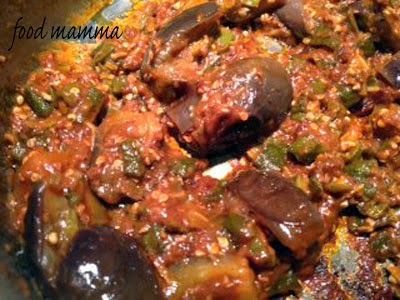 This curry is super easy to put together. Two vegetables and a few items from the pantry and you've got yourself a tasty meal. In my case, I've also got myself a happy hubby, who sometimes complains that I don't make enough Indian food.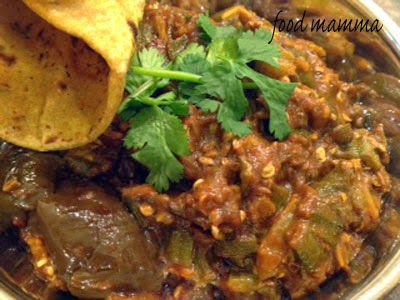 Eggplant and Okra Curry
1 pound okra, cut into rounds
6 to 8 small eggplants
3 TB fried onions
3 TB crushed tomatoes
1 tsp tomato paste
1/2 tsp cumin powder
1/2 tsp coriander powder
1/4 tsp turmeric
1/2 tsp salt
water
oil
Heat oil on medium heat so that it covers the bottom of a pan. Add the okra and let cook until golden. Stir occasionally, so that it doesn't stick to the bottom of the pan.
Combine the tomatoes, paste, and spices. Make little exes on the eggplants and fill them with a little bit of the spice mixture.
Once the okra start looking golden, add the onions and the remaining spice mixture. Add the eggplants along with a few tablespoons of water. Cover and cook over low heat until the eggplant are tender and start falling apart. Add water if necessary.
Top with cilantro and serve with chapati.