I love a good crepe. Whether it be savoury for lunch or dinner or sweet for a perfect dessert, they are so versatile.
When deciding what to have for dinner the other night, I noticed some smoked salmon in the freezer. With spinach and cheese in the fridge, crepes just seemed like the way to go.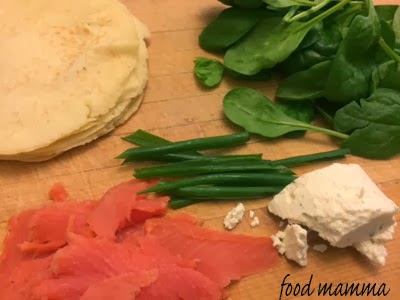 I decided to go with a recipe from Alton Brown. As intimidating as he seems, he really knows his stuff! This recipe comes together really quickly in a blender. Brown suggests placing the batter in the fridge for an hour, allowing the bubbles to subside thereby making it less likely for the crepes to tear.
Usually with crepes, they say one for the pan. That was true in this case, but the following crepes turned out great! They cooked quite quickly and dinner was on the table in less than half an hour. Smeared with Boursin and topped with the salmon, spinach and green onions, these were delish!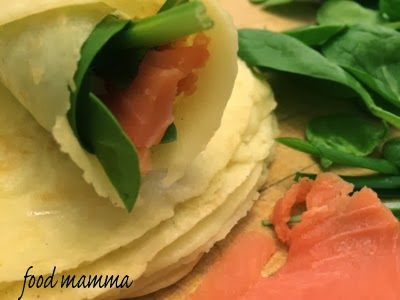 This recipe made quite a few crepes, meaning we had some for dessert as well! Dulce de leche was poured down the middle, and rolled into the perfect sweet ending.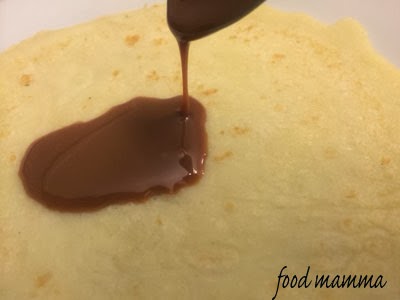 Crepes
From Alton Brown, Good Eats
2 large eggs

3/4 cup milk

1/2 cup water

1 cup flour

3 tablespoons melted butter

Butter, for coating the pan
In a blender, combine all of the ingredients and pulse for 10
seconds. Place the crepe batter in the refrigerator for 1 hour, allowing the bubbles to subside.
Heat a small non-stick pan. Add butter to coat. Pour 1 ounce of
batter into the center of the pan and swirl to spread evenly. Cook for
30 seconds and flip. Cook for another 10 seconds and remove to the
cutting board. Lay them out flat so they can cool. Continue until all
batter is gone.