Opening in theatres today is a movie which I can't wait to see – Dr. Cabbie. It's a plot that may ring true for so many immigrant professionals who end up unable to practice what they were trained to do in their homelands. Vinay Virmani plays Deepak, an Indian doctor who emigrates to Canada with big dreams. Unfortunately his training is not recognized, he is forced into life as a taxi driver.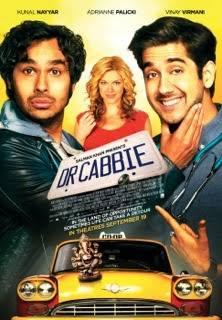 The movie has some great actors such as Kunnal Nayar from Big Bang Theory, Adrianne Palicki and Rizwan Manji.
Vinay was kind enough to talk about everyone's favourite subject – food!
Coffee or Tea?
I love my coffee, especially in the morning. I need my Nespresso to get
me started. There's a Roma flavor that is very woody and roasted.
What is your signature dish?
I'm not much of a cook, but I enjoy making simple dishes like grilled
chicken marinated in lemon and spices, with a green salad.
What kind of food do you go out for the most?
I'm a big sushi guy. I could eat it everyday. Love spicy tuna rolls!
What would your last meal include?
It would have to be my mother's home-cooked Indian food. Butter chicken, Indian-spiced potatoes and fresh crispy roti.
Check out Vinay and the awesome cast of Dr. Cabbie, in theatres today!