It was my mom's birthday on Tuesday. We had a fun day getting manicures and pedicures done. We didn't manage to go for dinner until the next day because of all of Q's extra curricular stuff but there was time for cake!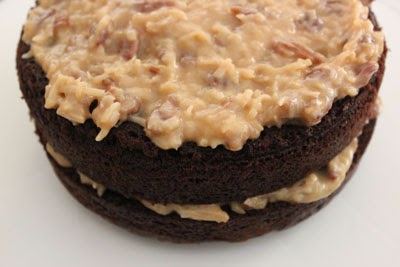 For mom's cake, I wanted to try something new. Although I had never tasted German chocolate cake, it always seemed like something I would love. Nuts and coconut and chocolate – who wouldn't?.
I had received a package of The Decadent chocolate cake mix from President's Choice so I cheated with a mix. It was a delicious cheat and the cake turned out moist and delicious.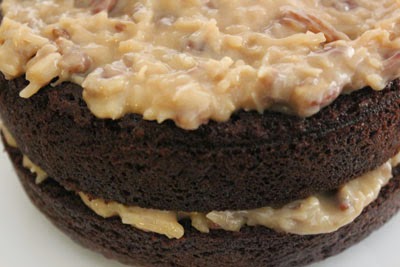 As for the filling/frosting, it was cooked on the stove and then cooled before using on the cake. It was sooo good! I was a struggle to not eat it by the spoonful as I frosted the cake. I won't tell you if I won that battle or not. This is definitely one to make again and again.
Coconut Pecan Frosting/Filling for German Chocolate Cake
From KraftRecipes.com
4 egg yolks
1 can evaporated milk
1 1/2 tsp vanilla
1 1/2 cup sugar
3/4 cup butter
7 oz flaked coconut
1 1/2 cup chopped pecans
Beat egg yolks, milk and vanilla in large saucepan with whisk until well blended. Add sugar and butter; cook on medium heat 12 min. or until thickened and golden brown, stirring constantly. Remove from heat.
Add coconut and nuts; mix well. Cool to desired spreading consistency.