There's something about a bundt cake. It looks great, provides comfort and always seems to impress.
My mom makes really amazing banana cupcakes.They are moist and flavourful and perfect for on the go. I decided to use her recipe but made a bundt to serve for dessert. The ripe bananas made the cake sweet and the chocolate paired so well with the fruit.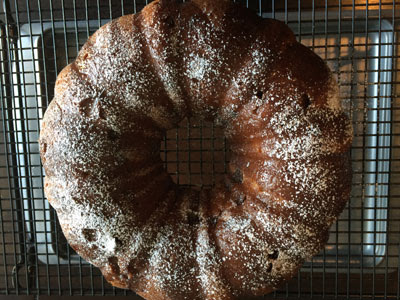 The cake itself was fine on its own but I thought I'd make it even better – I added chocolate on top! I made a quick ganache and once it was a little cool, I poured it on top of the cake. It took it to another level. Chocolate always seems to have that effect.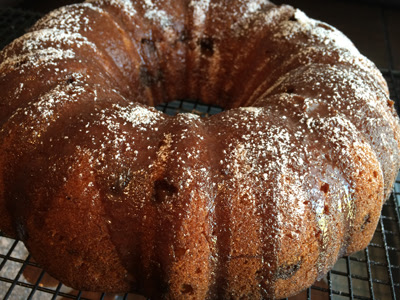 Banana Cake
1 cup butter
1 cup sugar
2 eggs
2 ripe bananas
2 1/4 cup flour
1/2 tsp baking soda
1 tsp baking powder
1 cup yogurt
1/2 cup chocolate chips
1 cup chocolate chips
1 cup whipping cream
icing sugar
Cream together the butter and sugar. Add eggs, one at a time, until incorporated. Mash the bananas and add to the mixture.
Add the flour, baking soda and baking powder. Add in the yogurt and the chocolate chips.
Pour the batter into a greased bundt pan or muffin pan. Bake at 350 degrees for 45 minutes.
For the topping, heat the whipping cream until it starts boiling. Pour over the chocolate chips. Let cool a bit and then pour on top of the cooled cake. It's best to place the cake on top of a rack placed on top of a tray. Dust with icing sugar.