The slow cooker is always welcomed around here, especially on the weekend. It's nice to dump things in in the morning, enjoy our day as a family and still sit down to a great home cooked meal. A couple weeks ago, we enjoyed these beef ribs with fig bbq sauce. These saucy ribs are tender and fall off the bone. Easy and tasty – perfect for a busy Sunday.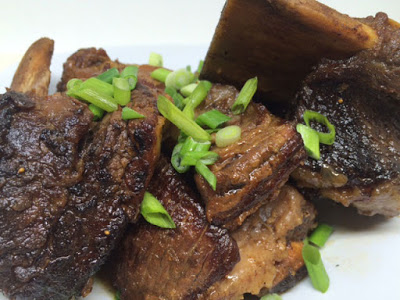 Slow Cooker Beef Ribs
1 pound beef short ribs
1 onion, diced
3 cloves garlic, chopped
1/2 cup ketchup
1/2 cup balsamic vinegar
3 TB fig spread
1 tsp cumin powder
1 tsp coriander powder
1 tsp paprika
salt
pepper
1 cup water

Pat the ribs dry and sprinkle with salt and pepper. Heat some oil in a pan and sear the meat on all sides. Place in slow cooker. In the same pan, add a little more oil and add garlic and onions until softened. Add the ketchup, vinegar, fig spread and spices and cook for a few minutes. Add the water and pour the sauce over the ribs. Cook in the slow cooker on low for six to eight hours.
1 onion, diced
3 cloves garlic, chopped
1/2 cup ketchup
1/2 cup balsamic vinegar
3 TB fig spread
1 tsp cumin powder
1 tsp coriander powder
1 tsp paprika
1/2 poblano pepper, roasted
salt
pepper
oil
sriracha, as hot as you like it
Heat some oil in a pan and add the onions and garlic. Add the ketchup,
vinegar, fig spread and spices and cook for a few minutes. Add the
mixture to a blender along with the pepper and sriracha. – See more at:
http://www.foodmamma.com/2015/09/yyc-pizza-week-blogger-challenge.html#sthash.BgiEKbV9.dpuf