Valentine's Day is this weekend, and as fun as it is to go out, sometimes it's nice to have a quiet meal at home…or, a loud and crazy if you have the kids at home with you.
Nutella Pot De Creme is the perfect dessert to celebrate the day of love. It takes minutes to prepare, so you can spend the day with your loved one, and is super easy. The fancy sounding chocolate pudding is mousse-like in texture and is creamy and chocolatey. The fact that it has Nutella makes me love it even more.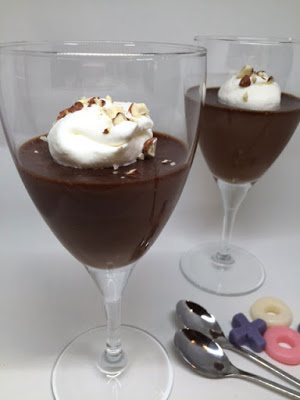 These luscious desserts take a couple hours to set so they can easily be made in advance.You can make this in large bowl or make individual desserts by placing them in glasses. Makes it look a little more fancy. Top it with a dollop of whipped cream and you've got yourself something to spoil your Valentine.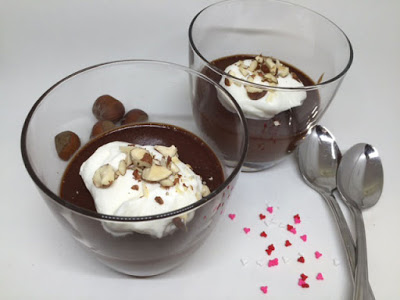 I'm excited to be participating in a Valentine's Day Blog Hop with some of my favourite foodies. Check out posts by: Merry About Town, Bakerbeans, Dish N The Kitchen and Edible Life in YYC.

Nutella Pot de Creme
1 cup chocolate chips
1/4 cup Nutella
2 egg yolks
1 1/2 cup whipping cream
1 cup whipping cream
1 TB icing sugar
In a blender, combine the chocolate chips, Nutella and egg yolks and blend together. Meanwhile, heat up the whipping cream until bubbles start to form but not boiling. Add the whipping cream slowly through the lid of the blender while blending on low. Once combined, pour into some bowls or glasses and place in the fridge to set, approximately 2-3 hours.
Blend the cream and the sugar until whipped. Place a dollop on top of each pot de creme.