It's looking like its going to be another fantastic week. Days that are hot, the kitchen is the last place I want to be. We happily throw things on the bbq, while hanging around on the deck. We tend to eat a little lighter when it's hot and salads become main meals, using whatever is in season.
Grilling stone fruits like nectarines and plums and then adding them to greens makes a delicious salad, definitely not boring. The fruit takes minutes to cook and really brings out the flavour of the fruit. Olive oil and balsamic are all that's needed to dress the salad. We also can't forget the cheese, the perfect finishing touch.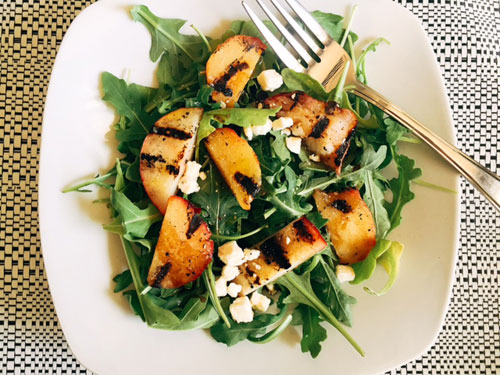 Grill the fruit by cutting it in half, rubbing it with a little oil and placing it on the bbq. After a couple of minutes, remove from the heat and place on top of your favourite greens, like arugula. Drizzle with extra virgin olive oil and balsamic vinegar, add salt and pepper and top with a sprinkling of feta. This is great as-is or made heartier with some chicken or beef.