There's not many people that I know who don't like cheesecake. These Cheesecake Stuffed Strawberries are perfect when you feel like cheesecake but don't feel like all the work. They are great for entertaining because they take minutes to make, leaving you with lots of time to focus on other things. The sweetened cream cheese mixture is piped into the centre of a strawberry and topped with graham cracker crumbs. All the components of a cheesecake in one bite!
I prefer the idea of turning the strawberry upside down and just make a couple cuts to fill the luscious cheese mixture in. You could make a hole and scoop out the inside but why waste the delicious fruit?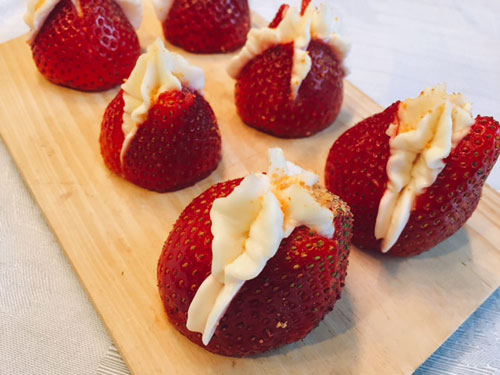 I'm excited to participate in the Canadian Food Creatives Strawberry Collaboration. Thanks so much to Amanda for hosting! Check out all the fabulous recipes and see this recipe below.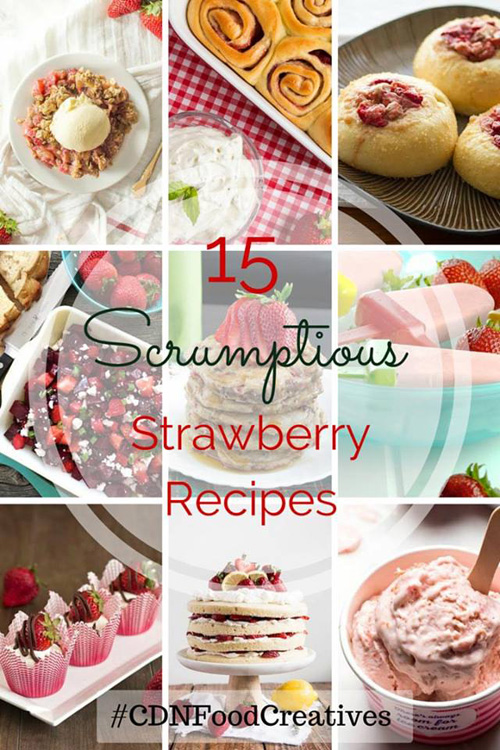 Cheesecake Stuffed Strawberries by Food Mamma
Chocolate Cupcakes with Chocolate Covered Strawberries by 365 Days of Easy Recipes
Dark Chocolate Strawberry Oatmeal Pancakes by She Bakes Here
Rituals + Strawberry, Rhubarb, Ginger Shrub by Eating Niagara
Simple Macerated Strawberries by She Loves Biscotti
Strawberry Cheesecake Popsicles by Homemade & Yummy
Strawberry Ice Cream with Drunken Rhubarb by Sugarlovespices
Strawberry Rhubarb Crumble with Toasted Almonds by Crumb Kitchen
Strawberry-Rhubarb Streusel Buns by Crumb: A Food Blog
Strawberry Rolls with Basil Cream by The Cinnamon Scrolls
Strawberry Shortcake with Lavender Lemon Cream by My Kitchen Love
Strawberry Streusel Shortbread Bars by The Bluenose Baker
Strawberry Vanilla Cream Tart by Tiny Sweet Tooth
Yogurt Cake with Roasted Strawberries and Rhubarb by Making Healthy Choices
Cheesecake Stuffed Strawberries
15-20 strawberries
1 block cream cheese
1/4 cup icing sugar
1 tsp vanilla
2 TB graham cracker crumbs
Cream the cheese, icing sugar and vanilla until combined.  Put the mixture into an icing bag.
Wash and dry the strawberries. From the bottom of the strawberry, make two cuts but not all the way down. Pipe the cheese mixture into the cut, letting it fill to the top. Sprinkle the filled strawberries with the graham cracker crumbs.