Do you know that I have never cooked with rhubarb? Until this year that is. We had a generous neighbour who gave me some to try. Thanks to a call out on Instagram, I got so many ideas. Needless to say, I've been busy trying some recipes.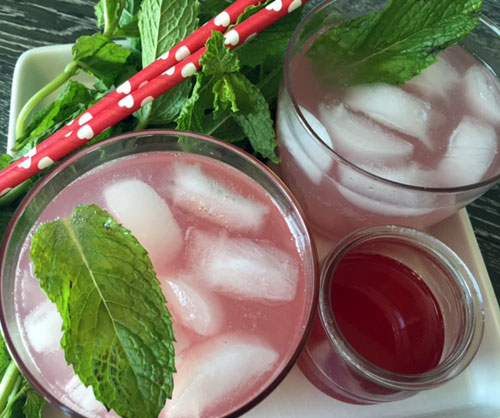 Thanks to my friend Cheryl, she suggested a rhubarb simple syrup which could be added to club soda or water. I tried this tonight and loved it!
Such a simple recipe but so much flavour – and so refreshing for summer!
Rhubarb Spritz
1 cup sugar
1 cup water
2 cups rhubarb, chopped
mint
sparkling water
Bring the water, sugar and rhubarb to a boil. Strain and let cool.
Add ice and 1/4 cup of the simple syrup to a glass and top off with sparkling water. Add some mint for more flavour.