The best part of summer is all the ice cream. Sure we eat ice cream all year round but it just seems more justified in the heat. When I saw that our chocolate mint that we planted in the garden had grown as much as it did, I knew that it was time to make some ice cream.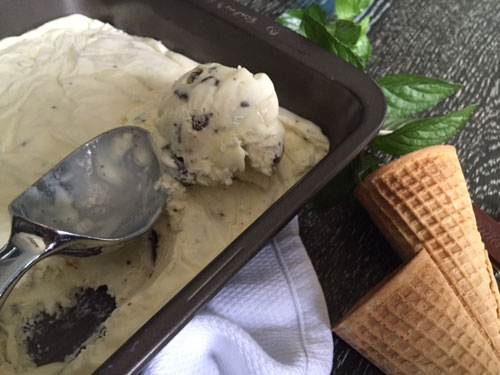 It seems that this is the season of no churn ice cream and I had to try it for myself. Basically you whip up 2 cups of heavy cream and fold it into 1 can of condensed milk and freeze. Easy peasy!
To make the ice cream minty, I simmered the cream with a big stem of chocolate mint until the flavour was infused. I let the cream cool in the fridge and then whipped it up in my mixer. Condensed milk is a favourite of mine and I can literally eat it like pudding. Needless to say, the whole can didn't make it into the ice cream mixture. Once everything was combined, I chopped up ten mint chocolates and added it to the mix. The creamy mix was then poured into a pan and frozen for a few hours.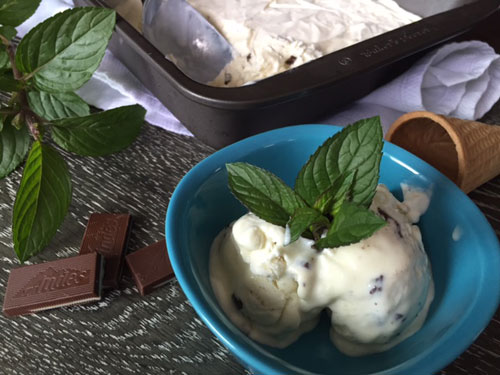 The resulting dessert was creamy and delicious and was a hit with everyone at our house. It's a bit dangerous to know this easy method. I'm already planning my next batch!
No Churn Mint Chocolate Ice Cream
2 cups whipping cream
1 can condensed milk
1 stem of mint or chocolate mint
10 chocolate mints, chopped
Simmer the whipping cream with the mint until the flavour is infused into the cream, approximately 15 minutes. Let cool. Whip the cream. In a large bowl, add the condensed milk and gently fold the cream into the milk. Add the chopped chocolate and pour the mixture into a loaf pan or an 8″ x 8″ pan. Let freeze for a few hours or overnight.