Looking for something sweet to pack into your little one's lunchbox? Shortbread cookies are a hit with everyone. They are super easy to make and a great vehicle for sprinkles. Although whipped shortbread are my go-to, you can roll out this dough and cut out your favourite shapes.
Here's hoping for a happy school year!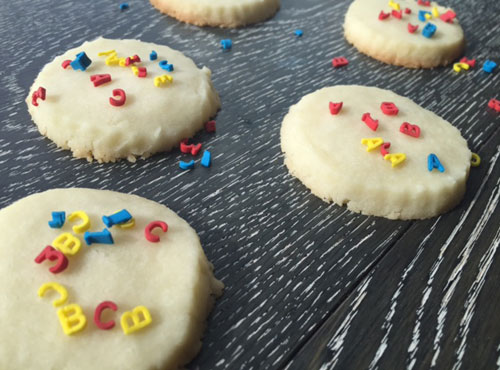 Roll-Out Shortbread Cookies
1 cup butter
1/2 cup icing sugar
1/2 cup corn starch
1 1/2 cups flour
Cream the butter and icing sugar. Add in the corn starch and flour until a dough forms. Wrap the dough in plastic wrap and chill for an hour.
Roll out the dough and cut with your favourite cookie cutter. Dab some water on top before adding sprinkles.
Bake at 350 degrees for 15-20 minutes.