September is here and looking at the calendar, life is about to get crazy. From school to activities to meetings, time is a bit limited. Anything to simplify our lives, we'll take it. Like SPUD.
My friends have raved about SPUD and how wonderful it is. Thanks to SPUD, I was able to try it out for myself and have to agree – it's pretty awesome. You do all your shopping online at your convenience, which is perfect because sometimes I can't get onto my computer until the kids are in bed. You pay online and they drop off a reusable box on your delivery day. They pack the products really well, so all the refrigerated and frozen items are in insulated bags with ice pouches.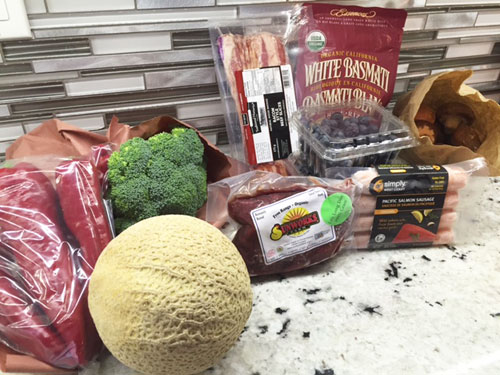 Not only does SPUD make life easier for you, they make things easier on the environment by partnering with local producers and farmers. I love that on the website, it shows how far each product travels to get to you, helping you to buy local. Not only do they have the necessities like fruits and veggies, they have some great products like salmon sausages and beef bacon. Of course, we tried both (so good!). Try out SPUD for yourself. If you are in a SPUD delivery area, use this code to save $20 off your first order: CRCAL-JADFAA.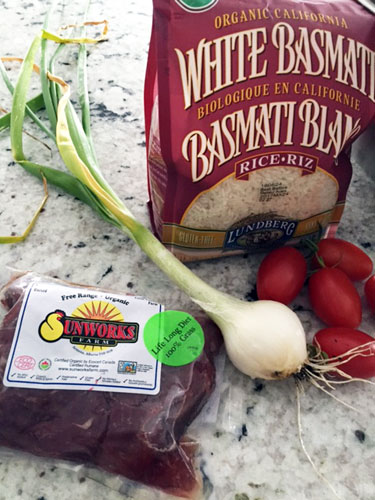 One of the things I made using ingredients from my SPUD order and from my garden is Akni. Akni is an aromatic rice dish made with either chicken or beef. Influenced with East African and Indian flavours, it is full of flavour and easy to make and is one of those dishes that are perfect for feeding a crowd. This goes great with yogurt and onions.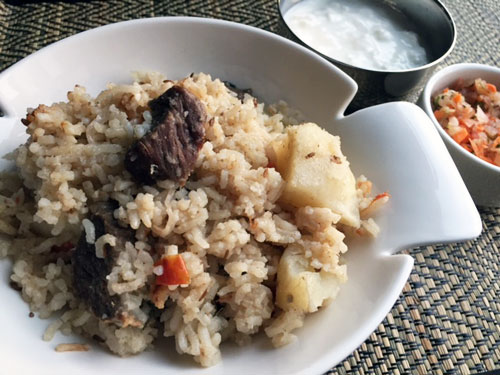 Beef Akni
1 lb beef, cubed
2 large tomatoes, diced
2 tsp ginger paste
2 tsp garlic paste
2 cups water
salt
2 cups rice
1 onion, sliced
3 cloves
4 small cinnamon stick pieces or 2 whole cinnamon sticks
3 cardamom pods, slightly cracked open
1 tsp cumin seeds
1 tsp ginger
1 tsp garlic
1 TB lemon juice
2 large potatoes, peeled and cubed
cilantro
In a large pot, add the first six ingredients. Bring to a boil and then turn the temperature to medium and let it simmer for about an hour, until the beef is tender. If you use a pressure cooker, this can be done in less than 20 minutes. Be sure to reserve the stock. While the beef is cooking, soak the rice in water.
In a large pot, heat some oil and cook the onions. Add the spices and cook until the onions are translucent. Add the meat and cook for a few minutes. Add the drained rice and 4 cups of reserved stock/water. Add salt, potatoes and a sprinkling of cilantro leaves. Cover the pot and cook on medium heat until the water is absorbed. Place the rice in a 300 degree oven for 20 minutes until the rice is completely cooked.