One of our favourite things to make for the holidays in Christmas Crack. Saltine crackers topped with caramel and chocolate – so good, it's addictive.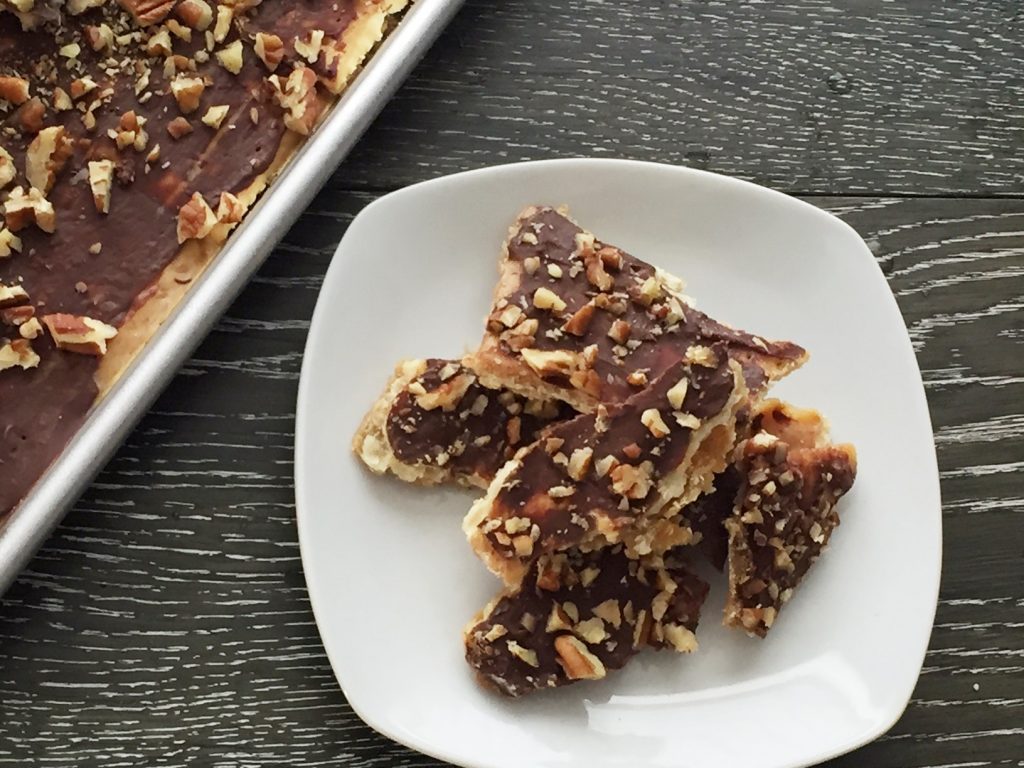 We make loads and they are a staple in the goodies we pass on to family and friends. You would think it's so good, you can't make it any better. But we did! It's amazing how much flavour some toasted pecans can add.
Check out how I made it!
Ingredients
1 1/2 sleeves salted saltine crackers
1 1/4 cups butter
1 1/4 cups packed brown sugar
1 1/2 cups chocolate chips
1 cup toasted pecans, chopped
Instructions
Preheat the oven to 350F. Line a rimmed baking sheet with parchment, foil or a silicone mat to prevent clean-up after (and to make it easier to get the crack out); line with saltine crackers, placing them right together.
In a medium saucepan, bring the butter and brown sugar to a boil over medium-high heat. Let it bubble for 3 minutes, then remove from the heat and pour it evenly over the crackers. Spread it with a knife to fill any gaps.
Place in the oven and bake for 8 to 10 minutes, until deep golden.
Remove from the oven, let cool for a few minutes and then scatter chocolate chips overtop while the caramel is still hot. Let sit for a few minutes, then spread with a knife until smooth. Sprinkle the pecans on top.
Cool completely before breaking into pieces.
7.8.1.2
1
https://foodmamma.com/2016/11/pecan-crack/