I love the holidays! The lights, the gatherings, Santa…and the baking! It's the season for butter tarts, chocolates and cookies. Lots of cookies.
These candy cane kissed chocolate chip cookies take a tried and true recipe doctored up a bit for the season . Holiday chips, in red, white and green with a slight minty taste, are added to the batter with semi-sweet chocolate chips. Candy Cane Kisses adorn the tops of the cookies once they come out of the oven. A classic with a holiday spin.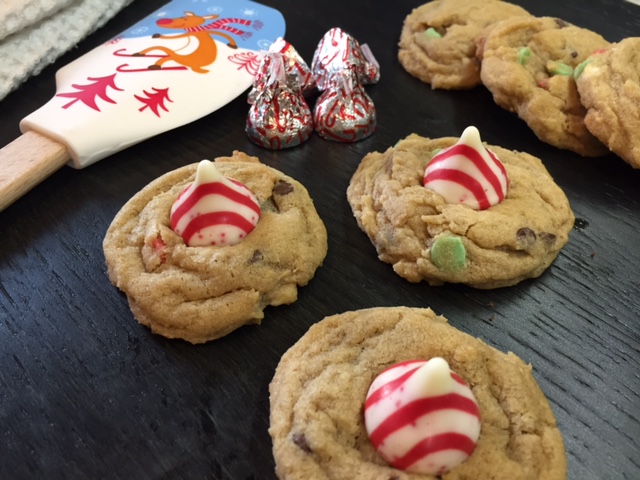 I'm happy to be participating in a very special Canadian Cookie Collaboration between the Canadian Food Creatives and the Canadian Christmas Cookie Exchange. #CDNFoodCreatives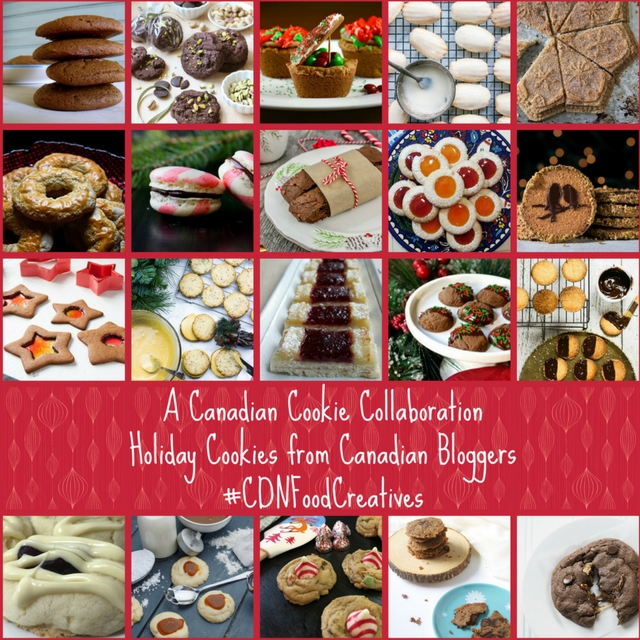 Visit these Canadian Bloggers to save all of these sweet holiday cookie recipes:
Candy Cane Kissed Chocolate Chip Cookies
Ingredients
3/4 cup butter
1 cup brown sugar
1/4 cup sugar
1 egg
2 tsp vanilla
2 cups flour
2 tsp corn starch
1 tsp baking soda
1/2 tsp salt
1/2 cup holiday baking chips
1/2 cup semi sweet chocolate chips
24-30 Candy Cane Hershey's Kisses
Instructions
Combine the sugars and butter and beat until well combined.
Add the egg and vanilla.
Add the flour, corn starch, baking soda and salt until combined.
Add the two types of chips and mix slowly until incorporated.
Using a small cookie scoop, place dough on a lined cookie sheet.
Bake at 350 degrees for 10 - 12 minutes until the cookies are done.
Wait for 5 minutes and then add one kiss on each cookie.
Let cool.
7.8.1.2
4
https://foodmamma.com/2016/12/candy-cane-kissed-chocolate-chip-cookies/