I know, it's Fall and feels like Winter and definitely the time for comfort food. Comfort food like soups and stews and casseroles are the usual things that come to mind but this salad may also provide you with the comfort you need.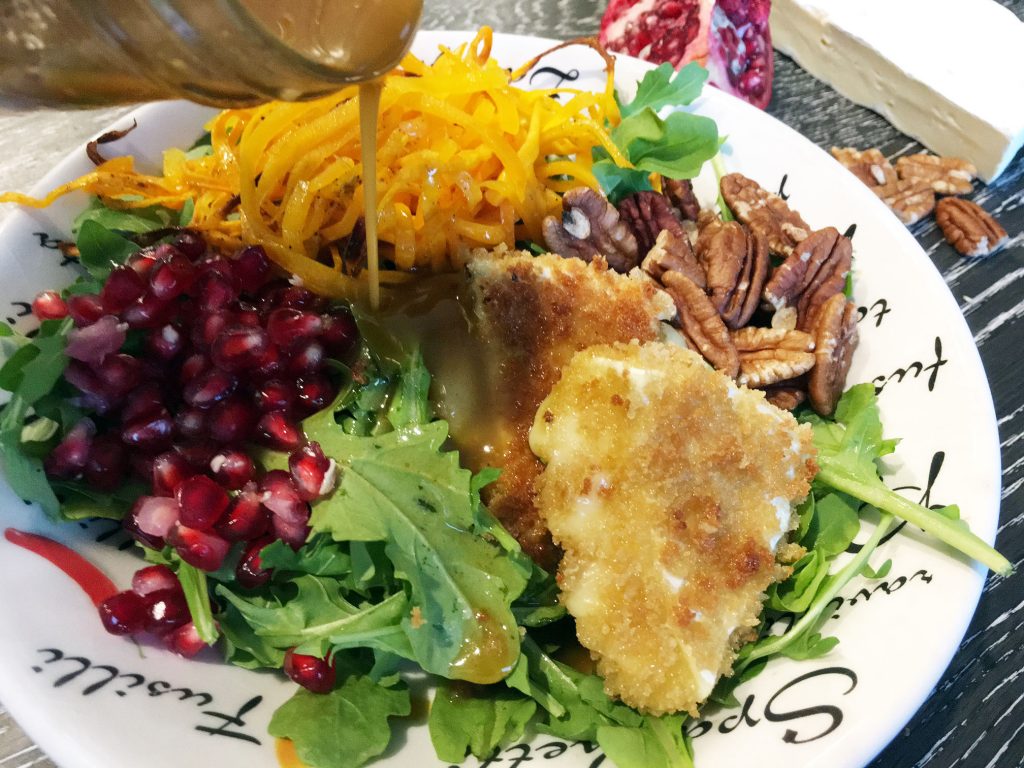 Butternut squash is one of my favourite things to roast and I feel like adding that to anything just makes things heartier. I love the addition of the squash to a bowlful of arugula with accompaniments like pomegranate. Of course, you need to have some cheese and fried brie is the perfect touch. Fried brie…oh so good!
The whole bowl is made complete with a handful of pecans for some crunch and a dressing made with pomegranate molasses, honey and mustard. This makes two meal salads or four side salads. Who says salad is a summer thing?
Winter Salad with Butternut Squash, Pomegranate and Fried Brie
Ingredients
1 lb butternut squash, cubed or spiralized
1/2 200g brie wheel, cut into four
1/2 cup panko
1 egg
1/4 cup flour
1 pomegranate
1 TB pomegranate molasses
1 TB honey
1 TB dijon mustard
1/2 lemon, juiced
1/2 cup olive oil
pecans, roasted
salt
pepper
arugula
Instructions
On a sheet pan, spread the butternut squash and drizzle with olive oil, salt and pepper. Bake at 350 degrees until tender.
Add flour to one bowl with salt and pepper. Add a beaten egg to one bowl. Add panko to one bowl. Dip the cheese, first into the flour, then the egg, then the panko and shallow fry.
In a mason jar, combine the pomegranate molasses, honey, mustard, lemon juice, olive oil, salt and pepper and shake vigorously.
Place arugula into a bowl. Top with squash, pecans, pomegranate and cheese and drizzle with the vinaigrette.
7.8.1.2
30
https://foodmamma.com/2017/11/winter-salad-butternut-squash-pomegranate-fried-brie/