Take some simple ingredients like cheese and pepper and transform your popcorn into something out of the ordinary. This Cacio E Pepe Pocorn is savoury and so delicious!
With tomorrow being National Popcorn Day, I thought it was about time that I shared this Cacio E Pepe popcorn with you.  We love popcorn around here. It makes the perfect snack and obviously the best movie staple. Buttered, topped with white cheddar powder, seasoned with garlic or even coated in candy, we are true popcorn fans.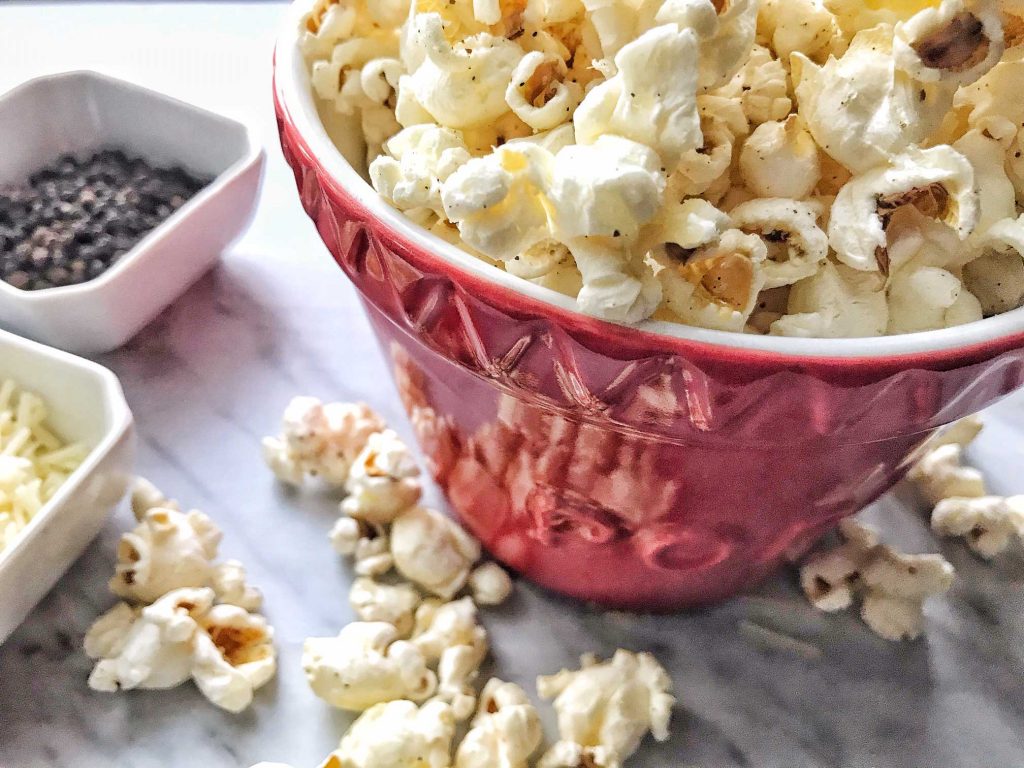 Simple Ingredients
Cacio E Pepe pasta takes simple ingredients like cheese, pepper and pasta and makes it into something so comforting and delicious. I figured, taking those same ingredients and adding it to popcorn had some real potential. This savoury combination has the same effect with popped kernels and boy, is it a satisfying snack.
If you love cheese, there is bound to be lots of extra cheese at the bottom of the bowl. My son and I always fight for the last morsels.
Stove Top Popcorn
Just add coconut oil to a large pot. Heat the oil and when you see that the oil has liquified, add a kernel or two to the pot. As soon as that kernel pops, you know the oil is ready. Add the kernels and give it a good swirl, ensuring that all the kernels are coated in the oil. Put a lid on the pot, leaving it a little ajar and enjoy the popping. As soon as you hear the popping taper off, take the pot off the heat. The kernels will continue to pop.
On another note, how gorgeous is that pepper mill made by my very talented neighbour. I just love it! We have the best neighbours ever.
Ingredients
3 TB coconut oil
1/3 cup popcorn kernels
1 cup grated Pecorino Romano or Parmesan cheese
ground pepper to taste
Instructions
In a large pot, melt the coconut oil on medium-high heat.
When the oil has liquified, add in one or two kernels. Once they pop, you know the oil is ready.
Add the kernels and swirl the pot until they are fully coated with oil.
Add a lid, leaving it open just a touch and the popping will begin.
When you hear the popping slow down, take it off the heat and wait a couple minutes.
Pour the popcorn in a large bowl and give it a toss so that any remaining oil coats the popcorn.
Add the cheese and pepper and toss again.
7.8.1.2
73
https://foodmamma.com/2019/01/cacio-e-pepe-popcorn/