Cubes of tandoori salmon cooked on the grill is always a treat! Bring on the great weather and outdoor cooking.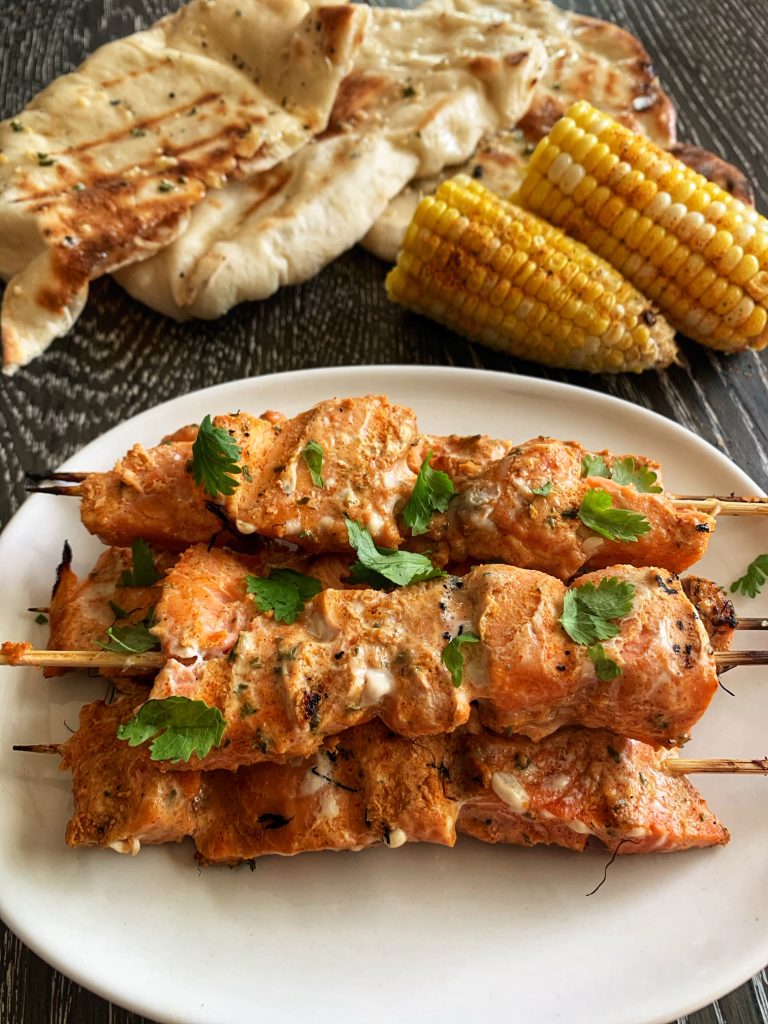 We have finally seen a shift in temperature and a glimmer of Spring. We took every opportunity to set up our deck and plan for a meal cooked on the grill.
Since being at home, we made the decision to finally empty out our freezer. We have tried to do a few meals a week using what we have. One day was perogies and sausages. Another day was bbq chicken, tortillas and enchilada sauce from the freezer to make a quick dinner. On this day, it was to be salmon. Tandoori salmon.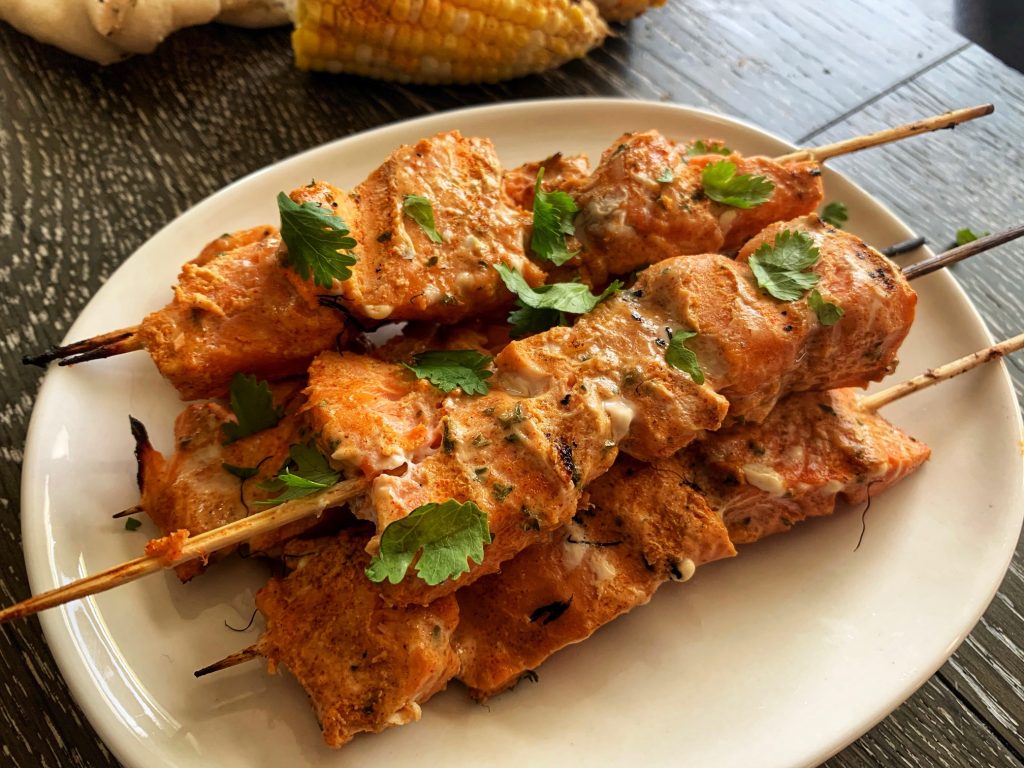 While raw and smoked salmon are winners with the kids, cooked salmon doesn't share the same spotlight. I noticed though that putting things on sticks always helps and it did with the salmon as well. Sometimes, it is all about the presentation.
I cut the salmon into cubes and tossed it with a yogurt marinade and let it sit for a couple of hours. While the salmon was marinating, I whipped up some dough for naan to toss on the bbq as well. It's just enough time to let the dough rise and both can be cooked together at the same time.
As with most of my recipes, I didn't add any chili. It's just easier to add some heat on top. Just add some chili powder to the marinade to your liking.
It was a simple meal with the skewers, naan and buttery cobs of corn. The addition of sunshine and warm weather made it perfect.
Ingredients
1 lb salmon, cubed
1/2 cup yogurt
1/2 tsp minced garlic
1/2 tsp minced ginger
1/2 tsp cumin
1/2 tsp coriander
1/4 tsp turmeric
1/2 tsp paprika
1/2 tsp parsley flakes
1 TB oil
salt
chili (as desired)
Instructions
In a bowl, combine the yogurt and spices.
Once combined, add the salmon and let it marinade for a couple of hours.
While the salmon is marinating, soak some skewers.
When you're ready to bbq, thread the salmon onto the skewers.
Oil the grill and cook the salmon on medium heat (300 degrees) for about 6-7 minutes a side.
Garnish with cilantro and lemon.
7.8.1.2
122
https://foodmamma.com/2020/04/tandoori-salmon-skewers/
Pin Me!