Swirls of chocolate hazelnut spread throughout this loaf make an amazing addition to this Nutella Banana Bread.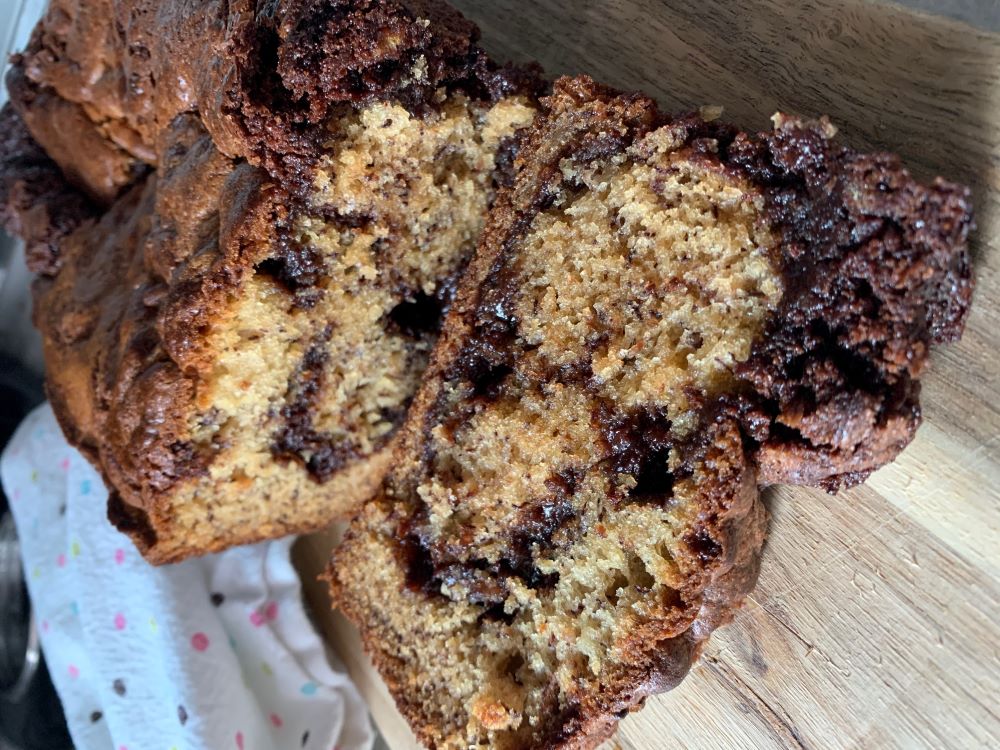 If you have been around here for a while, you know that I have a weakness for Nutella. I am all about that chocolate hazelnut goodness!
When we have ripe bananas, they most often get used up in banana bread. We have been making the same recipe for ten years! The Nutella lover in me is always looking for more ways to add Nutella to my life. The combining of our favourite banana bread recipe with Nutella just had to be done. This new recipe may be my new fave!
I have tried this a number of ways but found the best way to get proper swirls of Nutella throughout was to combine it with part of the batter. Also, if your Nutella is soft and flowy, its best to microwave it a little so that it combines properly with the batter.
This is a very easy recipe. It's a perfect one if you are wanting to get the kids in the kitchen. I use a stand mixer but it can easily be done by hand. Both kids have helped with banana bread around here. From cracking eggs to peeling bananas, they love to help. The best part when making this recipe – licking the spoon of Nutella!
Ingredients
1/2 cup margarine, softened
1 cup sugar
2 eggs
1 tsp vanilla
1.5 cups flour
1 tsp baking soda
1/2 cup sour cream
2 bananas, mashed
1/2 cup Nutella
Instructions
Cream margarine and sugar together.
Once combined, add eggs and vanilla.
Next, mix in the dry ingredients – flour and baking soda.
Add the mashed bananas and sour cream.
Heat the Nutella for 20 seconds in the microwave.
Mix the Nutella with 1 cup of the batter.
Spoon the two batters into a loaf pan, alternating between the two.
Bake at 350 degrees for one hour.
7.8.1.2
147
https://foodmamma.com/2020/10/nutella-banana-bread/