This one is for those pumpkin spice lovers and nut fanatics. These pumpkin spiced pecans are easy to make and perfect to snack on.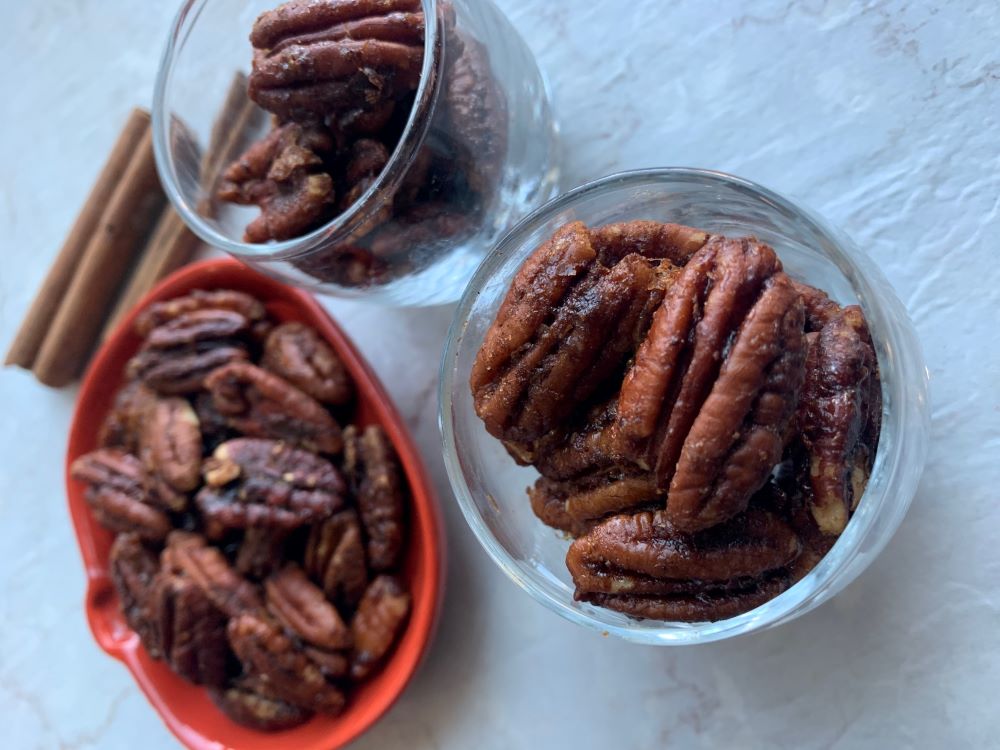 Pumpkin spice season is here! I realized this week that I have yet to try a pumpkin spice latte and see what all the hype is about. I do appreciate the warmth of the spices and love using it in baking.
Nuts are always a go-to when I'm looking for a snack. Depending on how they are flavoured, they can satisfy both sweet and savoury cravings. Pecans are one of my favourites and I thought the pumpkin pie spices would go well with them. Seeing as how long each batch lasted in the house, I was right.
These are sooooo easy to make. While the pecans are roasting (less than ten minutes), you combine the butter, sugar, spice (affiliate link) and salt. You cover the nuts in the mixture and bake another ten minutes. Voila – a delicious nutty snack. The sugar, salt and spices make the nuts a little bit of savoury with a touch of sweet.
While great for snacking, these pumpkin spiced pecans make a very welcome gift. I love giving gifts that can be consumed and this one is perfect. Since they are so easy to make, its a good one to have in your back pocket when you need to think of something quick.
Ingredients
1 cup pecans
1 TB butter, melted
2 TB brown sugar
2 tsp pumpkin spice
1/2 tsp salt
Instructions
Place the pecans in a single layer on a baking sheet and bake at 325 degrees just until you start to smell them. This will take less than 10 minutes.
In a bowl, combine the rest of the ingredients.
Take the pecans out of the oven and toss with the spiced butter.
Place back on the sheet and bake for another 10 minutes.
Let cool before eating.
7.8.1.2
146
https://foodmamma.com/2020/10/pumpkin-spiced-pecans/
Love pumpkin spice? Try these recipes: