Sticky, chewy Medjool dates and crunchy nuts make the perfect topping for an ooey, gooey baked wheel of brie. If you love cheese, this Medjool Date and Nut Baked Brie will want to be on your list of holiday appetizers.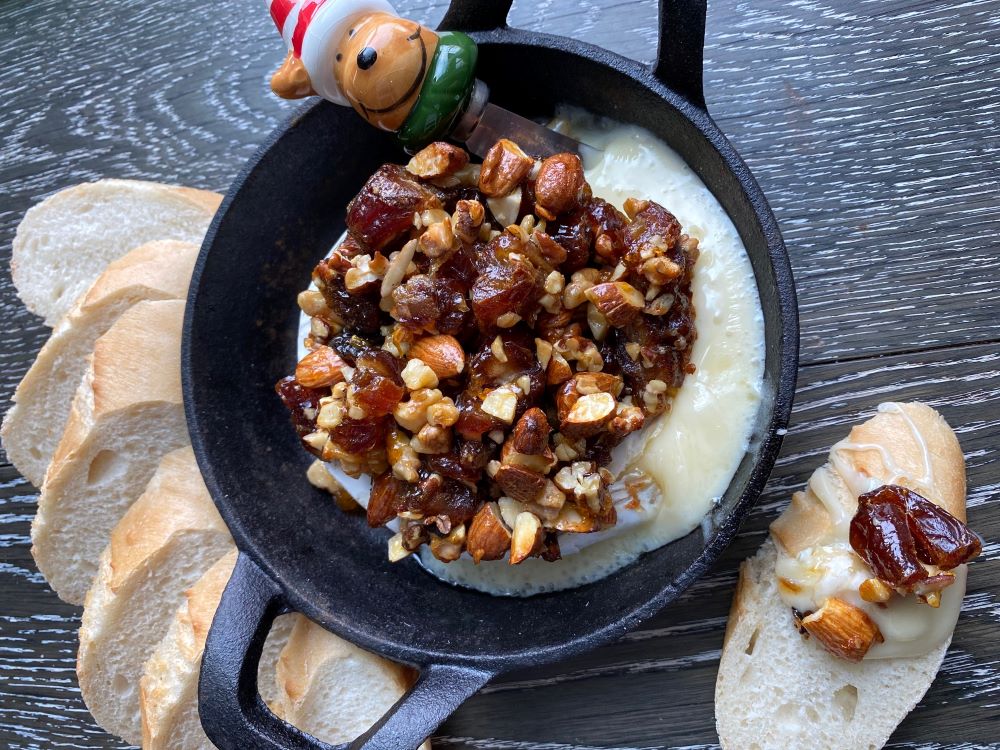 Disclaimer – This is a sponsored post. All thoughts and opinions are my own.
The holidays are definitely looking different this year.  Just because they won't be like usual, doesn't mean they can't be festive and special. A delicious appetizer (or a few) are a must. This one was such a hit during testing, it will definitely be there for us to snack on for Christmas. This Medjool Date and Nut Baked Brie is one that any cheese lover will enjoy.
Medjool dates play a huge role in this baked brie. Natural Delights Medjool Dates are very high in antioxidants, fibre, potassium and micronutrients. They are also naturally sweet and contain no sulphites or preservatives. They provide the perfect sweetness and texture to elevate this dish.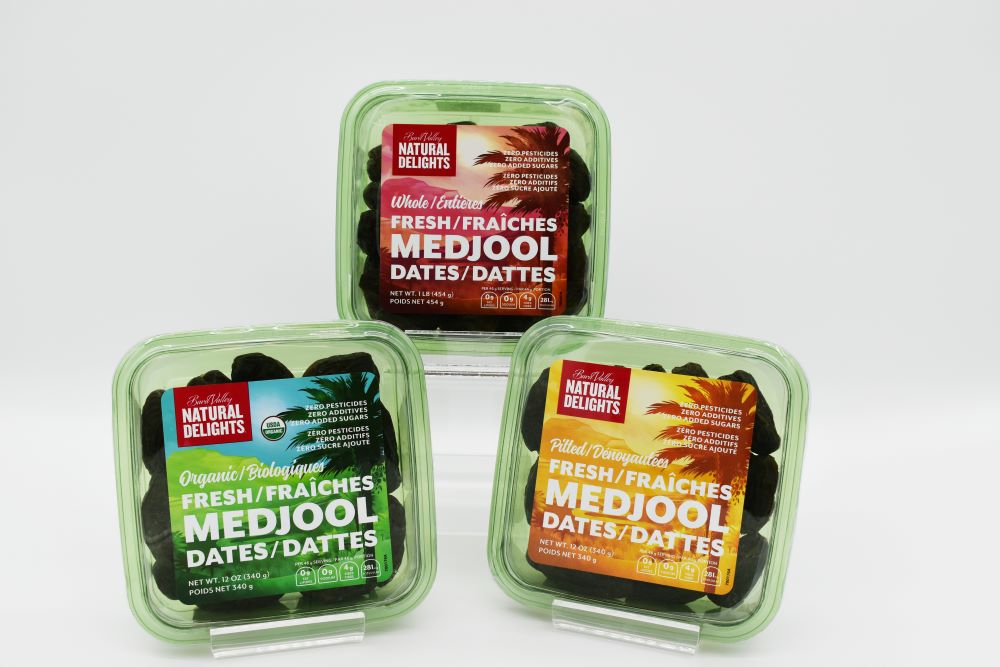 Natural Delights are fresh so you can find them in the produce section. They are now in green plastic packaging which is made from 100% post consumer recycled materials. The dates are grown in the Bard Valley, straddling California and Arizona.
I love adding a variety of nuts to the topping. This one includes almonds, walnuts and pecans but you can make this with whatever nuts are your favourite or what you have on hand. Roasting is a must to bring out the nutty richness of the nuts. You can do that simply in the oven or on a skillet on the stove. I usually just cook them until I can smell them, so you will want to be close and ready to pull them out.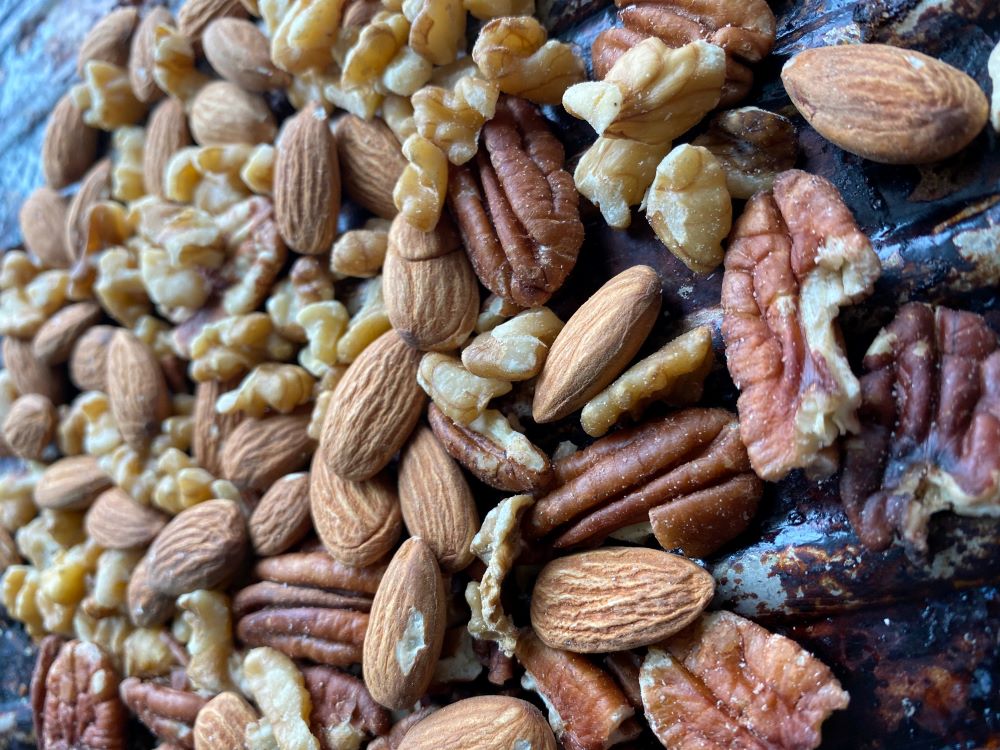 This dish is super simple to put together and is ready in minutes. Just chop up the Natural Delights Medjool Dates as well as the mixed nuts and put them in a bowl. Add some apricot jam and mix until it's all well combined.  Place the sticky mixture on top of the brie and bake.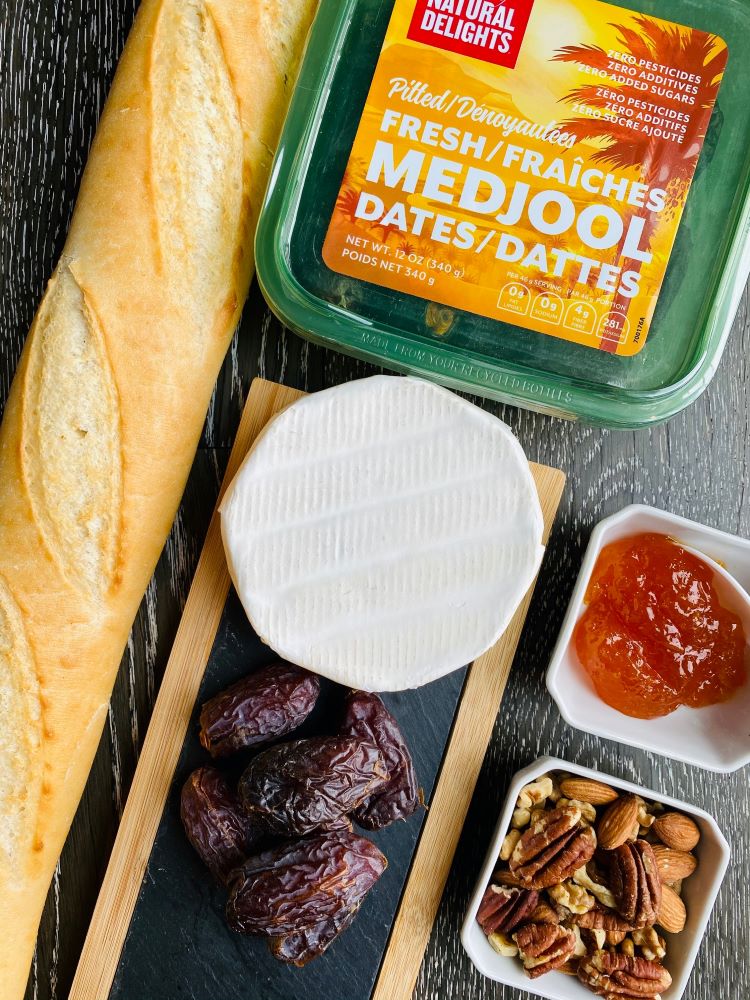 There is nothing better than ooey gooey baked cheese. The Medjools and nuts just take it to a new level. Serve the cheese with slices of baguette or your favourite crackers.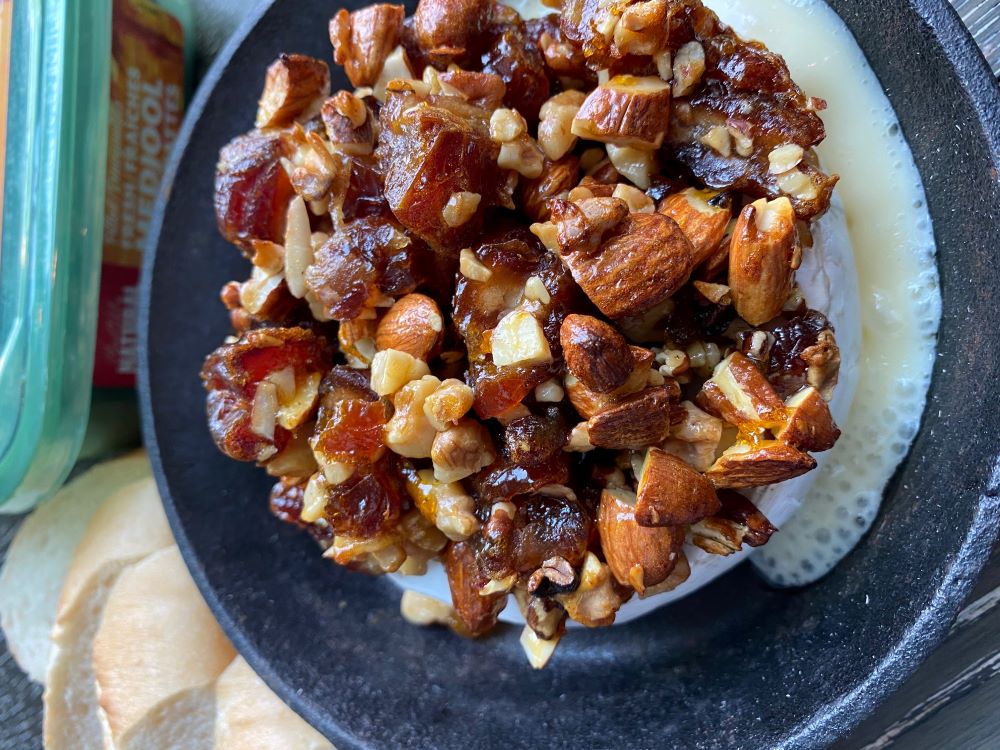 Medjool Date and Nut Baked Brie
Ingredients
1 200 gram wheel of brie
½ cup Natural Delights Medjool Dates
½ cup roasted mixed nuts (almonds, walnuts, pecans)
2 TB apricot jam
Instructions
Place the brie in an oven safe dish or a cast iron skillet.
Chop the dates and nuts and place them in a bowl.
Combine the dates and nuts with the apricot jam and place it on top of the brie.
Bake at 350 degrees for 10-15 minutes, until it gets a little soft and the cheese starts to ooze.
Serve with slices of baguette or crackers.
7.8.1.2
153
https://foodmamma.com/2020/12/medjool-date-and-nut-baked-brie/