Cosmic Crisp apples are the star in these apple cupcakes topped with a swirl of cinnamon buttercream.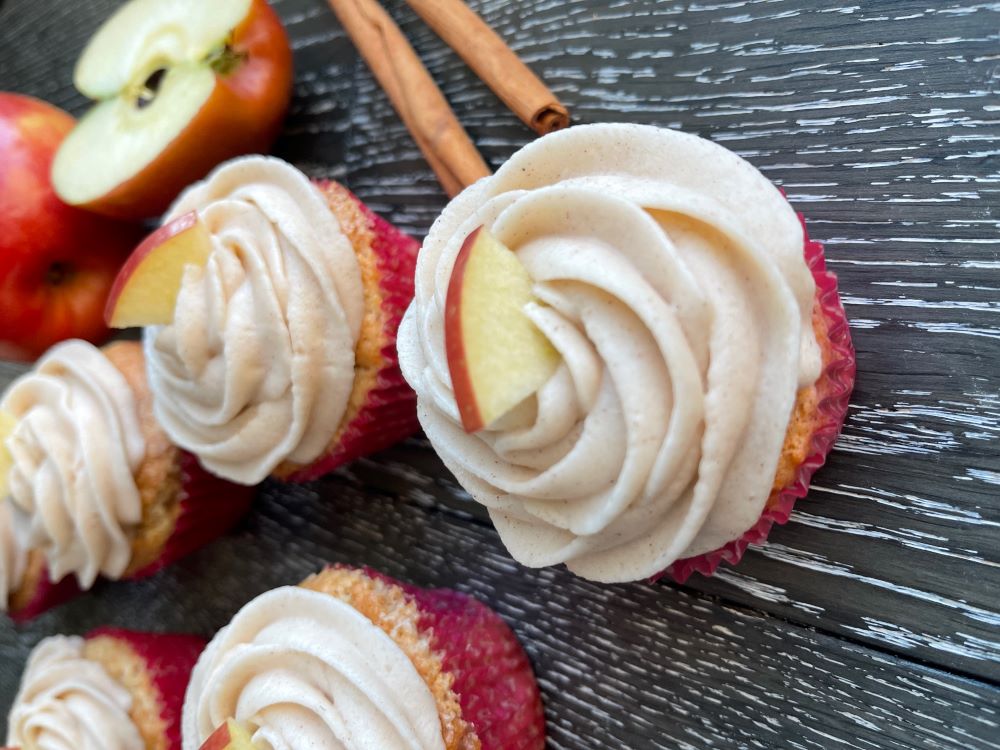 Disclaimer – This is a sponsored post. All thoughts and opinions are my own.
There's no better way to make a house warm and welcoming than with something baking in the oven. The aroma of cake baking, with notes of apples and cinnamon – it is the best thing ever.
Cosmic Crisp apples are in season and we have been enjoying them daily. Cosmic Crisp Washington state apples are crispier and sweeter than other varieties, and naturally slow to brown. This is huge when you have picky kids.
Cosmic Crisps were classically bred at Washington State University and is non-GMO. They are a cross between the 'Enterprise' and 'Honeycrisp'. The apples are perfect for snacking, cooking and baking, due to their sweetness and crispy texture. Cosmic Crisps offer exceptional eating quality, large fruit size, attractiveness and versatility. The apples hold their shape in these cupcakes so you get nice chunks throughout.
These apple cupcakes are made simply with a sour cream cake base and then are studded with pieces of apples throughout. I preferred the big chunks of apple, rather than chopped up, so you can really enjoy that fruity bite. Cinnamon added some warmth to the cupcakes, pairing well with the Cosmic Crisps.
This recipe makes 18 regular sized cupcakes but I like to make a dozen large ones and use the rest of the batter to make mini ones. They are perfect for tucking into school lunches.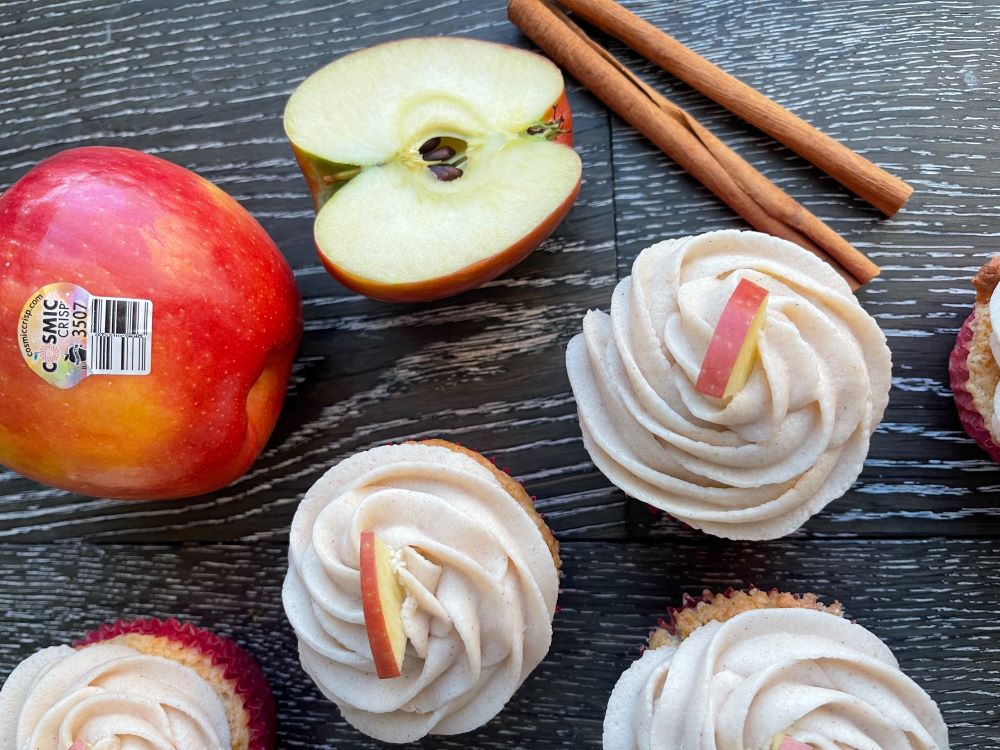 My initial thought was to top it with a cream cheese frosting but buttercream is my fave. I added cinnamon to give it some warmth and it was perfect on the cupcakes.
Yields 18 cupcakes
Cosmic Crisp Apple Cupcakes with Cinnamon Buttercream
Ingredients
Apple Cupcakes:

1 cup butter
1 1/4 cup sugar
1 tsp vanilla
2 eggs
1 cup sour cream
2 cups flour
1/2 tsp baking soda
1 tsp salt
1 1/2 tsp baking powder
1 cup chopped Cosmic Crisp apples, about 1 large apple

Cinnamon Buttercream:

½ cup butter
2 cups icing sugar
½ tsp cinnamon powder
milk or cream
Instructions
Combine the butter and sugar and beat for a couple of minutes.
Add the vanilla and eggs until incorporated.
Add the sour cream.
In a separate bowl, combine the dry ingredients and add to the butter and sugar mixture.
Fold in the chopped apples and divide the batter into muffin tins.
Put batter in a greased pan and bake at 350 degrees for 20 to 25 minutes.
Cream the butter in a mixer.
Add the icing sugar and cinnamon and beat until incorporated.
Add in the milk or cream until you reach the desired consistency.
7.8.1.2
189
https://foodmamma.com/2021/12/cosmic-crisp-apple-cupcakes-with-cinnamon-buttercream/