Dinner is made in minutes with these steamed mussels in a garlic and tomato broth. Perfect with fries or bread.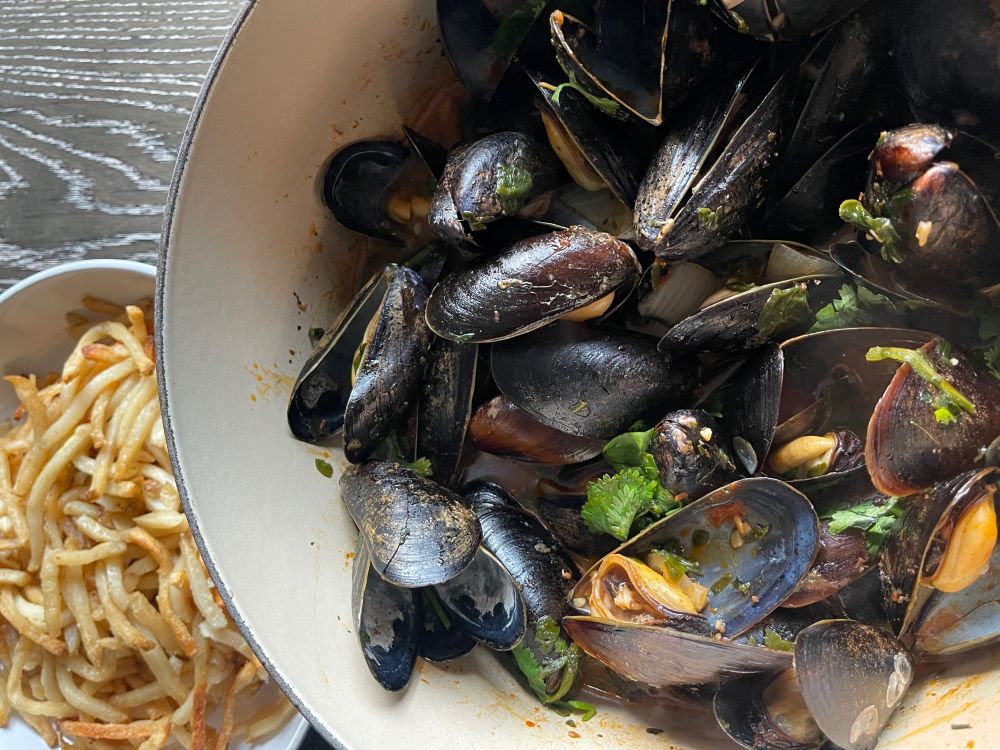 Our house is definitely a seafood house. From sushi to squid to crab to mussels, we enjoy it all. So when fresh mussels became available at Costco for not a whole lot, I grabbed some for a quick weekend meal of steamed mussels.
Z has become fascinated with anything from the water so he happily agreed to help me out. He washed the mussels and pulled off the beards. The ones that wouldn't close got tossed and then the rest were ready to cook.
There are a couple variations that are my go-to. I love using Thai flavours to create a broth for the mussels to steam in. This time, we went with our other favourite – garlic and tomato. Super simple flavours with just a handful of pantry ingredients.
We threw some fries into the air fryer to crisp while we cooked up the mussels. Onions, garlic, tomato paste and chicken broth cooked together and then we tossed the mussels in to steam for 5 minutes. The 3 pounds of mussels were more than enough to feed the four of us. The broth was so flavourful, it was perfect with the fries and some sourdough bread.
Steamed Mussels with Garlic and Tomato
Ingredients
3 pounds mussels
1 small onion, diced
1 TB garlic, minced
2 tsp tomato paste
pinch red pepper flakes
1 cup chicken stock
salt
pepper
cilantro or parsley
Instructions
Wash and de-beard the mussels and ensure that they all close.
In a pot, heat some olive oil and add the onion, garlic, tomato paste and chili flakes and cook for a couple of minutes on medium-high heat.
Add in the stock and seasonings and cook for a couple more minutes.
Add in the mussels, give it a stir and then add on the lid.
Let the mussels steam for 5 minutes.
Discard any mussels that did not open up.
Garnish with cilantro or parsley and serve.
7.8.1.2
225
https://foodmamma.com/2023/09/steamed-mussels-with-garlic-and-tomato/