The days are getting cold and all we want to eat around here is something warm and comforting. This chicken chili hits the spot! I'm always looking for ways to use up leftover chicken, whether it be bbq'd or rotisserie and this is the perfect way to do it.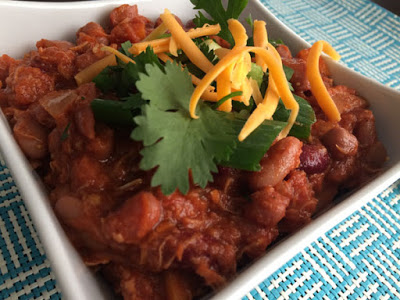 This chili tastes great if you let it simmer on the stove for a while, let all the ingredients come together. The house will smell incredible and be filled with warmth. Perfect for these cold days.
Chicken Chili
2 pounds cooked chicken, shredded
2 carrots, diced
1 onion, diced
2 cans (540mL) mixed beans
1 can (796 mL) crushed tomatoes
3 cloves garlic, minced
2 tsp coriander powder
1 tsp cumin powder
2 tsp paprika
1 TB olive oil
1/2 cup water
salt
pepper
chili powder, as desired
In a large pot, add oil and cook the onions and carrots until softened. Add the chicken, beans, tomatoes and spices along with the water and let simmer for 30 – 45 minutes. Top with cheese and cilantro.
1 can mixed beans, drained
1 can crushed tomatoes
2 – 4 tablespoons chili powder
1 clove garlic, minced
1 1/2 teaspoons coriander powder
1 teaspoon salt
1/2 teaspoon pepper
1 tablespoon olive oil
1 large onion, chopped
1/2 cup water – See more at: http://www.foodmamma.com/2010/09/comforting-slow-cooker-chili.html#sthash.Bl7junxS.dpuf