I love love love P. F. Chang's. If there's a city that I visit that has the restaurant, you can be sure that I will visit it at least once (maybe twice) while I'm there. I love the Asian dishes that they have and there really is something for everyone.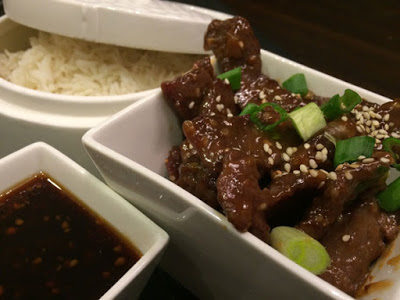 When I found this copycat recipe of P. F. Chang's Mongolian Beef, I could not wait to try it! I am so thankful that Tiffany had it on her blog. It was easy to make and the sauce was soooo good. It was pretty close to the real thing. As mentioned on her blog, the recipe makes way more sauce than you need but it's perfect for anything really. I still have some left over which I might use with some chicken.
Until I can get to P. F. Chang's, this dish is delicious and satisfying!
Copycat P. F. Chang's Mongolian Beef
From Creme de la Crumb
1 pound stir fry beef strips
1/2 tsp baking soda
1 tsp sugar
1 TB corn starch
1 TB soya sauce
1 tsp rice vinegar
2 TB oil
4 tsp oil
1 1/2 tsp ground ginger
2 TB minced garlic
1 cup soya sauce
1 cup water
1 2/3 cup brown sugar
1 1/2 TB corn starch
3 TB water
green onions
sesame seeds
Combine all marinade ingredients in a small bowl and whisk until combined. Pour into a zip-lock back with beef strips, seal and chill 1 hour or overnight.
Drain marinade from zip-lock and set beef aside.
In a medium sauce pan combine sauce ingredients. Stir and heat over medium high heat until brown sugar has dissolved. While sauce is cooking, whisk together corn starch and water in a small bowl until corn starch is dissolved. Bring sauce to a boil, then reduce heat to medium low and stir in corn starch-water mixture. Allow sauce to thicken slightly, then remove from heat.
In a large pan or skillet, cook beef strips over medium high heat until cooked through (5-8 mins) turning strips over throughout to ensure even cooking, reduce heat to medium. add ½-1 cup of sauce. Stir and cook 1-2 minutes longer. Garnish with green onions and sesame seeds.