Sometimes I'm overly optimistic and I buy way too many vegetables. I plan meals that don't come into fruition and sometimes these healthy morsels seem to get forgotten in the fridge. Stir-fries are the perfect dish to clean out your fridge and make use of all those veggies before they end up in the compost bin.
Yesterday, I went to the grocery store yesterday just to buy the beef. I was determined to use up everything that was in my fridge. Sadly, the red peppers didn't make it, but I did manage to save the broccoli and the carrots. I even used up the half bag of salad that was in the fridge – the cabbage and the carrots, even the pumpkin seeds, were perfect for a stir-fry.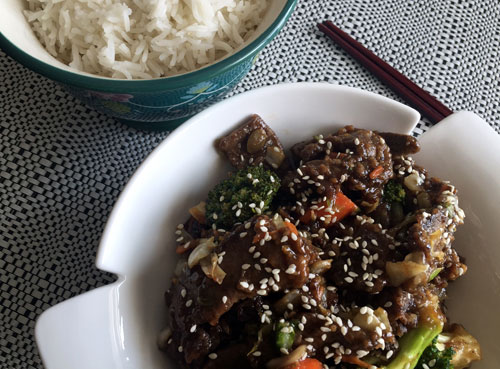 I dredged the beef in a flour mixture because I wanted the pieces to be a little crisp but you can totally skip that step. For the sauce, I sometimes just make a mixture of the sauces that are in the fridge, using up the last drops. This time, I made a slight variation to the sauce from the Mongolian Beef recipe, which was so delicious.
Mamma used up the veggies, the kids at the veggies, it was a good day!
Beef Stir-Fry
1 pound beef, cut into strips
1/2 cup flour
2 TB cornstarch
salt
pepper
vegetables
2 tsp oil
2 tsp ginger
2 TB minced garlic
1/2 cup soya sauce
1/2 cup water
1/2 cup brown sugar
1 TB corn starch
2 TB water
In a small saucepan, combine the first six sauce ingredients. Bring the mixture to a boil. Combine the corn starch with the water and add to the sauce ingredients. Let simmer until thick.
Combine the flour, cornstarch, salt and pepper. Dredge the beef in the flour mixture and pan fry. This can be done in batches. Keep aside. Drain the oil from the pan and add in any vegetables. Once they are almost cooked, add back the meat and add the sauce. Perfect with rice!