Puff pastry is one of those versatile things that are great to have in the freezer. It's perfect for desserts or main courses and great for making a range of appetizers.
I had people coming over and needed something to add to the charcuterie board. I was hoping for bread sticks but didn't have any. I did have puff pastry though so cheese sticks sounded perfect. I had recently found Nigella seeds which added a burst of flavour with every bite. These taste great, and even more so when they are warm.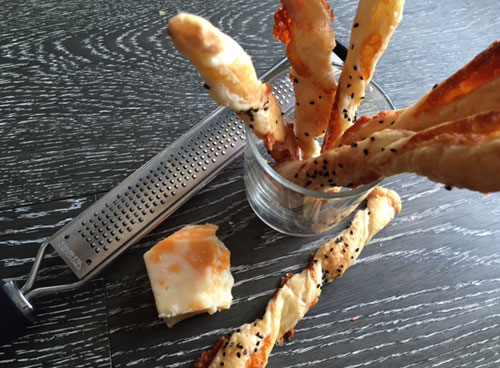 Cheesy Puff Pastry Sticks
1 sheet puff pastry
1 cup shredded cheddar / marble cheese
2 tsp nigella seeds
Roll out the puff pastry. Sprinkle the cheese on the pastry and fold it in half. Roll it out again so that the cheese gets incorporated into the dough. Sprinkle the seeds on top of the pastry and run the rolling pin over it so that the seeds get embedded into the dough. Cut strips and place them on a parchment-lined cookie sheet, giving them a little twist. Bake at 350 degrees for 15 minutes or until golden brown.