On the search for a healthy snack, I thought granola would be the perfect thing. With all the nuts and seeds, I figured it would be yummy to munch on, while providing energy for us and the little guy throughout the day. When searching for recipes, however, I realized that many were full of large quantities of oil.
I was excited when I found Ellie Krieger's Nutty Granola recipe because it had no oil! Just some good old maple syrup and some cinnamon were used to create this delicious snack. I added some seeds and coconut to the mix and was able to put it in the oven in minutes. Q loved the granola and happily picked through it naming all the nuts and seeds. A fun protein-packed snack for a toddler (and his mamma).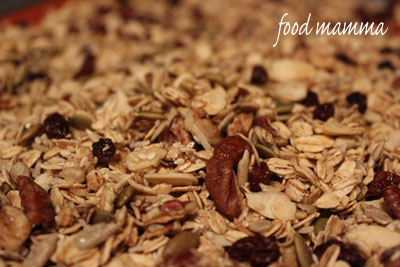 Maple Cinnamon Granola
Adapted from Ellie Krieger

3 cups old-fashioned oats
1/2 cup chopped walnuts
1/2 cup chopped almonds
1/2 cup chopped pecans
1/4 cup shredded coconut
1/4 cup sesame seeds
1/4 cup sunflower seeds
1/4 cup pumpkin seeds
1/4 cup raisins
1/2 cup maple syrup
1/4 teaspoon salt
1/4 teaspoon ground cinnamon
Preheat the oven to 350 degrees F.
In a medium bowl combine the oats, nuts, seeds, raisins with the maple syrup, salt and cinnamon. Spread the mixture onto a greased baking sheet and bake until golden brown, stirring occasionally, about 30 minutes.