It's hard to believe that summer is almost over. We had a great few months, and the heat that we enjoyed was so welcomed. The summer has definitely been one where we got out of the kitchen and used the grill as much as we could.
Earlier this year, PC challenged chefs throughout Canada to create the Ultimate Burger for their region using PC products. Food writer Dan Clapson created the Spice of the Prairies Burger made with PC Free Bison Burgers.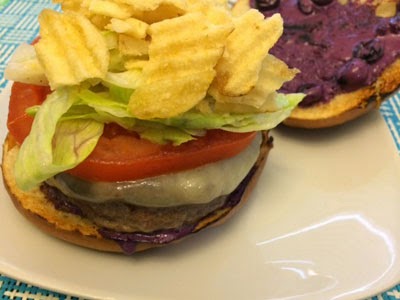 The folks at President's Choice sent me some ingredients to try out Dan's creation for myself. Dan's creative take using the bison burger and a spicy blueberry aioli was made even better with the crunch of PC Regular Potato Chips. The heat from the aioli is mellowed out by the coolness of the lettuce with PC Sweet Vidalia Onion Salad Dressing. Add some provolone and put it all in a pretzel bun and you've got yourself a winner. Click here for the recipe – it's definitely a must try!