With Christmas just a few weeks away, I can't help but to think of all the baking that's in store. Butter tarts, while perfect for any occasion, are always more prevalent during this festive season.
A while back, there was a discussion about whether butter tarts should be filled with raisins and nuts or not. My favourite kind of tarts are filled with raisins and pecans.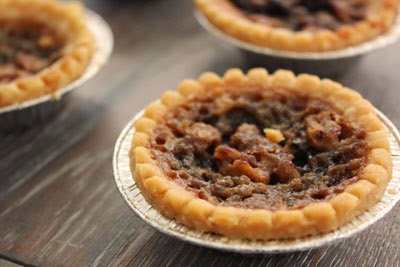 The raisins have to be the dark plump variety. The yellow Sultana ones don't have a place in these tarts. The filling is ooey gooey and and the pecans add the perfect contrast. I do cheat and use store bought unbaked tart shells. With this shortcut, these tarts are ready in less than 30 minutes! Makes it a little too easy to satisfy a craving.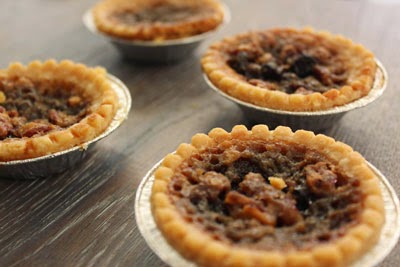 Pecan Butter Tarts
1 cup brown sugar
1/2 cup butter, melted
1 egg
2 TB milk
2 tsp vanilla
1/2 cup dark raisins
3/4 cup pecans
12 – 15 unbaked tart shells
Combine the butter, sugar, egg, milk and vanilla until well combined. Add the raisins and pecans and mix well. Fill the tart shells with the mixture. Bake at 350 degrees for 20 minutes or until the shells are golden. Enjoy!