Key lime pies are the perfect summer time desserts. Sweet and tart, one bite and I'm reminded of the Florida Keys.
What's even better than key lime pies? Key lime tarts! Who doesn't love having their own little dessert? These silky, citrusy bites are made even better topped with whipped cream.
These are great to whip up when you have company coming since they literally take 5 minutes to prepare.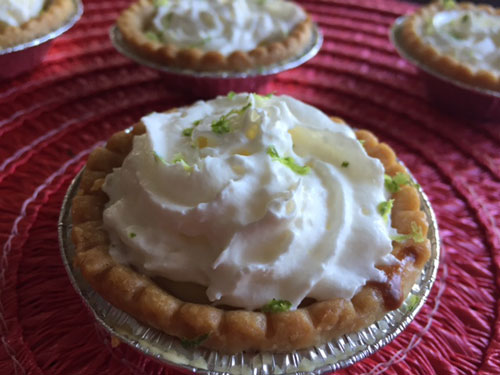 Key Lime Tarts
8-10 frozen tart shells
1/2 can sweetened condensed milk
2 small egg yolks or 1 large egg yolk
1/4 cup key lime juice
Combine the condensed milk, egg yolks and key lime juice and mix until well combined. Pour into the prepared crust and bake at 300 degrees for 20 to 25 minutes. Once cool, refrigerate. Serve with whipping cream. Garnish with key lime zest.