The slow cooker is a wonderful thing. It makes the best tasting
chili
, tender
ribs
and the juiciest chicken. When I saw this recipe for cinnamon almonds made in the slow cooker, I was curious. Could it really be used to make sugar and cinnamon coated almonds and actually turn out well? Yes!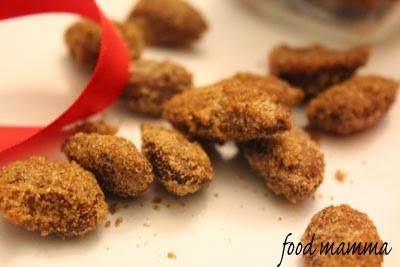 Unlike most recipes made in the slow cooker where you can just walk away until it's done, this recipe requires a little extra attention, but not much. Cooked on high, these almonds are stirred every 20 minutes, to ensure that the nuts don't get burnt.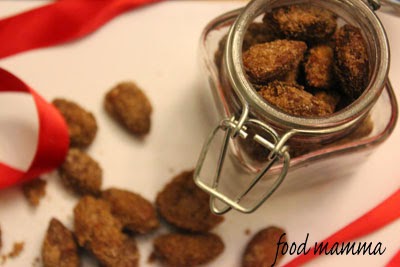 These were delicious! They were super easy and super tasty. Put them in a little jar, and they make the perfect homemade gift for the holidays!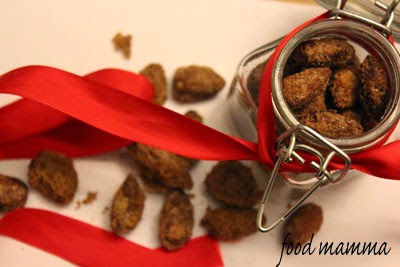 Slow Cooker Cinnamon Almonds
From Crockpot 365
cooking spray
1 1/2 cups sugar
3 tablespoons cinnamon
1/8 teaspoon kosher salt
1 egg white
1 1/2 teaspoons vanilla extract
3 1/4 cups whole raw almonds
Use a 4-quart slow cooker. Spray the stoneware well with cooking spray. In a mixing bowl, combine sugar, cinnamon, and salt. Set this bowl aside
In a larger mixing bowl, whisk together the egg white and vanilla extract. Pour the almonds into this bowl and stir well to coat. Add your cinnamon mixture to the top of the nuts and toss with spoons to fully coat.
Put the almonds into the slow cooker and cover. Cook on high for 2 hours, stirring every 20 minutes. After 2 hours, take the nuts out of the slow cooker and spread them on foil or parchment paper.