It's been a great few days, weatherwise. If you don't look at the yellowing leaves, you may almost forget that Fall is on it's way. We are taking full advantage of the heat and sunshine, and using it as a great excuse to eat some ice cream.
I think this is my new favourite. I'm totally loving the no churn aspect. No worrying about chilled bowls and being able to just make ice cream anytime. This dessert combines my favourite things – Nutella and Ferrero Rocher. The result is creamy, decadent, and so satisfying!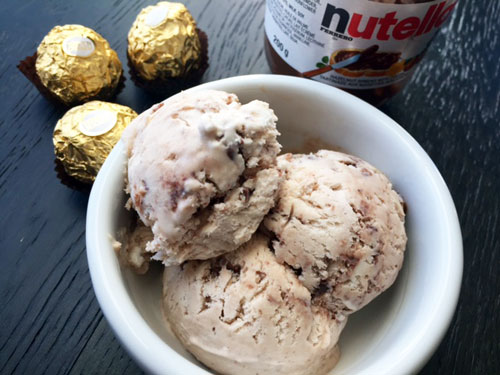 Nutella Ferrero No Churn Ice Cream
2 cups whipping cream
1/2 can condensed milk
1/2 cup Nutella
5 Ferrero Rocher chocolates, chopped
Whip the cream. Once whipped, add the condensed milk and Nutella and gently fold. Add the chopped chocolate and pour the mixture into a loaf pan or an 8″ x 8″ pan. Let freeze for a few hours or overnight.
Save
Save