Do dishes taste better in individual portions?  I had baked french toast on my mind and was happy to test out this theory when I received four Meal Mugs from CorningWare.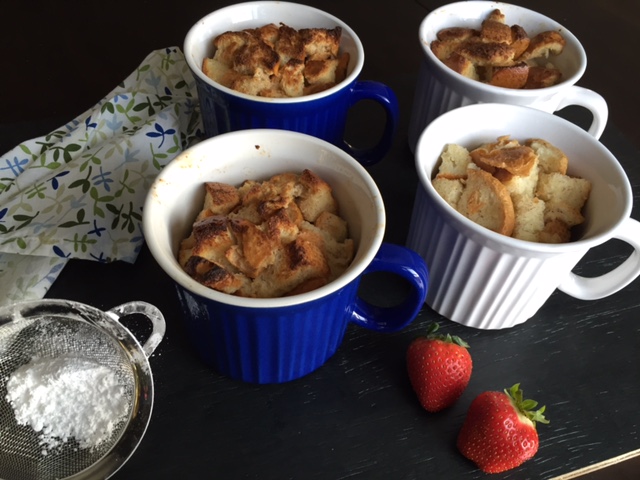 These CorningWare Meal Mugs were perfect for individual servings of this baked french toast. Imagine these on Christmas morning, each member of the family with their own mug of deliciousness. Make them the night before and let them sit in the fridge. Pop them in a pre-heated oven in the morning and you have a warm, tasty breakfast. Top them with your faves – whipping cream, maple syrup, icing sugar, fruit, nuts – the options are endless. The baked french toast can also be made in the microwave, you just won't get the toasty bits on top, but is just as tasty (see the mug in the bottom right above)!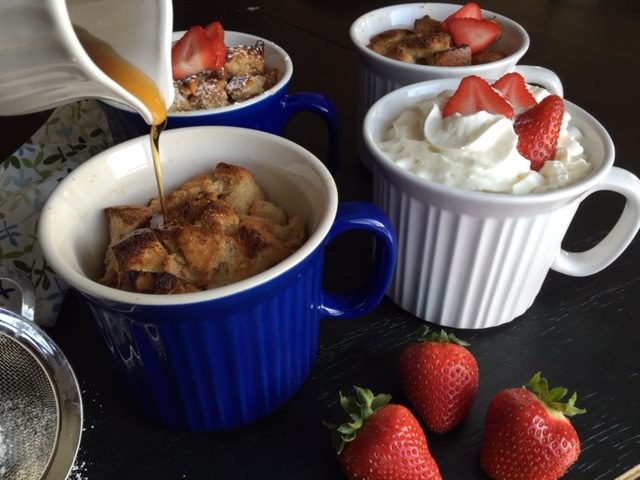 These mugs are great! They are made of durable stoneware material whose non-porous surface does not absorb food odours, flavours or stains. The mugs are dishwasher, refrigerator, freezer and microwave safe and if you pre-heat the oven, you can stick them in there too! Their vented lids, which are patented, allow the steam to escape and are BPA-free and can be used in the microwave and the dishwasher. These are perfect for soups, and stews and on some days, large cups of much needed coffee.
You can find these mugs at the following retailers: Amazon.ca, Walmart Canada, Loblaws, Home Outfitters, London Drug and www.shopworldkitchen.com.
Twitter Party!
Make sure you participate in the #MealMug Twitter Party for your chance to win your own mugs. You can RSVP here for the December 15th event taking place at 7-8pm MST.
Baked French Toast…in a Mug
Ingredients
1 loaf of French bread
4 eggs
1 1/2 cups milk
1/4 cup sugar
1 tsp cinnamon
1 tsp vanilla
Instructions
Cut the bread into cubes.
Combine the eggs, milk, sugar, cinnamon and vanilla in a bowl.
Add the bread cubes until everything is coated.
Divide the bread into 4 Meal Mugs and place in the fridge overnight.
When ready to bake, place the mugs in a preheated oven at 350 degrees for 30 minutes.
For the microwave - microwave on high for 2 1/2 minutes.
7.8.1.2
5
https://foodmamma.com/2016/12/baked-french-toast-mug/