It's no secret that my family loves beef. Roasted, grilled, stewed, we devour it in any form. Even the pickiest eater will make an exception when it comes to beef. I was really excited to take part in the #RethinkBeef campaign, as it was a natural fit for me and my family. Ten food bloggers from around the country were invited to participate in the campaign to showcase diverse beef recipe options influenced by global cuisine.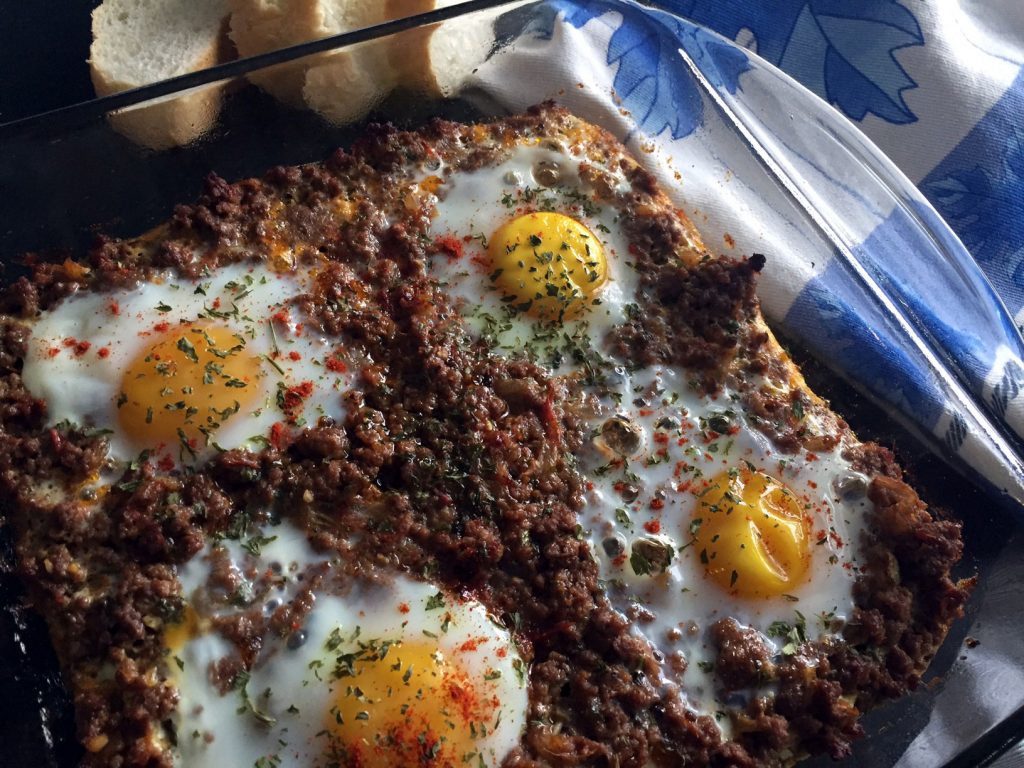 The first part of the campaign was providing a recipe inspired by my cultural background with the key ingredient being ground beef. One recipe stood out – Mayai Mani also known as a beef and egg casserole. My mom made this often when we were younger. Flavourful ground beef topped with eggs and eaten with toasted bread. The beef is seasoned with Indian spices like cumin and ginger and garlic, with tomato paste adding a depth of flavour. I don't make it as often as I should, but with how much my kids loved this dish, that will definitely change. As a kid, I remember life being busy, but we always had delicious home cooked meals like this Mayai Mani. Simple ingredients that make meals worth remembering. It's also a great make ahead dish.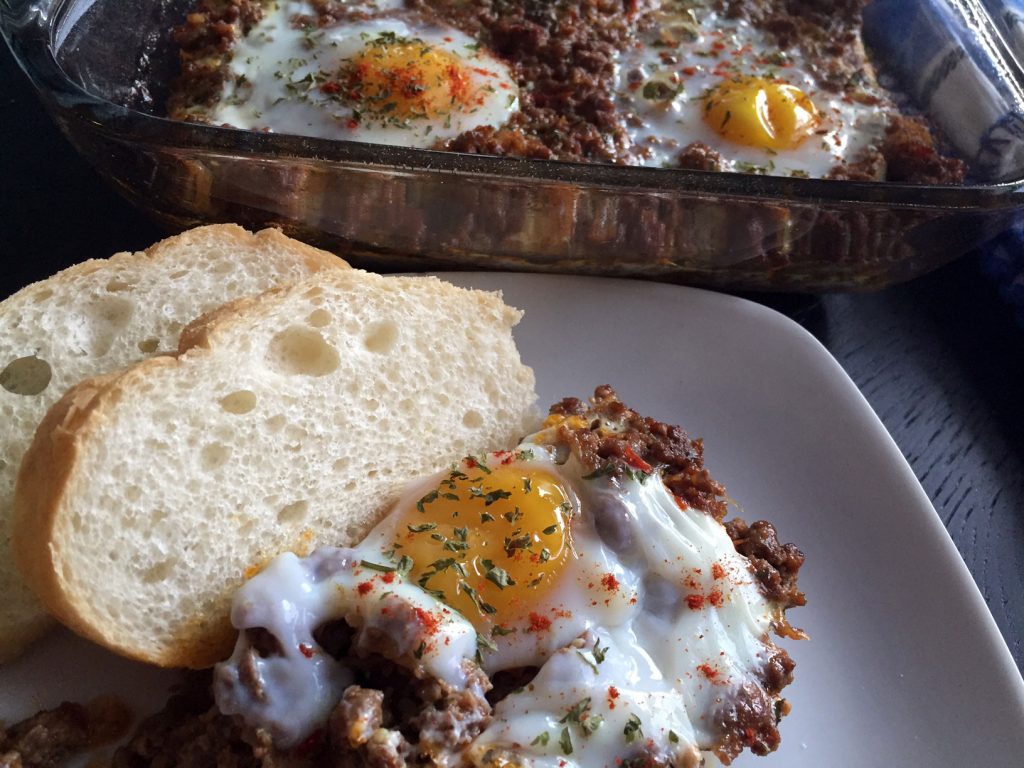 Mayai Mani
Ingredients
1 pound ground beef
1 small onion, chopped
2 tomatoes, chopped
1 ½ tsp tomato paste
1 tsp garlic paste
1 tsp ginger paste
1 tsp cumin powder
½ tsp turmeric
salt
1 TB lemon juice
cilantro
dried parsley
paprika
5 eggs
Directions
Cook the ground beef on medium heat.
When the meat is half cooked, add the onions and tomatoes. Add the spices and continue cooking until the meat is completely cooked and all the water has evaporated. Add lemon juice and salt. Add a handful of chopped cilantro to the ground beef. Once you have a dry mixture, take the meat off the heat.
Grease an 8" x 8" dish. Beat one egg and pour half of it on the bottom of the dish.
Add the ground beef mixture.
Make four indentations and add one egg into each depression. Pour the remaining egg mixture on top.
Sprinkle with dried parsley and paprika.
Cook the casserole at 350 degrees for 20 minutes or until the eggs have cooked.
Serve with bread or naan.
–
The second part of this campaign was being paired with a fellow blogger and swapping recipes. It's easy to get stuck in a rut and so I loved the swap aspect of this campaign since it helped in expanding the ways that I use ground beef.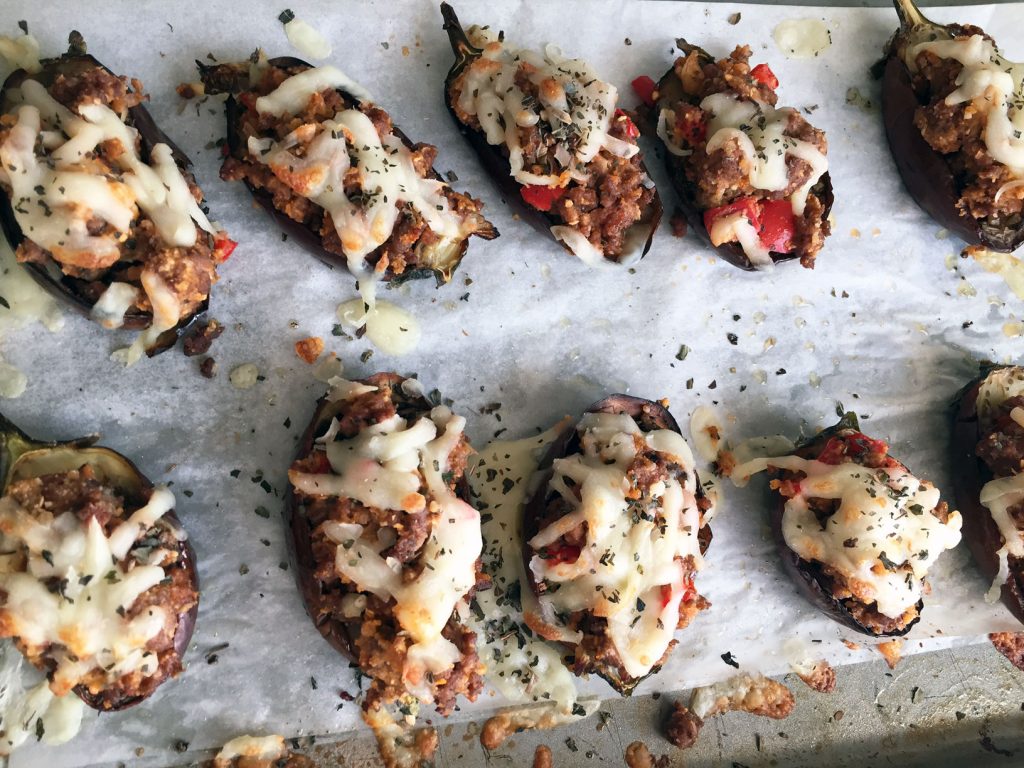 I was paired with Julie from Toronto who runs Daily Tiramisu.  Her dish, Italian Stuffed Eggplants, was one of her favourite dishes growing up. Julie recreated her late mother's recipe using taste memory, and boy was it good! The beef and eggplant mixture was so delish and made even better when it was stuffed in eggplant and topped with cheese. I have to admit, this is not a recipe I would have tried but one I'll be making again and again. There was some of the meat mixture remaining and it we happily ate it stuffed into sandwiches the next day.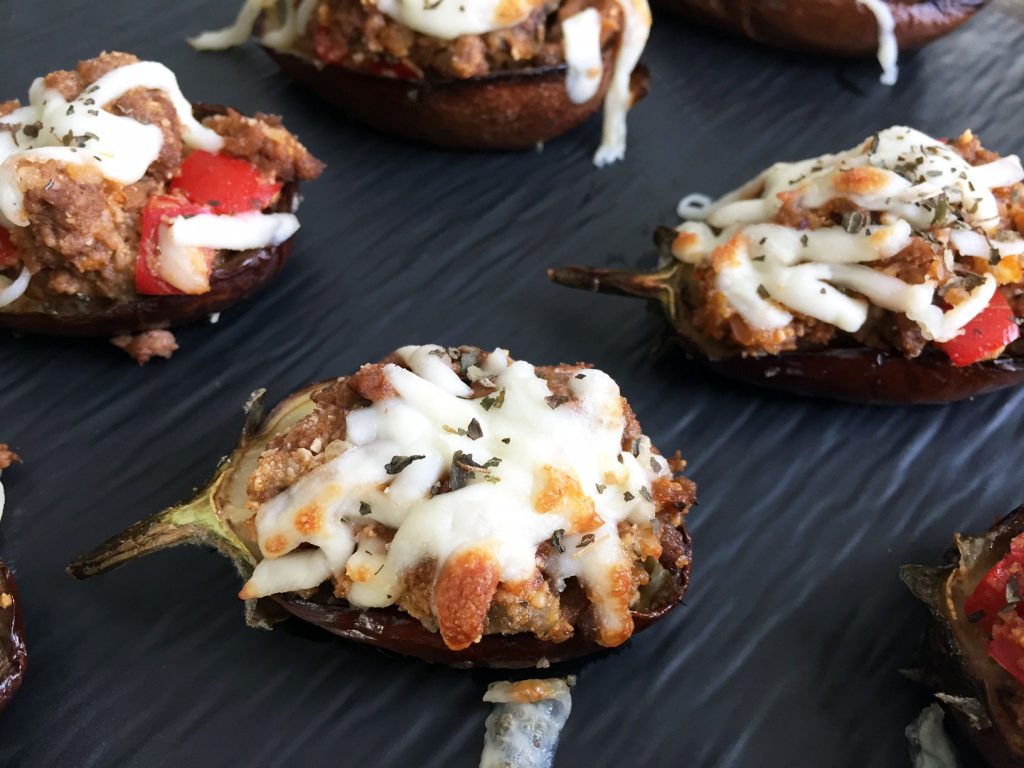 Italian Stuffed Eggplant
Ingredients
5 small (or 3 large) globe eggplants
Extra-virgin olive oil
Salt and pepper
1 large onion, finely chopped
1 large red bell pepper, finely chopped
3 cloves garlic, minced
Extra-virgin olive oil
1 lb Canadian ground beef
Roasted eggplant flesh
½ cup Italian breadcrumbs
1 cup Parmigiano Reggiano cheese
2 Tbsp tomato paste
1 cup mozzarella, grated
Basil leaves, for garnish
Directions
Preheat your oven to 400 degrees Fahrenheit.
Carefully cut each eggplant in half lengthwise.  Using a paring knife, score the flesh of the eggplant with deep diagonal cuts, about one inch apart, being careful not to cut through the skin of the eggplant.  Place the eggplant halves flesh-side up on a parchment–lined baking sheet and brush with olive oil.  Sprinkle with salt and pepper.  Put the eggplant halves in a preheated oven and roast for about 30-40 minutes (larger eggplants will take closer to 40 minutes).  Roast until the skin of the eggplant looks collapsed and puckered and the eggplant flesh no longer looks spongy (you can use fork to check).  Also, leave your oven on, you will need it for the next step.
Let the eggplants cool for 10 minutes and then use a spoon to scoop out the roasted eggplant flesh.  Put the flesh into a sieve set over a bowl to drain any excess water, being sure to leave the skin of the eggplant in-tact (the eggplant shells will hold the filling).  Set the eggplant skin aside on the parchment-lined baking sheet while you make your filling.
Chop onions, pepper and garlic and set aside.  Heat a large, deep skillet to medium-high heat and add olive oil to the skillet.  Add onions, pepper and garlic to the skillet and cook until softened, about 4 minutes.  Add the ground beef and break apart with a spatula.  Season with salt and pepper.  Cook the filling until the beef is cooked through, about 6-8 minutes.  Add the tomato paste and stir to incorporate throughout filling.  Next, add the drained eggplant flesh and fold it into the ground beef mixture, using your spatula to break apart any larger chunks.  Fold in Italian breadcrumbs and then freshly grated Parmigiano Reggiano cheese to incorporate into the filling.  Add salt and pepper, if needed.
Remove the skillet from the burner and using a spoon, carefully spoon the filling into the eggplant skins until all of the filling is used up.  Distribute the grated mozzarella evenly over the stuffed eggplants and bake in a 400 degree Fahrenheit preheated oven until the cheese is melted and slightly golden, about 6 minutes.  Serve immediately garnished with freshly torn basil leaves.
Disclaimer: This post is sponsored and I have been compensated monetarily and with groceries.