Disclaimer – California Cling Peaches has sponsored this post but all thoughts and opinions are my own.
We have had a pretty amazing December. While others have been sitting through snowstorms staying warm by the fire with mugs of hot chocolate, we have had some mild weather. I mean, no-coat, no-boot weather, ride your bike and bbq weather.  I know the cold front will soon be coming and I'm sure we will have a white Christmas, but for now, I'll just happily enjoy this.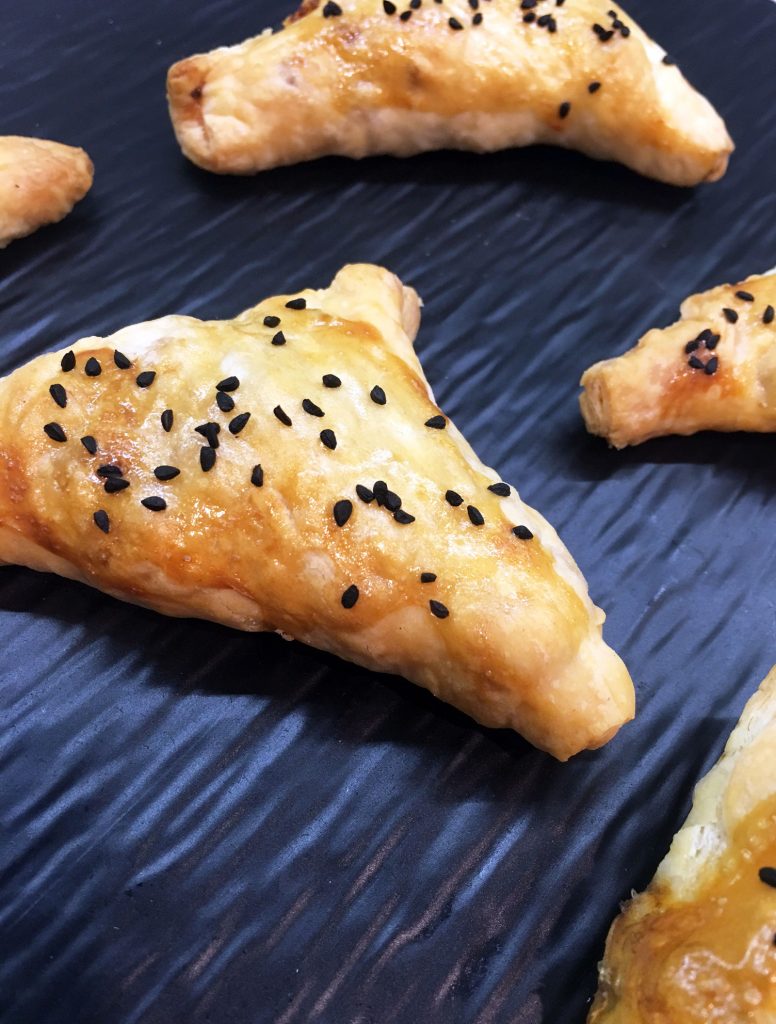 Despite the lack of snow, holiday season is in full swing. With parties and potlucks, there is always something to make and somewhere to go. Here's an appetizer that is sure to please, whether you're entertaining or attending a potluck. These turnovers are savoury with the addition of ground chicken but also take you back to summer with the addition of canned peaches.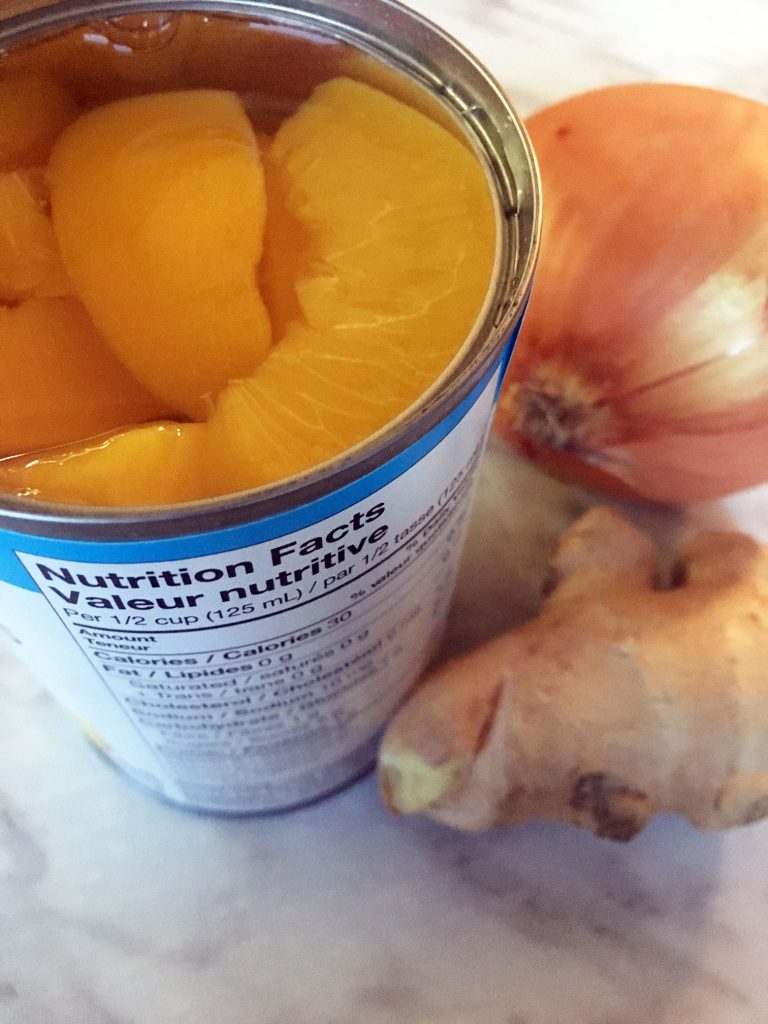 California Cling Peaches
While there are no fresh peaches available, canned California cling peaches are readily available. California cling peaches are picked and packed in their own juices usually within 24 hours. This retains their appearance, texture, flavour and nutritional content. These canned peaches have no preservatives and maintain their shape and firmness better than fresh or frozen.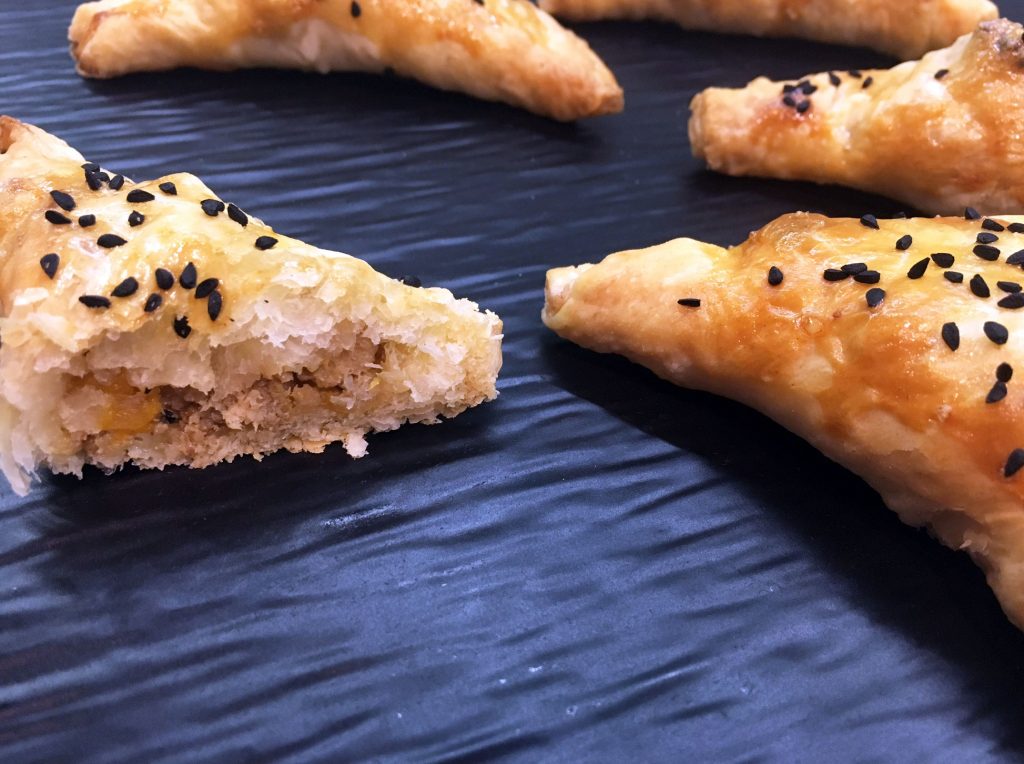 I wanted to incorporate peaches into a savoury dish and I thought an appetizer would be fun. They are my favourite course after all.  Packed with chicken and onions and flavoured with ginger and sriracha, these pockets are packed with flavour. The chicken and peach mixture is wrapped inside flaky, buttery puff pastry which is dotted with nigella seeds if you desire. The nigella seeds add a whole other layer of flavour!
You can make these ahead of time and just pop them into the oven before company is coming. The buttery smell of these savoury puffs will fill your house and make everyone hungry. If you do bake them ahead of time, just warm them up for a few minutes before serving.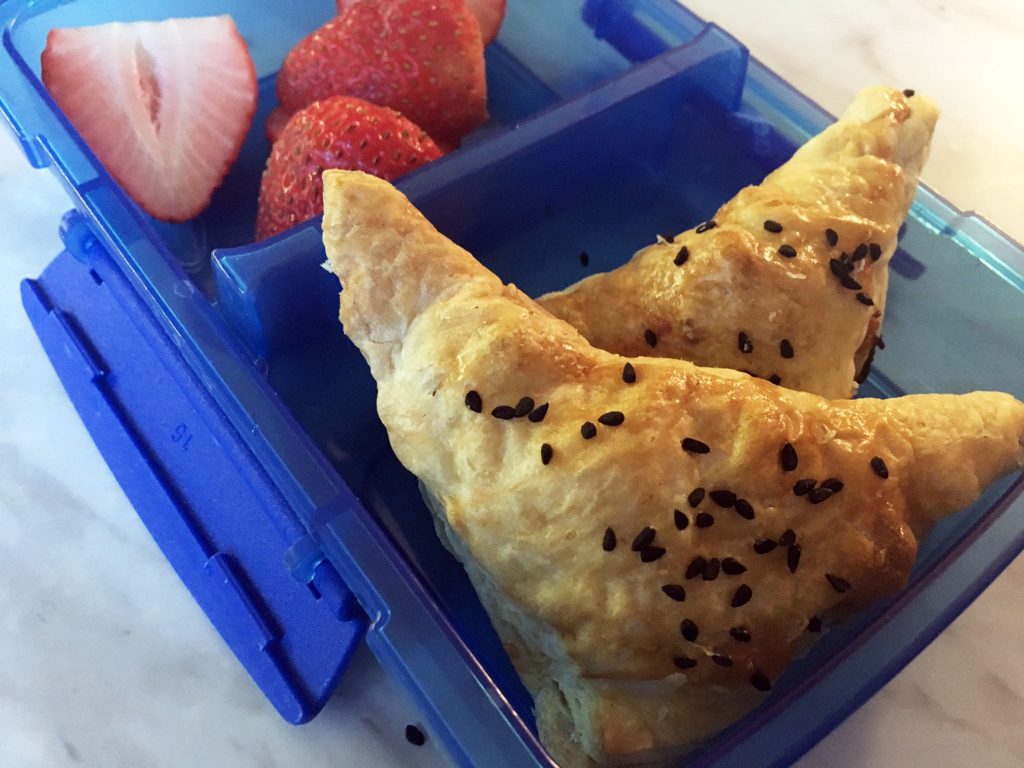 These are perfect for a cocktail party, appetizer course and even better the next day as leftovers for lunch!
Chicken and Peach Turnovers
Ingredients
1 lb. ground chicken
1 small onion, chopped
2 TB soya sauce
1 tsp minced ginger
½ cup canned California Cling Peaches, chopped
½ tsp paprika
½ tsp sriracha
salt
pepper
1 box of puff pastry
1 egg, beaten
Nigella seeds
Instructions
Add a little oil to a pan and cook the ground chicken.
Add the onion and cook until softened.
Add the soya sauce, ginger, peaches, and seasonings. Cook until the mixture is dry.
Roll out one sheet of the puff pastry and cut into 9 squares.
Fill each square with a spoonful of the chicken mixture and pinch the edges shut.
Repeat with the second puff pastry sheet and repeat.
Brush each turnover with the beaten egg and top with nigella seeds.
Bake at 400 degrees for 15 to 20 minutes.
7.8.1.2
34
https://foodmamma.com/2017/12/chicken-and-peach-turnovers/