If you ask hubby what completes a meal, his response will always be mashed potatoes. This is especially true if the creamy mash is infused with garlic. Garlic Mashed Potatoes are a favourite around here and made in a snap with our treasured Instant Pot.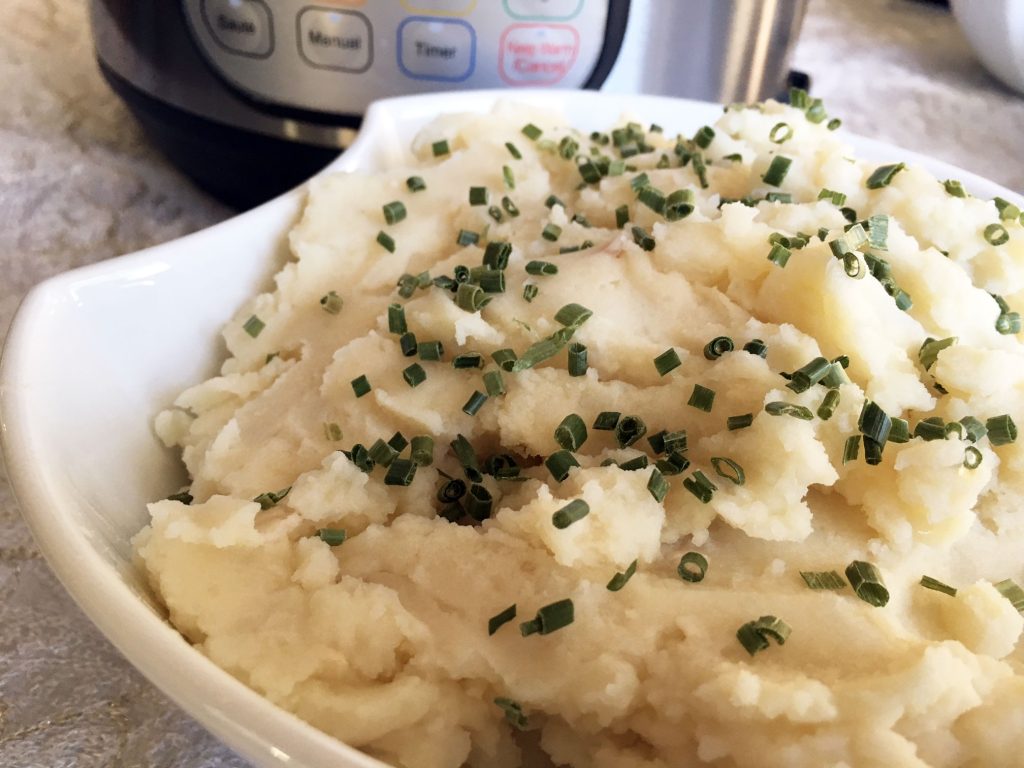 We don't always have potatoes in the house, but the boys love their mashed potatoes so we usually have a box of the instant stuff stocked in the pantry. As good as that is in satisfying a craving, there is nothing like using the real thing.
These potatoes are made with chicken stock and milk but if you are looking for an even richer indulgence, cream would make these decadent.
These are perfect as a side for Sunday Supper and make the best turkey partner for Thanksgiving and Christmas.
Make Ahead…
These potatoes are easily made in advance. If you are making these ahead, be sure to add a bit of milk when you are warming up the potatoes. This will ensure that they remain smooth and fluffy.
Instant Pot Garlic Mashed Potatoes
Ingredients
5 large potatoes
3/4 cup chicken stock
2 TB + 2TB butter
2 tsp minced garlic
salt
3/4 cup milk
chives
Instructions
Wash and peel the potatoes.
Place them in the instant pot with the stock, garlic, 2 TB butter and salt.
Cook on Manual Pressure on High for 8 minutes.
When the Instant Pot beep, release the pressure.
Mash the potatoes in the pot.
Add milk and the remaining butter until the potatoes are soft and fluffy.
If you are going to eat the potatoes later, add 1/4 cup of milk when heating the potatoes.
Sprinkle with chives.
7.8.1.2
35
https://foodmamma.com/2017/12/instant-pot-mashed-potatoes/