This pumpkin cake with all it's spices is warming and comforting, topped with a luscious cream cheese frosting. Perfect for Fall.
Snow. Loads of snow. This is what we dealt with yesterday. Fall was enjoyed for just a minute before the snow bombarded us. I couldn't believe the pile of snow that greeted us in the morning. When the white stuff started coming down again, I closed my blinds, ignoring what was going on outside.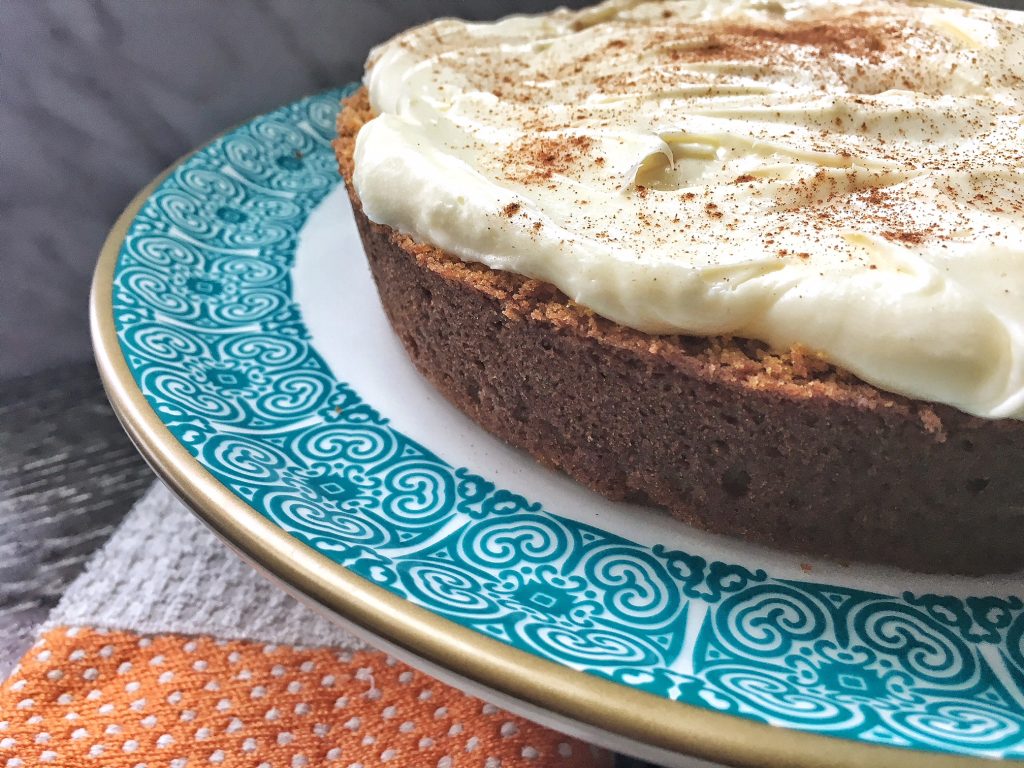 It was definitely a day to bake and this pumpkin cake has become a favourite. Q has already requested it for his birthday which is over a month away.
Based on a recipe by Martha Stewart, I upped the spice a smidge and topped it with a luscious cream cheese frosting. With only 3 ingredients, the icing is fool-proof and pairs perfectly with the cake.
The smell of this cake is amazing and takes me back to elementary school. The pumpkin muffins that the kindergarteners were making one day filled the halls and that amazing smell is one that's hard to forget.
With pumpkin, cinnamon and warm spices, this cake just screams Fall. It's a great addition to Thanksgiving dinner. It's also perfect for those days when you're stuck inside, trying to forget about the blanket of snow outside.
More Pumpkin
Love pumpkin? Here are a couple more recipes to get your fill.
Pumpkin Cake with Cream Cheese Frosting
Ingredients
1/2 cup butter or margarine
1 1/2 cups sugar
2 eggs
1 cup pumpkin puree
1/2 cup warm milk
1 2/3 cups flour
1 tsp cinnamon
1/4 tsp nutmet
1/4 tsp allsprice
1/4 tsp ginger powder
1/2 tsp salt
1/2 tsp baking soda
1/2 tsp baking powder
Instructions
Beat the sugar and butter until fluffy. Add the eggs until well combined. Add the pumpkin and meat until everything is incorporated.
In a separate bowl, combine all the dry ingredients. Add this to the butter mixture and beat until combined.
Pour batter into a round cake pan and bake at 350 degrees for 50-60 minutes. Let cool before topping with icing.
7.8.1.2
65
https://foodmamma.com/2018/10/pumpkin-cake-with-cream-cheese-frosting/