There are so many places to eat in Vegas, it's hard to know where to go. Here are a few places worth checking out the next time you are in Vegas.
I love Vegas! The city that never sleeps has so much to see and do, it's a fun place to go to often. We managed to plan a cousin's trip to Sin City for a milestone birthday. It was pretty impressive that twelve of us were able to coordinate and celebrate in Vegas. I can't wait for more of these memorable moments.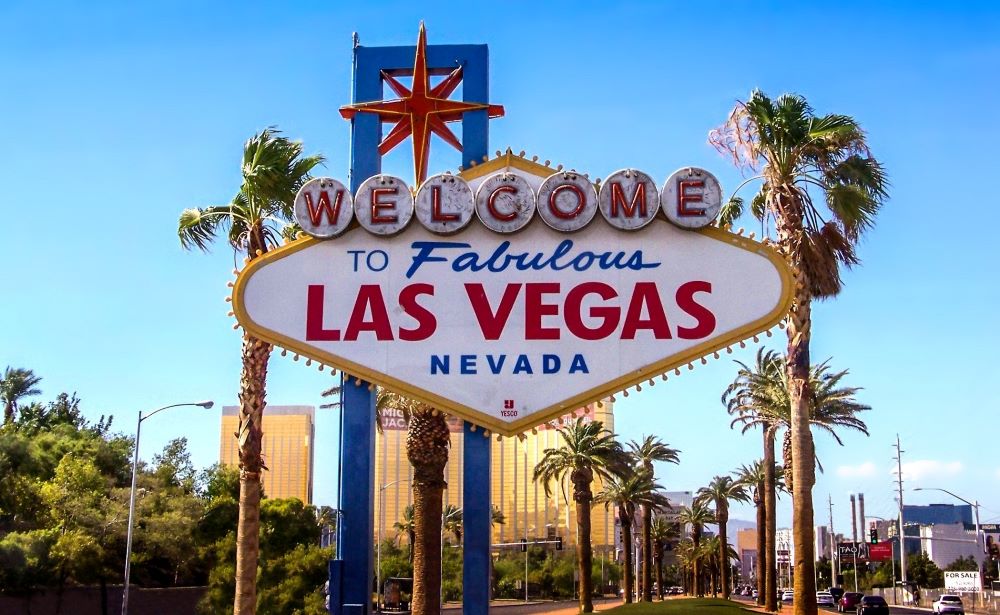 We didn't cover a lot of what was on my list of places to eat but the places we ate were pretty good. Here are some ideas the next time you head to Vegas.
Hell's Kitchen
We headed to Hell's Kitchen for lunch and it was one of my favourite meals of the trip. Located at Caesar's, we had such a wonderful meal with a great view and I can't wait to go back for more.
We started with the pan seared scallops which I am still thinking about. Not only was it delicious but the plate was so pretty to look at.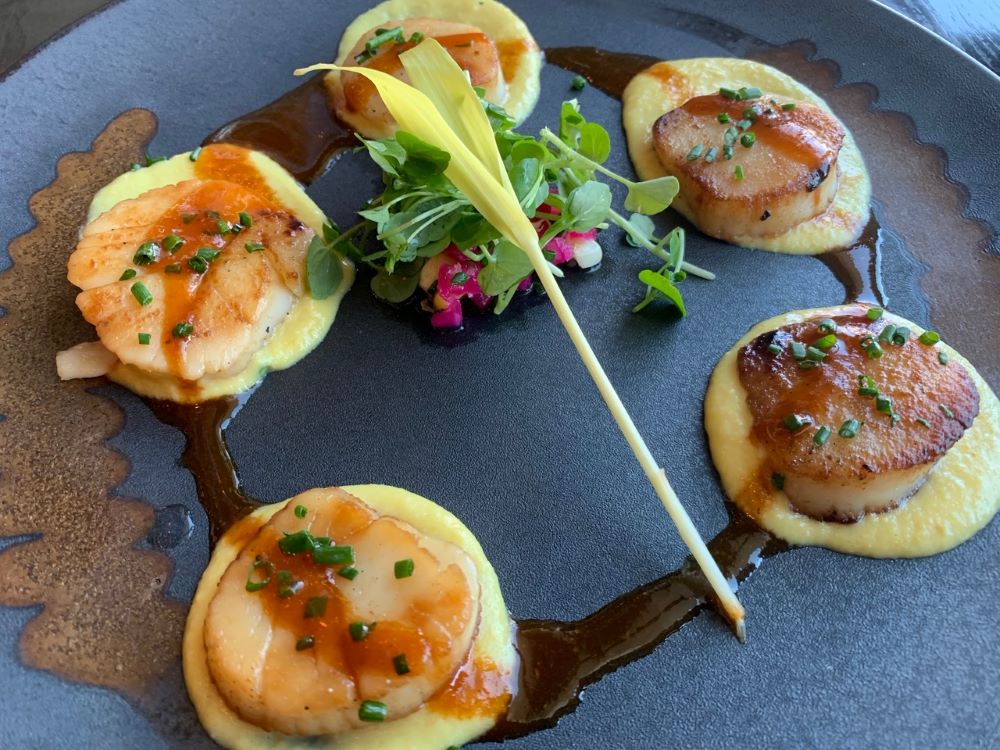 Our other appetizer was the lobster risotto which was divine. The truffle risotto was served with a butter poached lobster tail. The truffle wasn't overwhelming, it was perfect.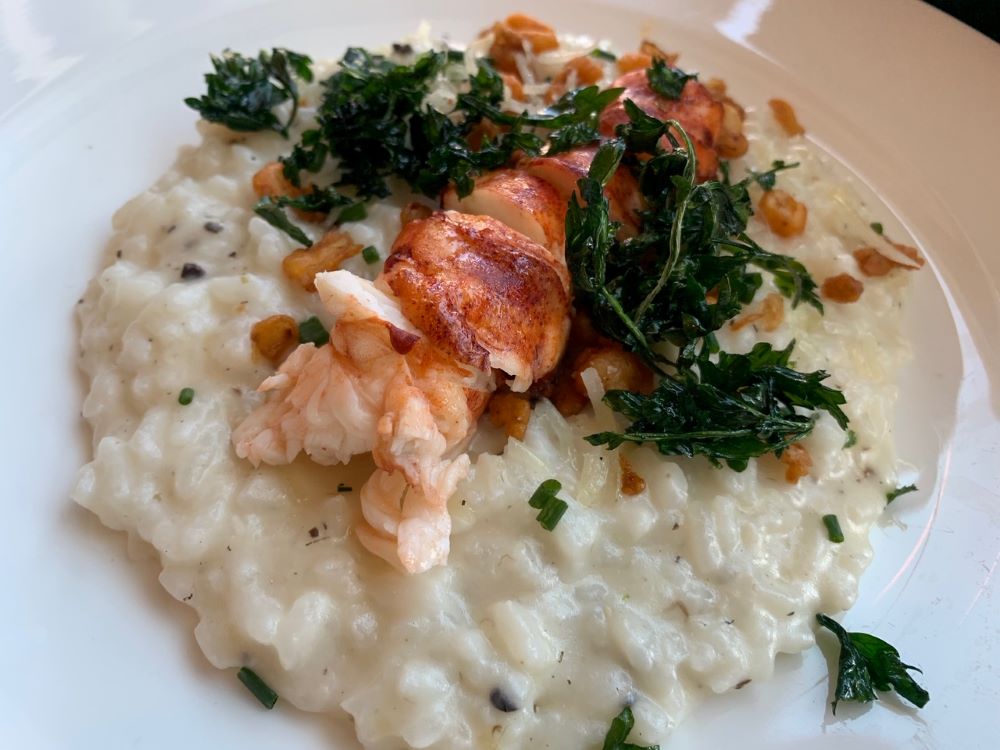 Our main was the braised short rib. It was served on a potato cake which wasn't my favourite but the beef was delicious. It was tender and tasty and definitely a good choice.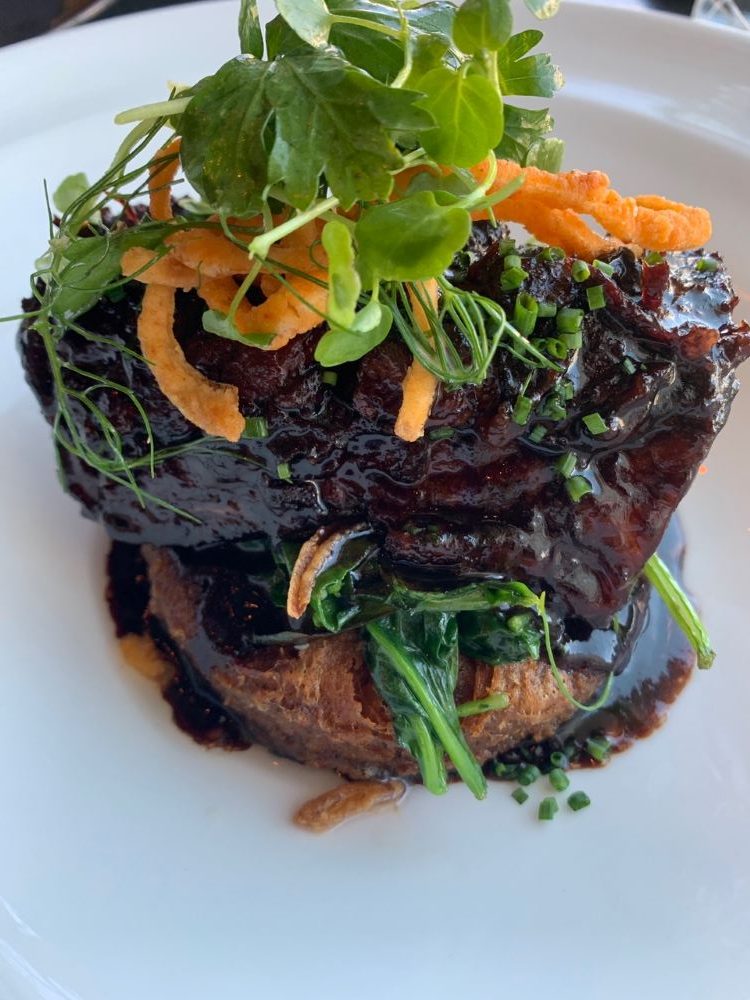 We were so full but felt that dessert could not be missed. The waitress suggested the signature dessert, the sticky toffee pudding, which was served with Speculoos ice cream. Boy, were we happy that we did not skip out on dessert. It was so decadent!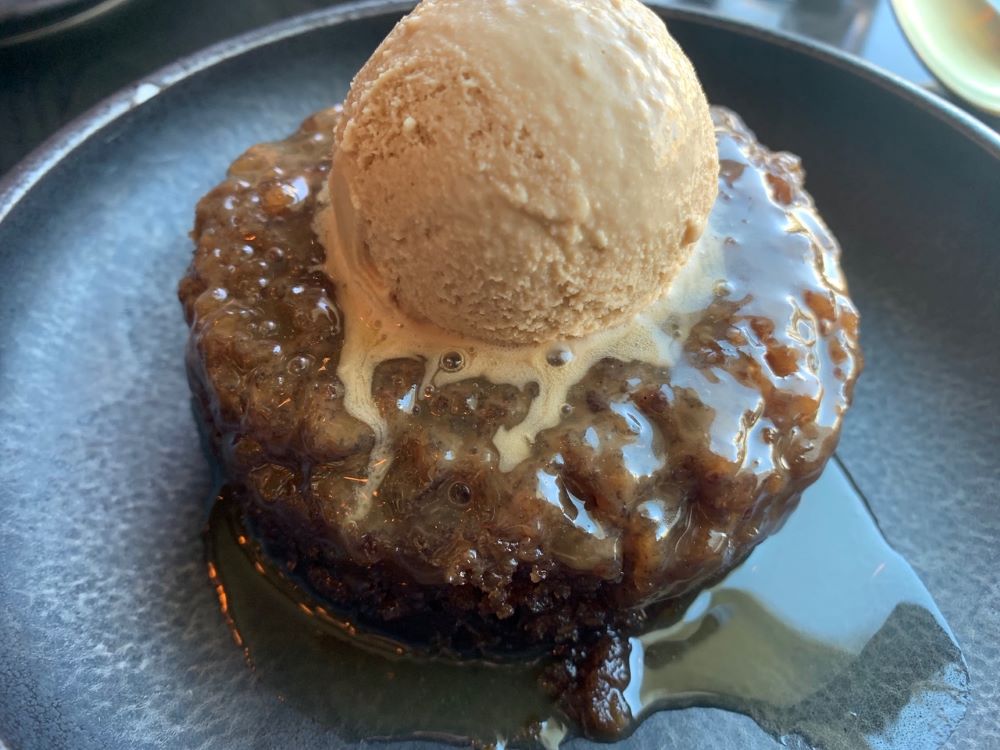 Eataly
Eataly is located in Park MGM and there is something for everyone. I loved this place! It had a great coffee bar with pastries. It had a Nutella bar with doughnuts or cannolis or crepes which could be filled with Nutella.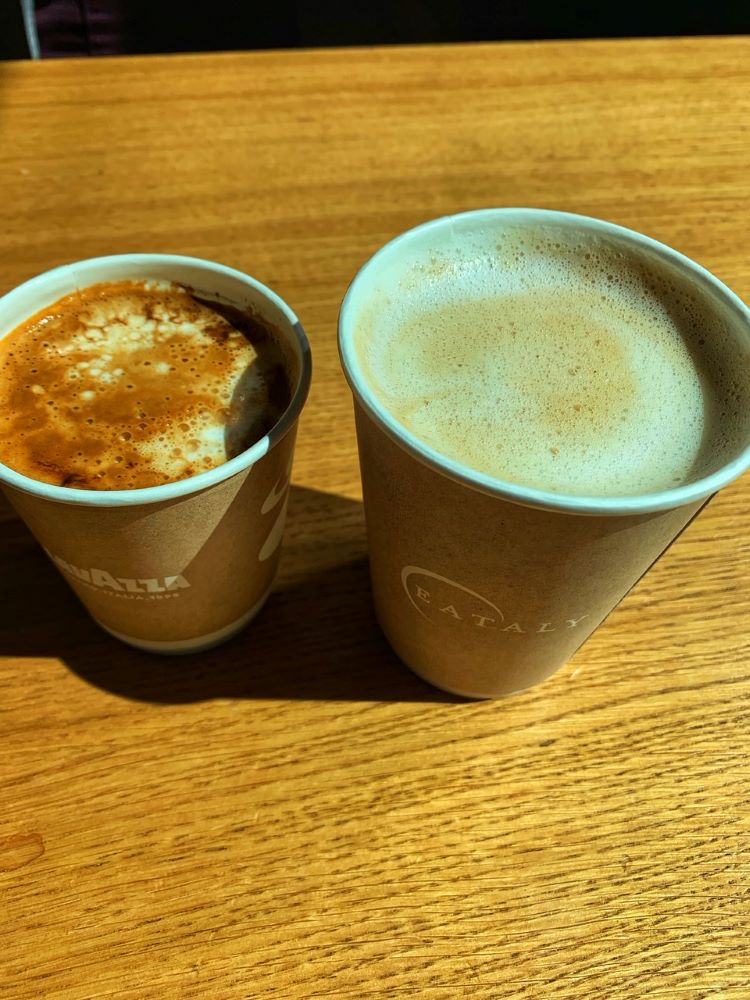 If you are a cheese lover, you definitely should grab something from the cheese bar. These caprese sandwiches were great and the mozzarella with the roasted tomatoes was amazing.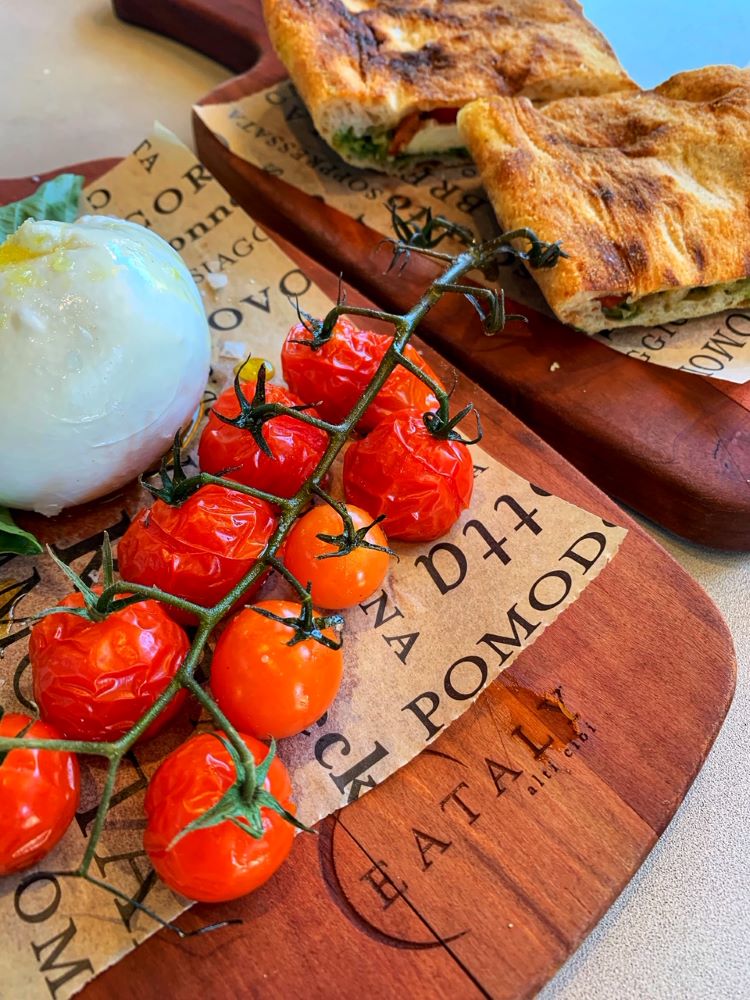 There was also a place to grab pasta, pizza and even fish. Do not miss this delicious place!
Beauty & Essex
We had dinner at Beauty & Essex in the Cosmopolitan on Saturday night. The restaurant is located behind the pawn shop and has a menu with lots of shareable plates.
We had the salmon tartare which was served on crispy rice cakes. Topped with pickled cucumber and chili aioli, it was great.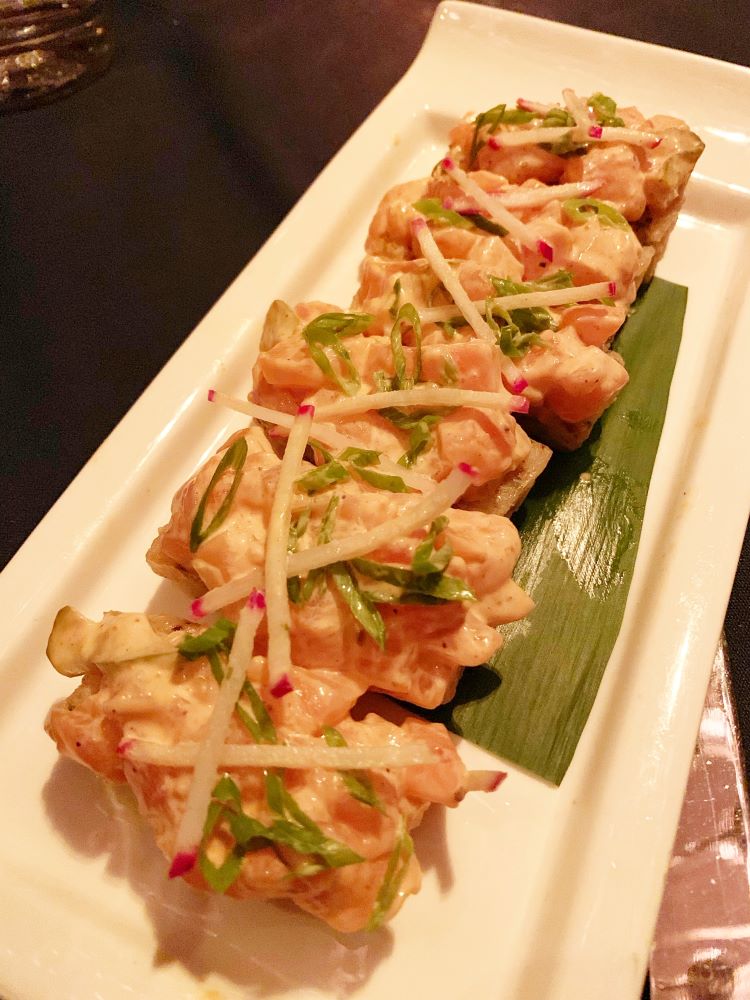 We couldn't resist order the Korean Fried Chicken. This was served with cucumber kimchi and topped with a gochujang glaze.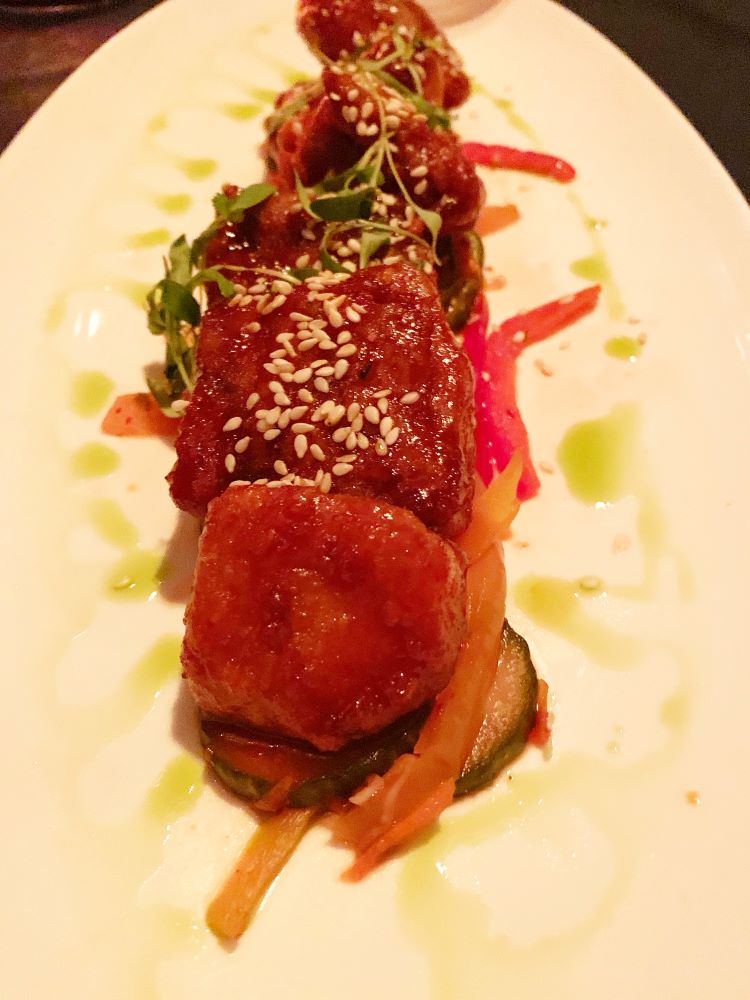 We had this with the broccolini which was seasoned with garlic, soy and chili.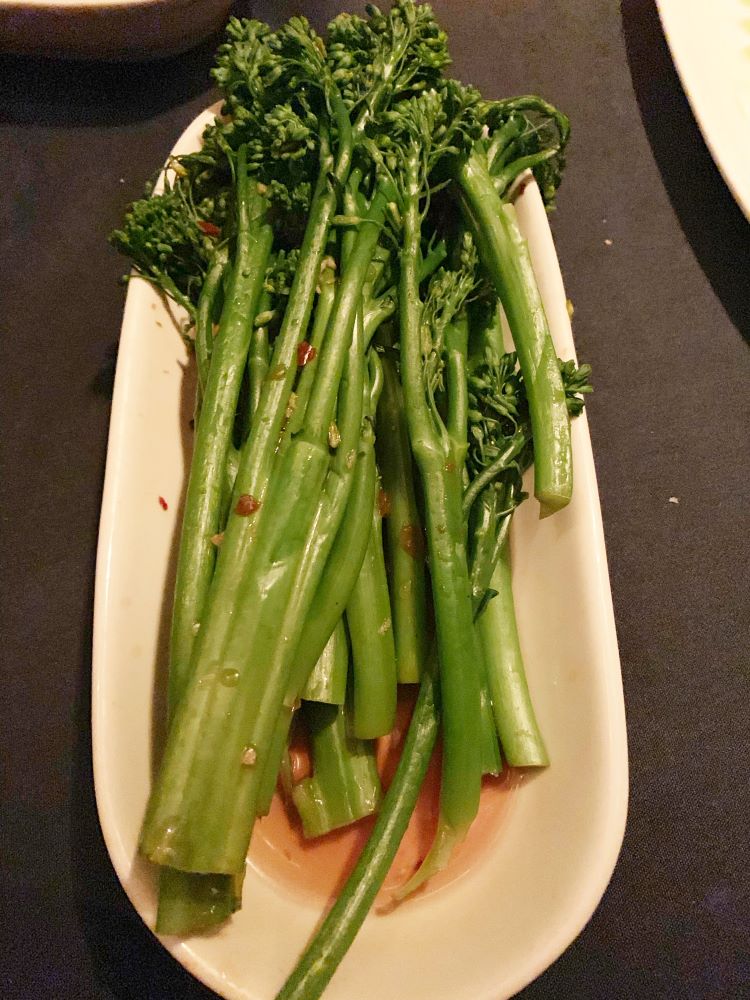 Dessert included a few sweet treats. My favourite was the Black Bottomed Butterscotch Pot de Creme. It was so creamy!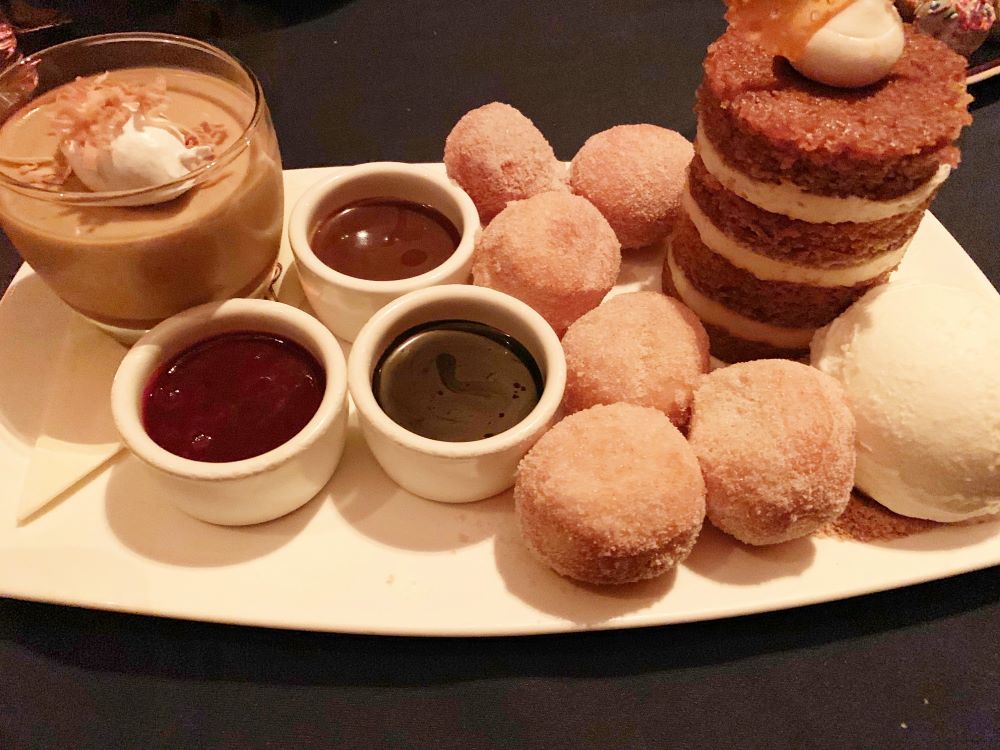 We also had the "Les, NYC" doughnuts which were served with chocolate fudge, berry and caramel sauces.
The carrot layer cake was beautiful which was served with cream cheese icing and salted caramel ice cream.
Tom's Urban
Located in New York, New York, Tom's Urban is great for a quick bite.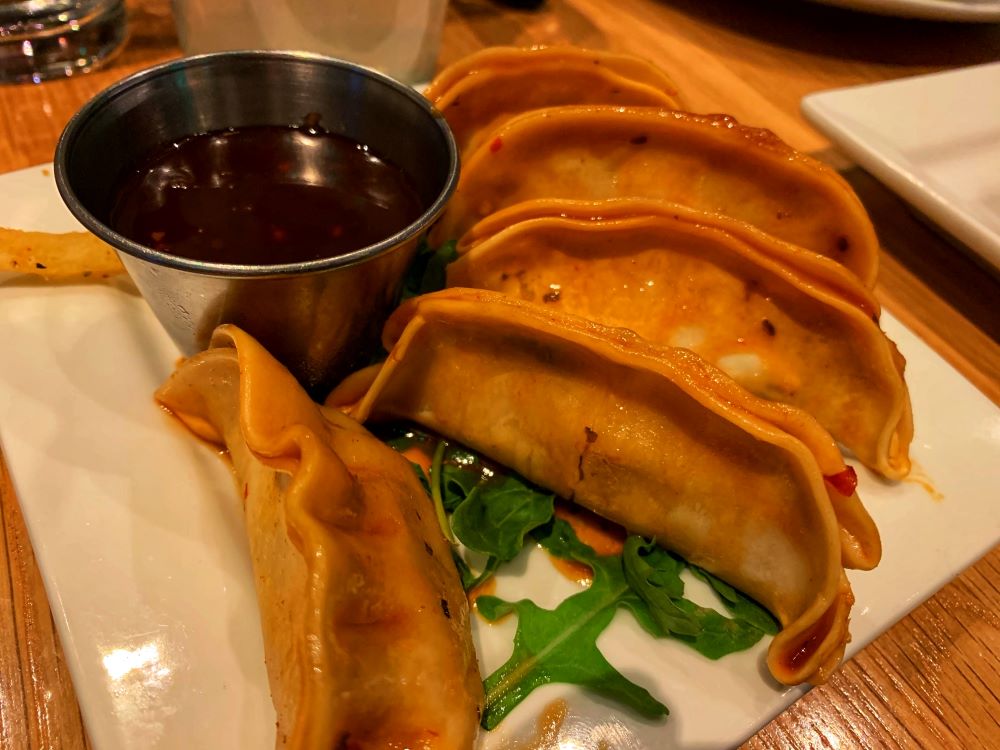 During their happy hour, they have half off all their drinks. They also have some happy hour bites which we had.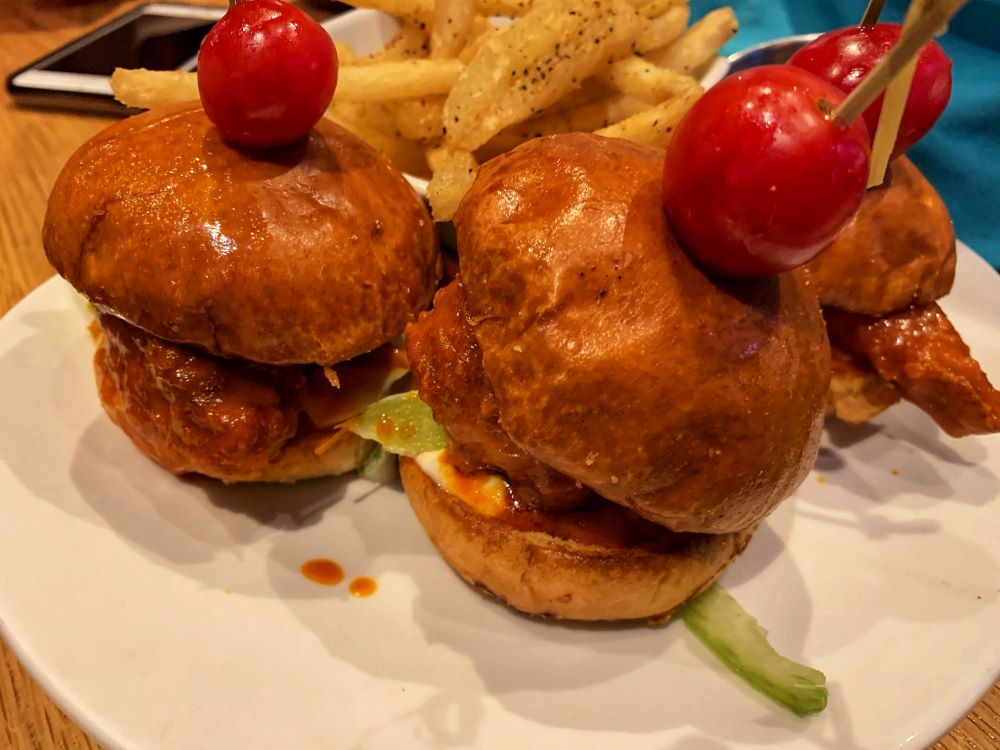 We had the chicken potstickers, sriracha buffalo sliders and the Nashville hot wings. We landed late on Thursday night so it was great to grab a quick and cheap bite.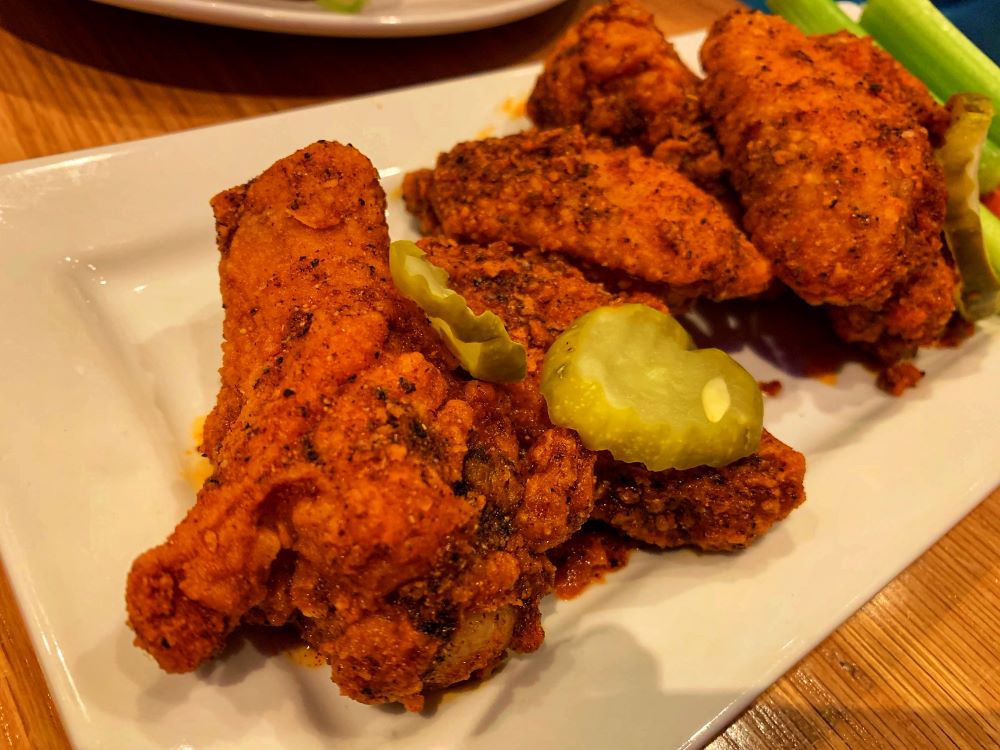 Pok Pok
Remember those delicious Fish Sauce wings I had when I went to Portland? I was happy to see that Pok Pok had a location in Vegas serving up those delicious wings.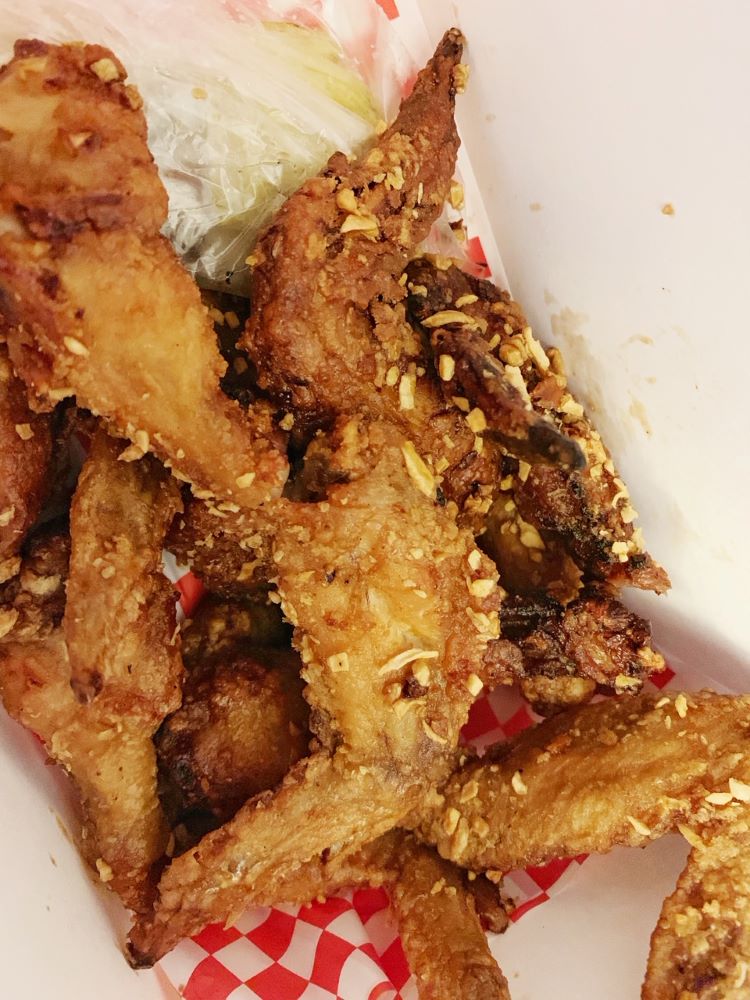 Located in the Cosmopolitan, the menu is limited but it includes the wings and that's all that matters. Be warned, if you happen to take an order to go, the smell of the wings will definitely fill your Uber.
MGM Grand Buffet
We had tickets to the I Heart Radio Music Festival on Friday (which was amazing by the way). We hadn't planned on going to a buffet but our time was limited and we didn't want to wait for our food and be late for the concert.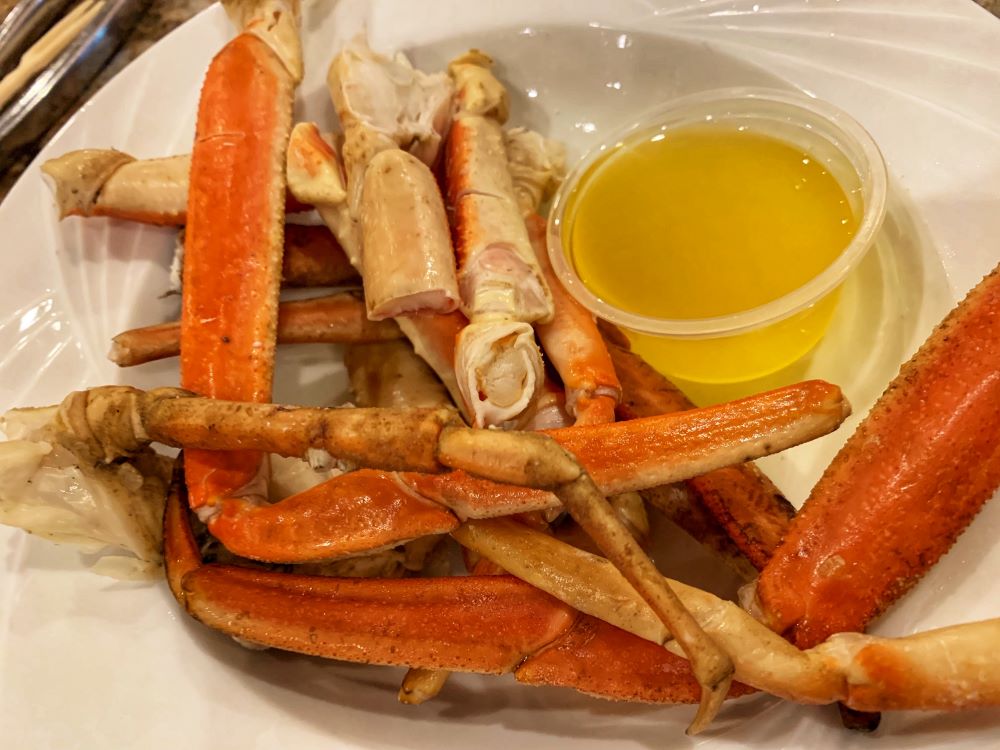 The MGM Grand Buffet was actually pretty impressive. It even included drinks, both alcoholic and non-alcoholic as part of the dinner.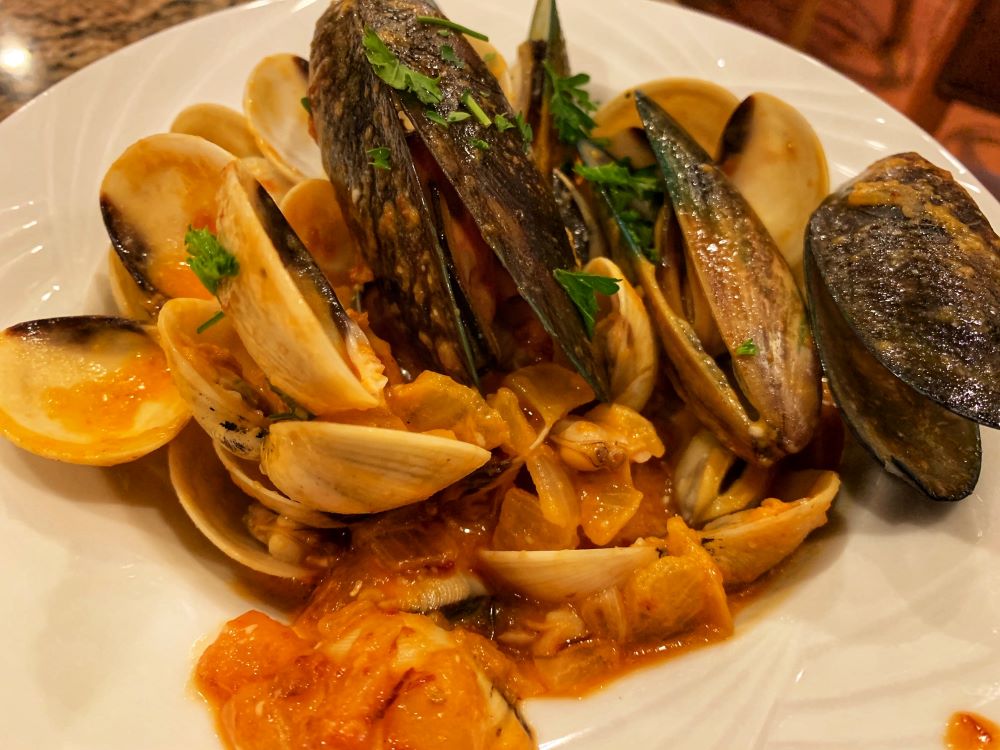 The options were plentiful. How could you go wrong with sushi, crab legs, mussels, and shrimp. There was even prime rib and brisket.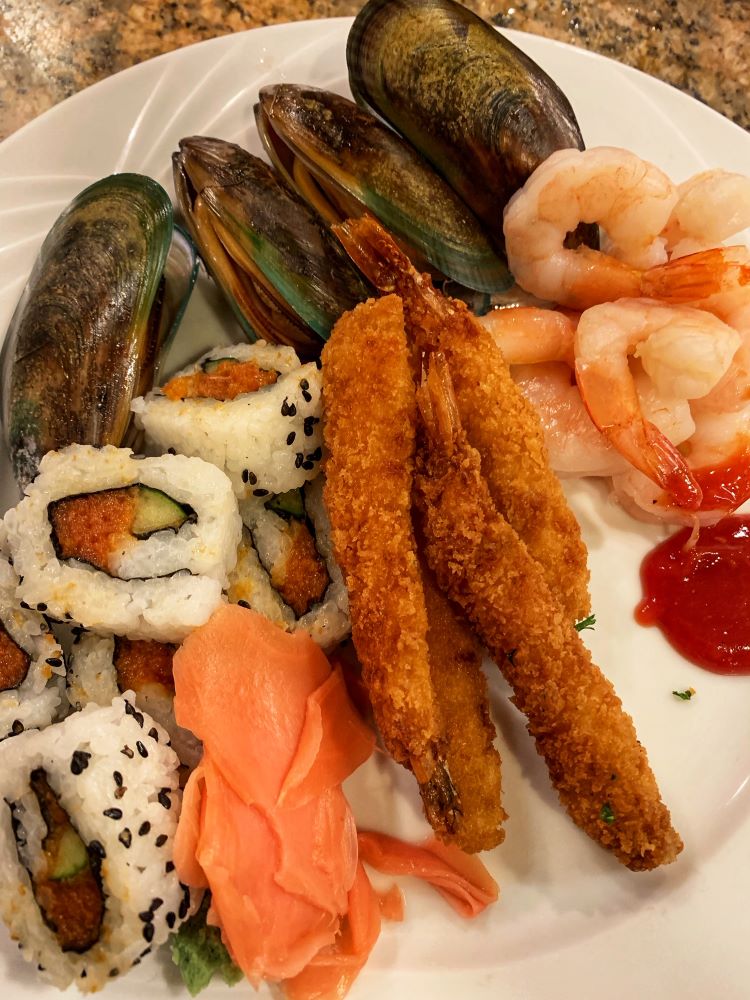 It was definitely good value and we were able to have a quick and delicious meal before the show.