Take shakshuka on the go with these puffy shakshuka waffles. The flavourful egg and tomato mixture is wrapped up in a puff pastry waffle, so you can enjoy it anywhere.
Disclaimer – Egg Farmers of Alberta have sponsored this post but all thoughts and opinions are my own.
Eggs are a staple around here. They are a regular for breakfast, especially on those days that the kids need extra energy for hockey or basketball. They are always welcome for dinner because nothing beats breakfast for dinner, right?
Canadian eggs are fresh, local and high in quality and a great source of protein. Eggs provide 14 important nutrients like iron, folate and zinc and vitamins A, D, E and Vitamin B12. Two eggs are considered to be one serving of Meat and Alternatives in the Canada Food Guide.
While our summer hasn't been the norm this year, we have still been enjoying lots of time outside, soaking in the sun. We try and take meals with us and this egg dish is a good one. I'm not talking about egg salad sandwiches here. It's more of a take on Shakshuka…portable and perfect for on the go.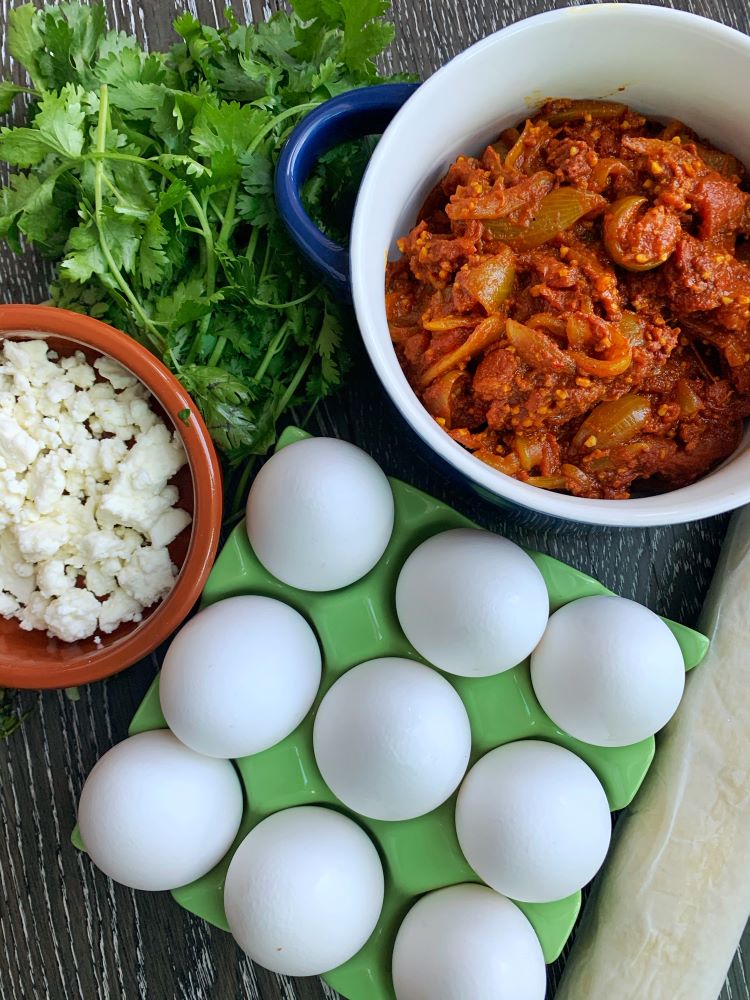 Shakshuka is a North African dish where eggs are poached in a spicy tomato mixture. It is packed with flavour with the onions and tomatoes and so many fragrant spices. It is one of our favourite brunch dishes, which starts on the stove and then is finished in the oven. Wanting a portable lunch that was satisfying and delicious, I came up with these puffy shakshuka waffles.
The tomato and onion mixture is made on the stove but can be done in advance and refrigerated so you can have it ready to go when you feel like waffles. This is a lifesaver when you want a delicious summer meal but do not want to turn on the stove. To get this spicy mixture into waffle form, I used puff pastry. It's the perfect vessel to hold everything in.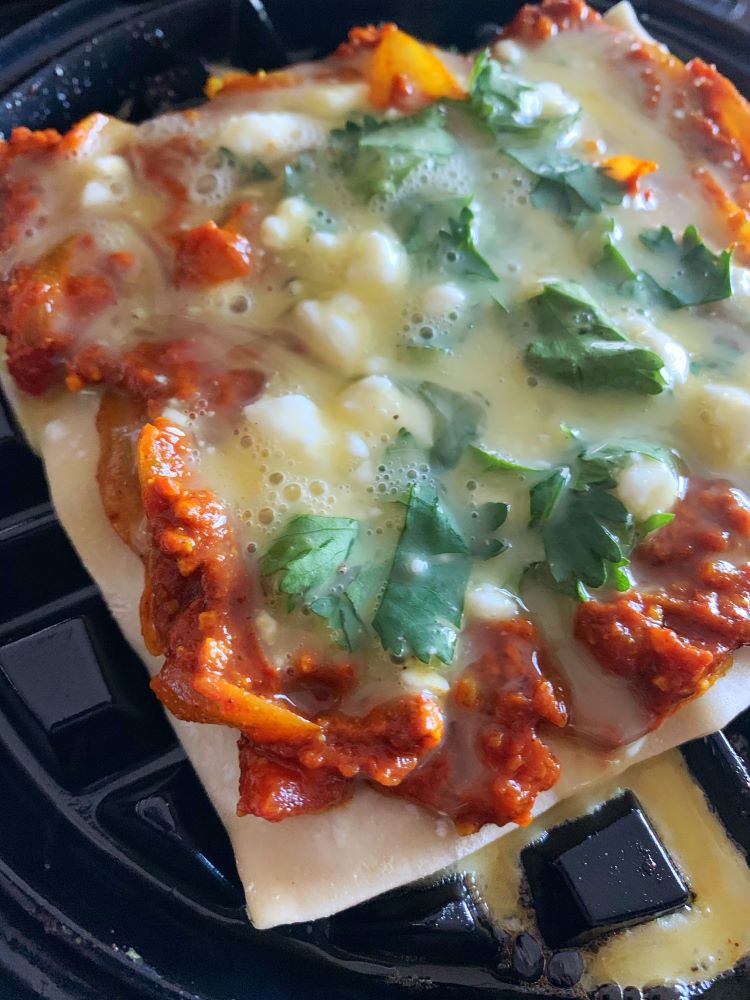 Normally when I make traditional shakshuka, I finish it off with feta and cilantro. The feta provides the perfect salty tang to go with the eggs and tomatoes. To ensure that the same flavours were in the hand-held version, I mixed the eggs with feta and cilantro and put it in the waffle so that nothing was missed. There are quite a few spices in this dish. The combination of the paprika, turmeric, cumin, harissa, sumac and cinnamon results in a bold and flavourful dish.
Using puff pastry in the waffle iron is an amazing thing. It puffs up and the outside gets crisp and it makes a great stuffed waffle. Definitely something to try. Flavour packed eggs in a waffle – the perfect summer dish.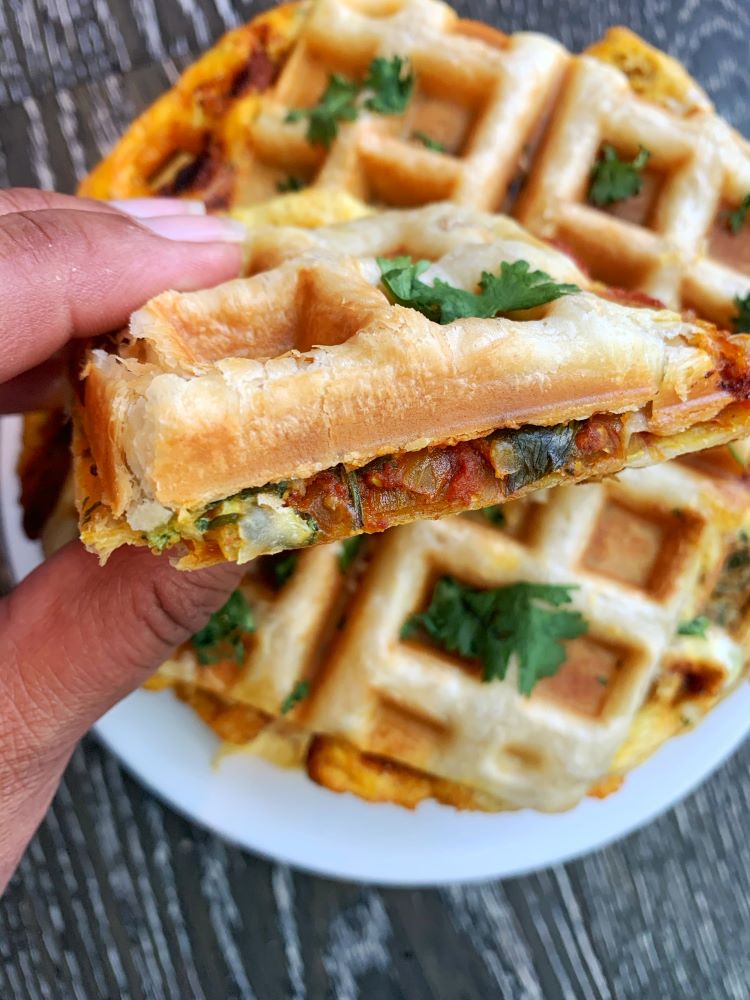 For information and more recipes using eggs, head to https://eggs.ab.ca/.
Yields 4 waffles
Puffy Shakshuka Waffles
Ingredients
2 small onions, sliced
2 TB minced garlic
2 tsp paprika
1 tsp turmeric
1 tsp cumin
½ tsp harissa paste
½ tsp sumac
½ tsp cinnamon
salt
pepper
1 400mL can of diced tomatoes
4 eggs
¼ cup feta cheese
handful cilantro
1 box of puff pastry
Instructions
In a pan, add some oil and cook the onions.
Once softened, add the garlic and spices and stir until well combined.
Add the tomatoes including the liquid and let cook until all the liquid has been absorbed.
Take off the heat and let cool.
In a bowl, combine the eggs, feta, cilantro and salt and pepper.
Roll out the puff pastry and cut into squares. I cut four squares from each roll of pastry – 8 in total.
Heat the waffle iron according to manufacturer's instructions.
When its hot and ready, add one square of puff pastry, spread on ¼ of the tomato mixture and pour over ¼ of the egg mixture. Add a puff pastry piece on top, close the lid and allow the waffle to cook until crisp.
Repeat for the remaining waffles and enjoy.
7.8.1.2
140
https://foodmamma.com/2020/08/puffy-shakshuka-waffles/