This filling salad is packed with everything summery. Corn, tomatoes, avocadoes…this Quinoa Summer Salad makes a satisfying meal or a terrific side.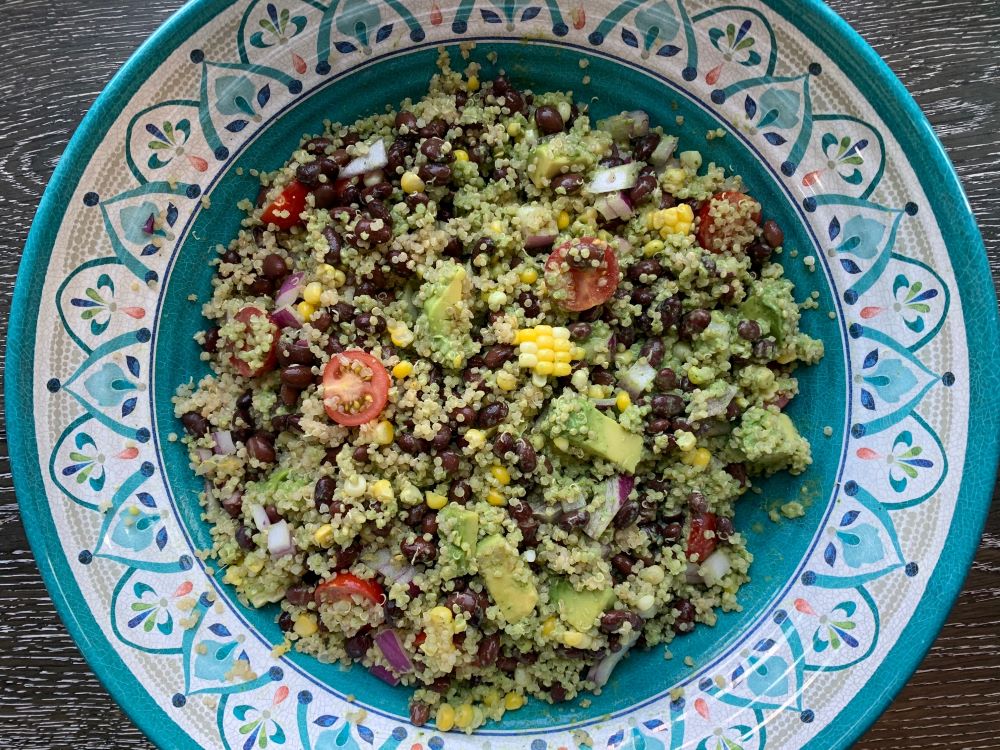 We have consumed a lot of salad this summer. It's not really about being healthy, more about balancing out all the ice cream we have been enjoying.
Not one to eat the same thing over and over, lots of salad variations have come out this year. This was one of my favourites. This Quinoa Summer Salad was super filling as just a meal in itself. It is filled with all the good produce summer has to offer.
I am not much of a gardener. I admit, I sometimes forget to water the plants and if I see a bug, I'm just done with it. We got rid of our garden a couple of years ago but I still insist on having a couple of tomato plants every year. The cherry tomatoes from my plant made a wonderful addition to this salad.
A favourite of all of ours, especially the kids is sweet corn. Corn is a staple around here so it made sense to add it.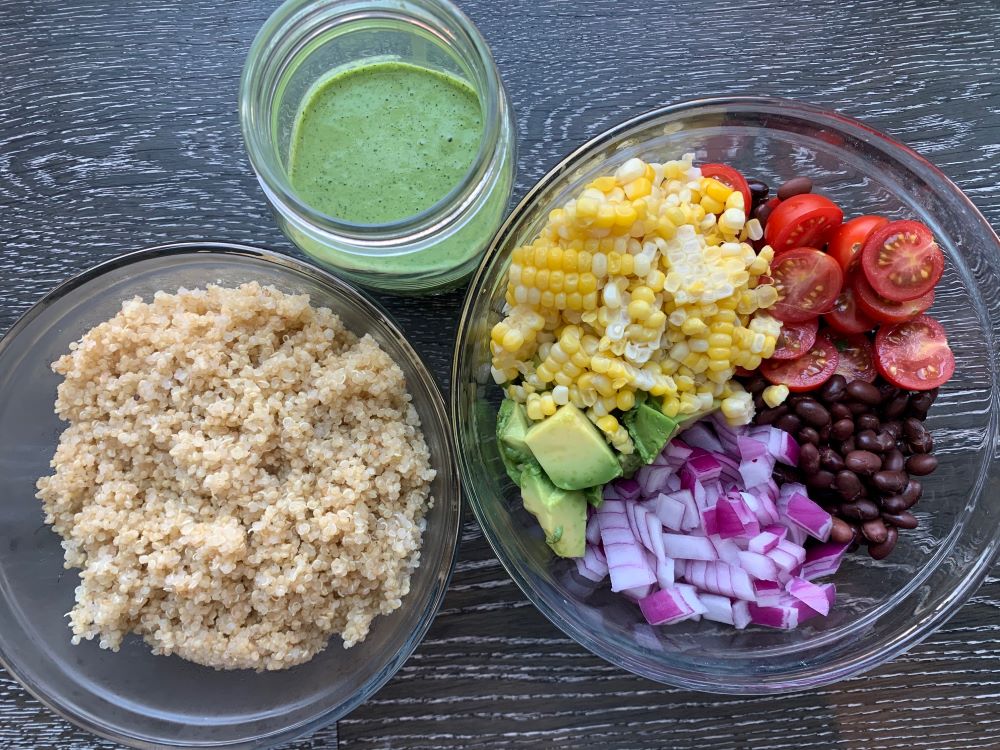 The addition of quinoa and black beans makes this a hearty salad, so even if you don't have chicken or meat, this will fill you up. The onion and avocado give this dish a lot of texture – crunchy and creamy.
The dressing is my favourite. It's made with cilantro and brightened up with lime and made creamy by adding some yogurt.
I prefer cooking quinoa in the Instant Pot. It makes is so easy and has a cooking time of only one minute. While that's cooking, I cut up all the veggies and make up the dressing. It does not take long at all for you to have this tasty dish.
Summer in a bowl!
Ingredients
1 cup cooked quinoa
1 can black beans, rinsed
1/2 red onion, chopped
2 cobs of corn, cooked
1 avocado, chopped
1 cup cherry tomatoes, halved

Dressing

1 cup cilantro
1/2 cup yogurt
1 lime, juiced
2 TB minced garlic
1/4 cup olive oil
2 tsp red wine vinegar
salt
pepper
Instructions
To a bowl, add the quinoa and all the veggies.
In a blender, mix together all the dressing ingredients.
Add the dressing, a little at a time until desired.
7.8.1.2
138
https://foodmamma.com/2020/08/quinoa-summer-salad/