This beet hummus is not only easy to make, it is so beautiful to look at! Vibrant and delicious, it'll help you eat your veggies.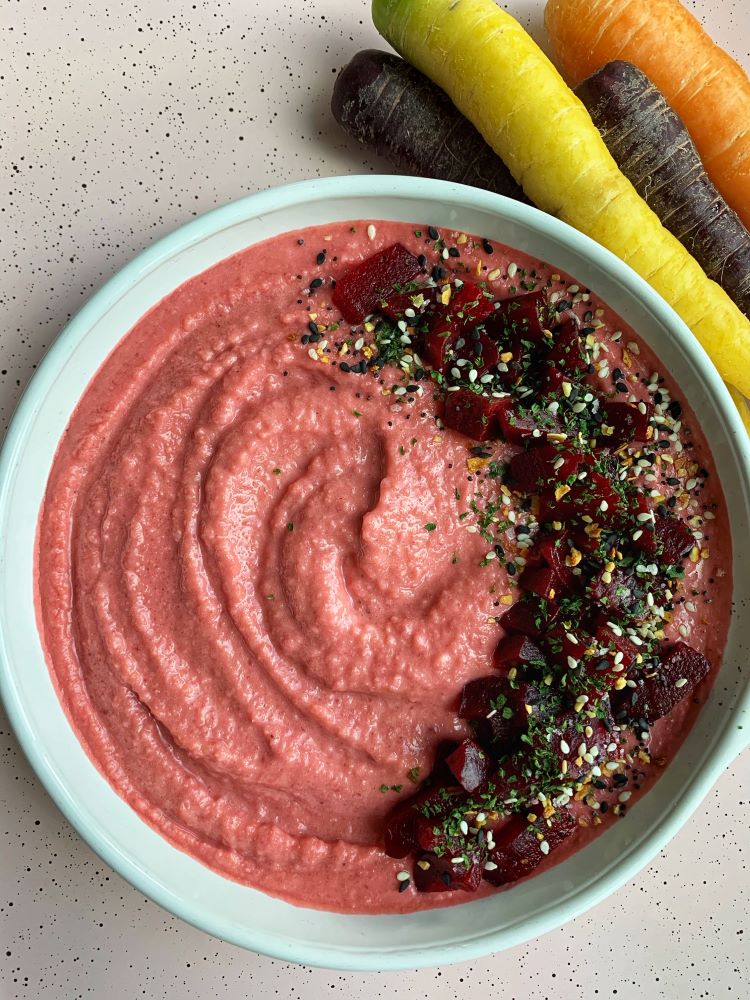 Hummus is one of the easiest dips to make. Sometimes when I buy it out of convenience, I'm always mad at myself because it really does just take a few minutes.
Beets were never something I automatically enjoyed. It took a while but now I can't resist. The one thing I don't like is cooking them. I take the easy way and buy the cooked beets from the store. They can still be roasted if you desire, without all the colourful mess.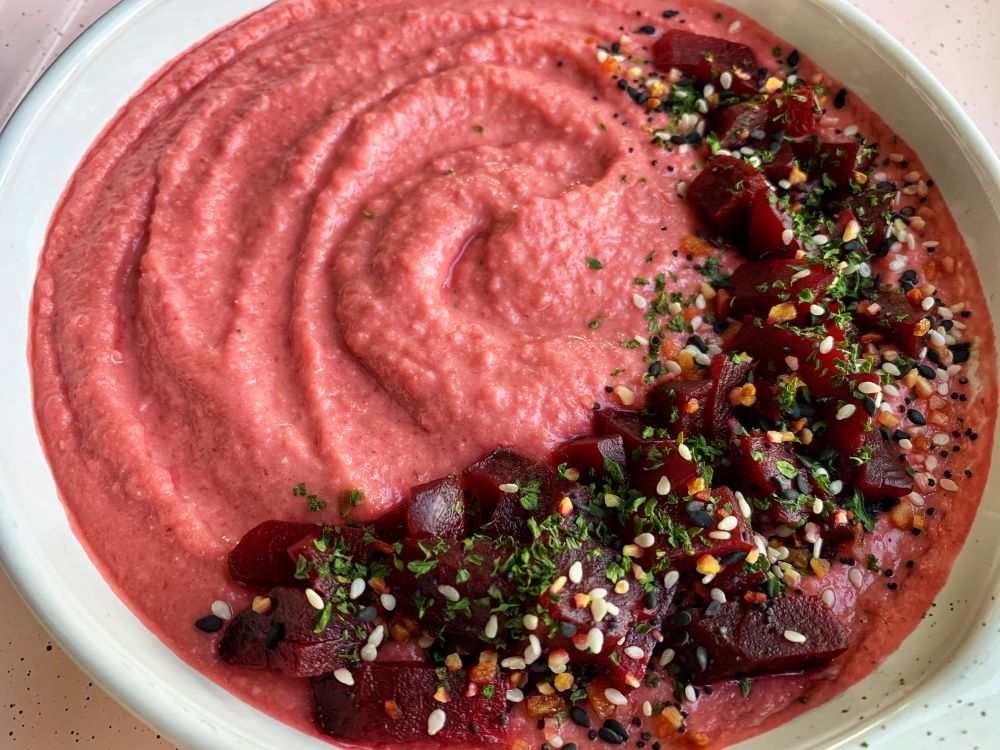 Adding beets to hummus just takes the dip to a whole new level. The colour is the main reason. The pinkish hue is vibrant and is so beautiful to look at. It's definitely something I like to serve at parties, more prettier than just regular hummus. Buying cooked beets makes the addition of them to hummus super simple.
I like a lot of garlic in my hummus – the more the merrier. If you don't feel the same, just reduce the amount. Also, be sure to taste after it's blended to ensure there is enough lemon and salt.
You can serve the beet hummus as is or you can top it in a variety of ways. I like using pieces of the beets topped with parsley and bagel seasoning. I love the texture and the colours it adds. Serve hummus with veggies or crackers or pita and you've got yourself a great appetizer.
Ingredients
1 540ml can chickpeas, drained
2 small beets, cooked
2 TB garlic, minced
1 TB tahini
1/4 cup yogurt
1/2 lemon, juiced
salt
pepper
Instructions
Add 1 1/2 beets and everything else to a food processor and blend until combined.
Season as per your taste.
Top with the remaining half beet, chopped up with parsley and sesame seeds if you desire.
7.8.1.2
143
https://foodmamma.com/2020/09/beet-hummus/
Love Hummus? Try some pear hummus or add a kick with jalapeno hummus.