If you're looking for a simple bread recipe, this Garlic, Cheddar and Jalapeno Loaf is the perfect thing! Great by itself or with your favourite dinner.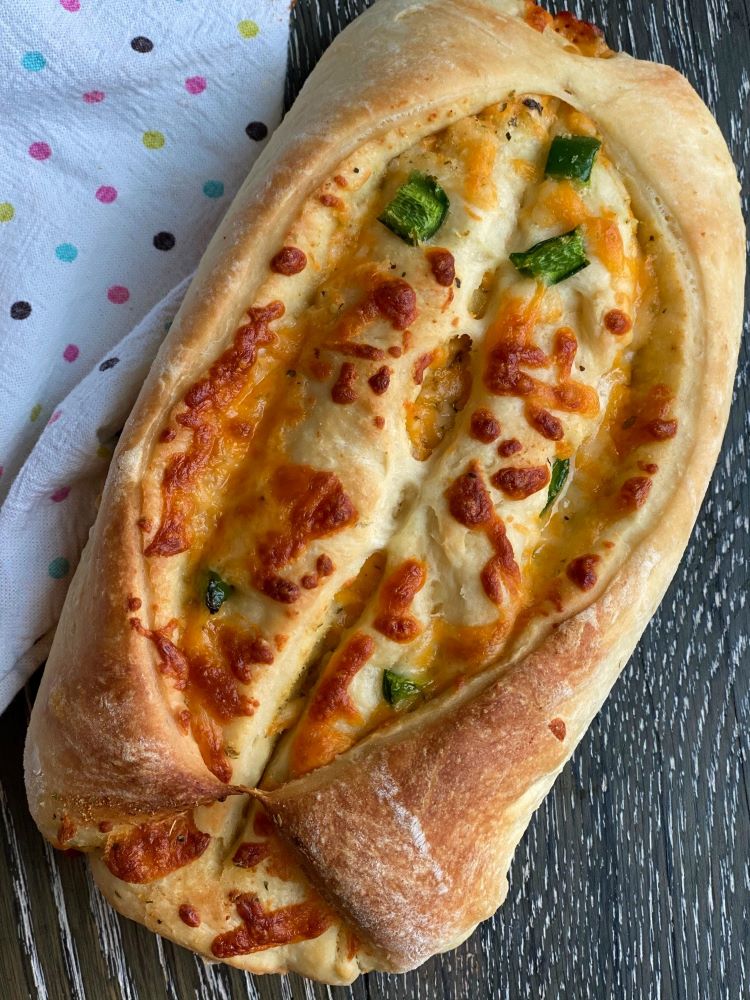 During the start of the pandemic, many people jumped on the sourdough bread bandwagon, including me. Although it was fun for a while, it really was way too much work. This recipe is super simple and you end up with the most delicious bread. 2 actually!
Recipes that are dump and go and my favourite and this dough is just that. Just dump in the ingredients into a stand mixer and let the machine do the work for you.
I love the feel of this dough. It's smooth and so easy to roll out. After it has doubled in size, roll the dough out into a large rectangle. Sprinkle the cheese, jalapeno and garlic powder all over the dough and then cut the rectangle in half. You can find my favourite garlic powder here…or at Costco.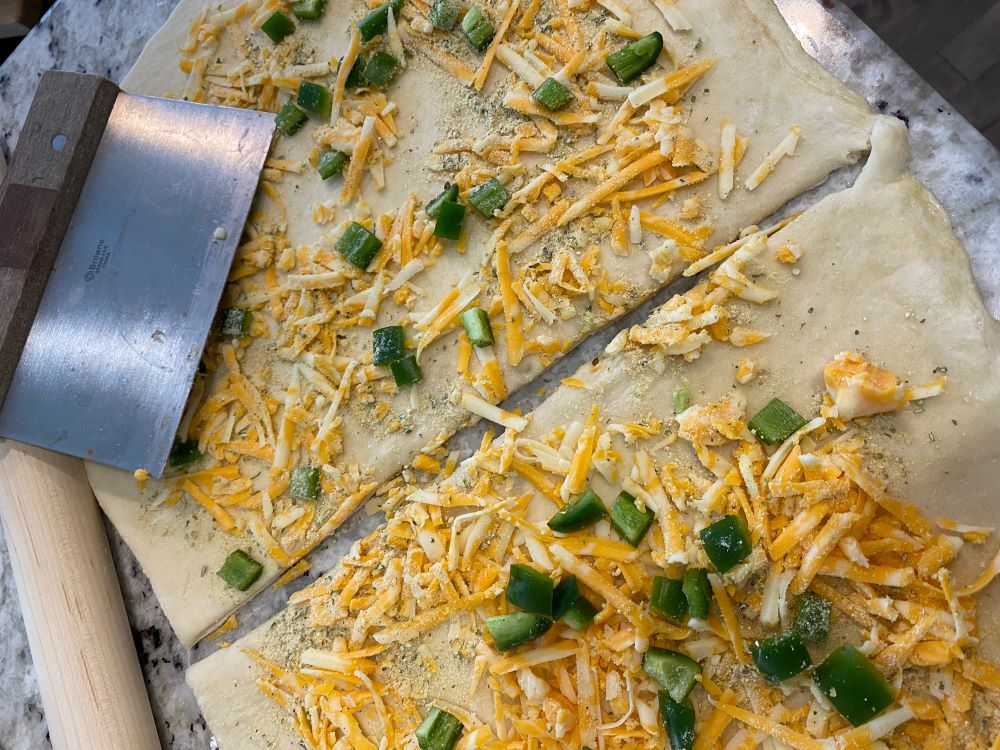 Take each rectangle and roll it up starting from the long side. Place the entire rolled log into a greased loaf pan.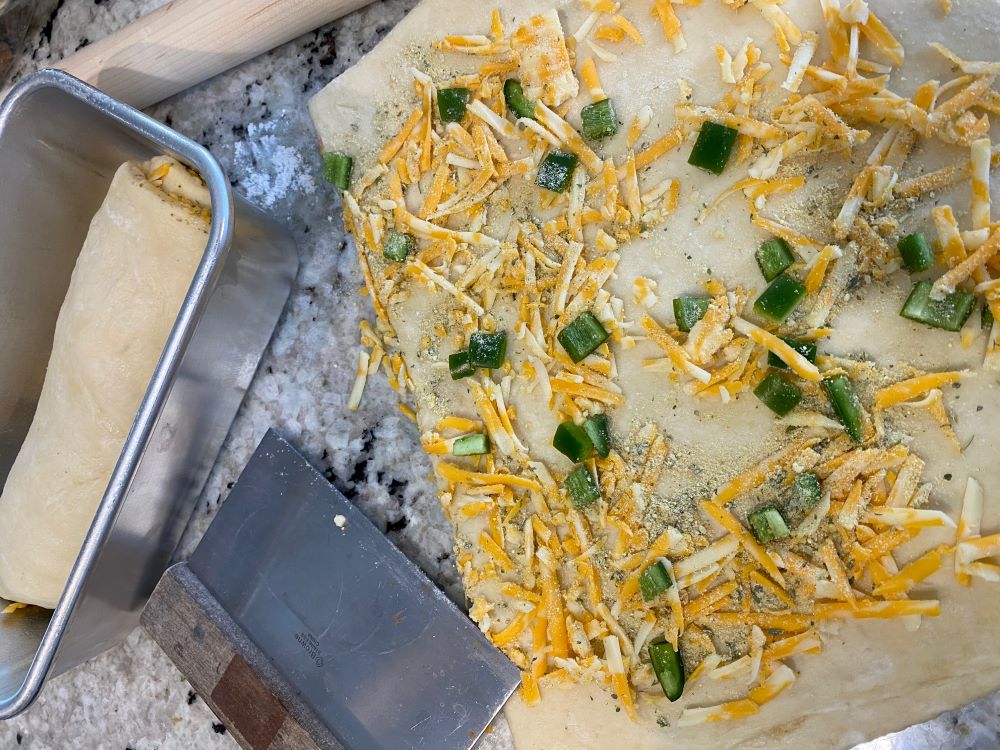 When I was playing around with this recipe, I had made one batch with the Everything Bagel Seasoning on top. I really love this seasoning and add it to everything! I didn't think it worked well with the bread though and everyone in my household agreed that it was better without it.
Let the loaves rise for another hour and just before you put it into the oven, take a knife and make a cut down the centre of the loaf. I love how this opens up the bread and you can see the layers when it bakes.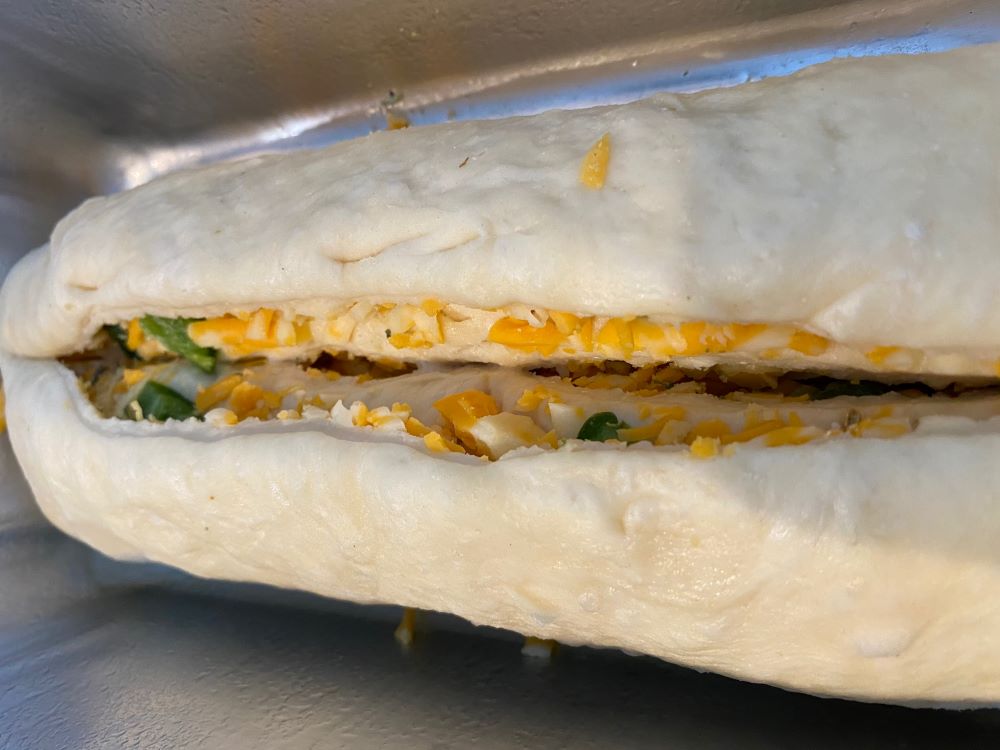 While I have written quantities for the cheese and the jalapeno, I think those things don't really need measurements. Just use however much or little you like.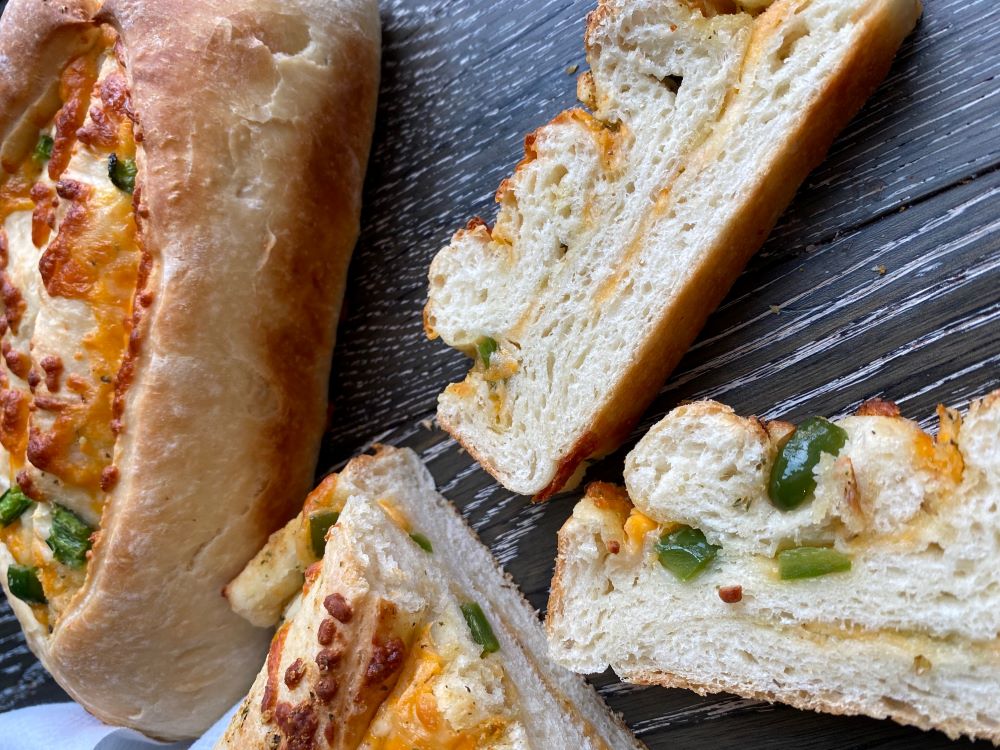 Yields 2 loaves
Garlic, Cheddar and Jalapeno Loaf
Ingredients
3 cups flour
1 TB sugar
1 1/4 tsp salt
2 tsp instant yeast
1 egg
1/2 cup warm water
1/2 cup warm milk
3 TB oil
2 cups cheddar cheese
1 - 2 jalapeno(s), chopped
2 TB garlic powder
Instructions
In a stand mixer, dump in the flour, sugar, salt, yeast, egg, water, milk and oil and knead the dough using the dough hook.
Let the machine go until the dough comes together and comes into a ball on the hook. The dough will be soft, sticky and smooth.
Place the dough in a greased bowl, cover and let rise for 2 hours, or until the dough has doubled.
Roll out the dough into a rectangle and cover with cheese, jalapenos and garlic powder.
Cut the rectangle in half and starting from the long side, roll each half up, so you have two rolled logs.
Place each log into a greased loaf pan. Cover and let rise for 1 hour.
After an hour, take a knife and cut a slit right down the middle of the loaf.
Bake at 350 degrees for 40-45 minutes.
7.8.1.2
156
https://foodmamma.com/2021/01/garlic-cheddar-and-jalapeno-loaf/
Pin Me!