This easy weeknight meal combines creamy chicken and mushrooms. Perfect with veggies or pasta.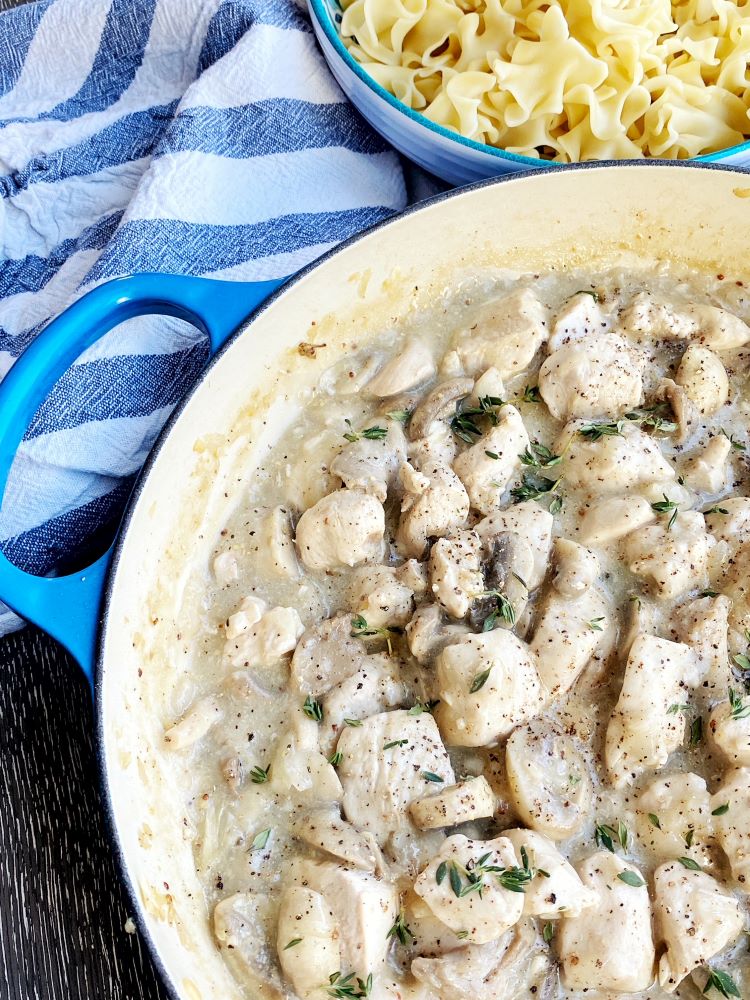 With school back in session, and us getting back to a routine, meals need to be easy and filling and delicious. From running to different activities after school, time is super precious so meals that are ready in under 30 minutes are very welcome.
This creamy chicken and mushrooms dish fits the bill! It doesn't have a lot of ingredients and it's not fancy or complicated. It's great on it's own but you can pair it with noodles or veggies. It's made in one pan – this is the one I use for everything (affiliate link)!
Mushrooms are a staple in our house. Its a veggie that everyone eats whole heartedly and I love the meatiness it brings to any dish. It definitely stretches the dish out. The beauty of this dish is that you can use any kind of mushroom. Sometimes we use button mushrooms, other times portobella. This time we used regular mushrooms and oyster mushrooms. Just use what you love and what's available.
The best part of this dish is that even though it's creamy, no cream is needed. Just your favourite milk will do which is later thickened with corn starch. I just used 2% but use whichever you prefer. You can also skip the wine and just substitute it with more broth.
Here's to getting back to routine!
Creamy Chicken and Mushrooms
Ingredients
4 chicken breasts, cubed
1 medium onion, chopped
2 tsp minced garlic
1 lb mushrooms, cut into pieces
1/2 cup chicken broth
1/3 cup milk
1/2 cup wine
a few sprigs of thyme
1 tsp dijon mustard
3 tsp cornstarch
salt
pepper
Instructions
In a skillet or braiser, heat up some oil.
Once heated, add the onions and garlic and give it a stir.
Add in the chicken and mushrooms and let it cook.
Use the wine to deglaze the pan and add the chicken broth, milk, dijon and thyme.
Remove some of the liquid from the pan and add it to a bowl; add in the cornstarch and mix well.
Add the cornstarch mixture to the chicken and let it thicken.
Season with salt and pepper and garnish with thyme.
7.8.1.2
180
https://foodmamma.com/2021/09/creamy-chicken-and-mushrooms/