Just in time for the holidays, learn more about the delicious and nutritious egg and a recipe for the cutest meringue trees.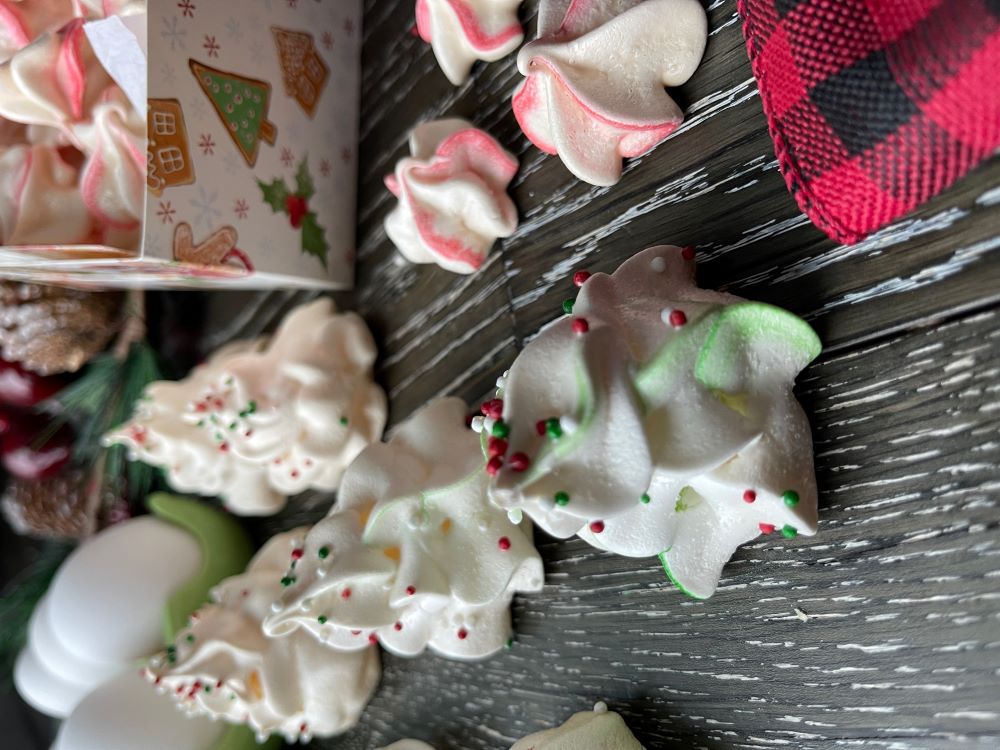 Disclaimer – Egg Farmers of Alberta have sponsored this post but all thoughts and opinions are my own.
Just in time for the holiday season, here's a collection of a dozen interesting facts about eggs, one for each of the Twelve Days of Christmas.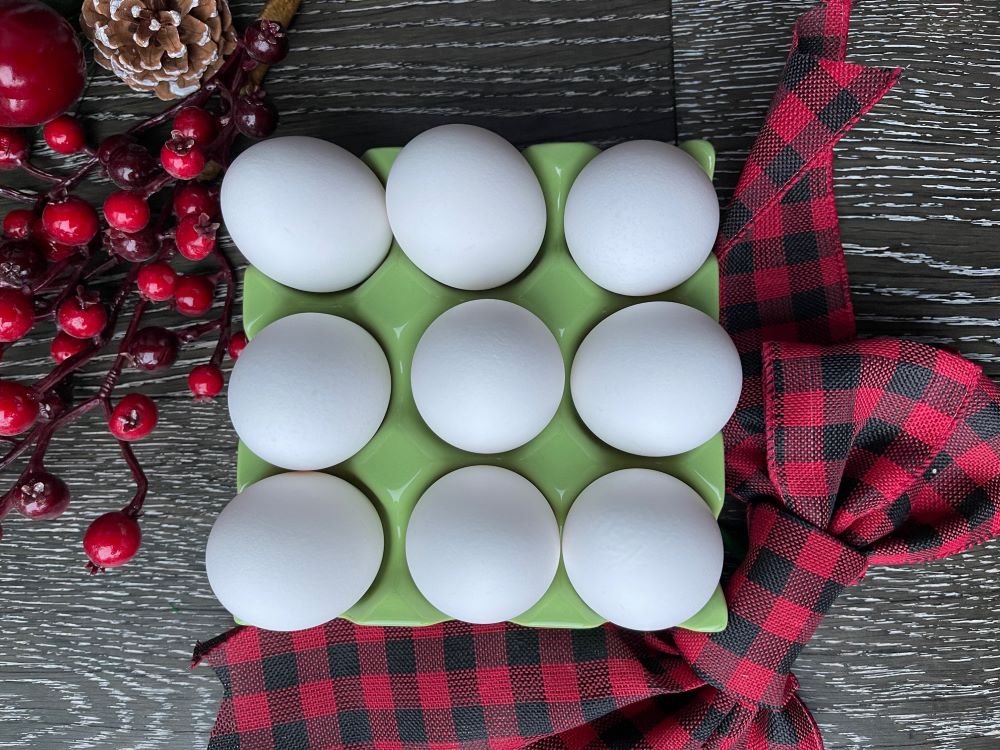 1
Eggs contain all nine essential amino acids and are full of so many vitamins and minerals which include iron, vitamins A, B12, D, E, folate, selenium, lutein and choline. From building tissues, repairing muscles, maintaining healthy skin and eyes, eggs are like superheroes.
2
The colour of the yolk does not affect the flavour, quality or how nutrient an egg is. The colour of the yolk is dependent on what the hens eat. Lighter yolks mean the feed was more wheatbased whereas corn-based feeds tend to produce darker yellow yolks.
3
There is no difference between white and brown eggs. The colours are dependent on the colour of the hens that laid them! Brown and white eggs are nutritionally the same and it's a myth that brown eggs are better.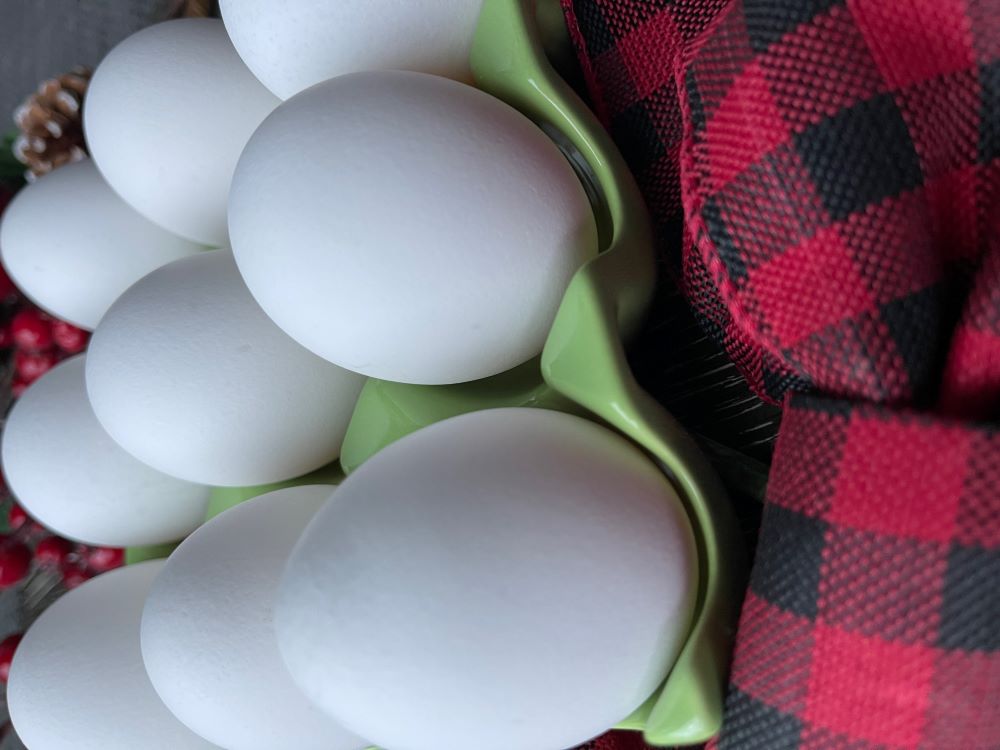 4
Hens that are fed 10-20% more flaxseed produce eggs containing higher levels of omega-3 fatty acids creating omega-3 eggs. A single Omega-3 egg contains approximately 1/4 – 1/3 of the recommended daily intake of omega-3 fatty acid.
5
All eggs sold at grocery stores in Canada are free of added hormones, steroids and antibiotics and are produced to the same world-class Canadian standards for food safety and quality. All Canadian eggs are fresh, nutritious and delicious!
6
Grade-A eggs have a clean and uncracked shell, a round and centered yolk, a firm white, and a small air cell. These eggs are sold at retail for all Canadians to enjoy. Look for the Canada Grade A symbol on the packaging of eggs you buy, to ensure top quality! The EQA symbol proves the eggs are of the highest quality. All registered egg farms in Alberta are EQA certified!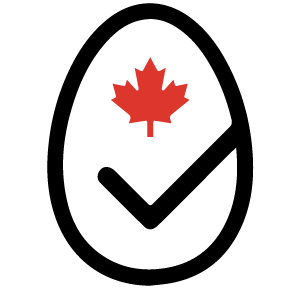 7
Alberta egg farmers raise over 2.8 million hens that each lay about 300 eggs per year. That's over 77 million dozen eggs annually.
8
There have been decades of research that have confirmed dietary cholesterol in eggs has very little effect on your blood cholesterol levels. Healthy adults can enjoy an egg every day without increasing their risk of heart disease. Eggs are an affordable food choice and part of a healthy diet.
9
If you drop an egg into water, a fresh egg will sink, while an older egg will float. As an egg ages, the air cell inside increases, which causes it to float. Most eggs are still fresh for 2 weeks beyond the best before date on the carton. If the egg is not as fresh, use it for baking purposes.
10
Free-run eggs are laid by hens that roam freely within an enclosed barn, while free-range eggs are laid by hens in a free-run housing system that also provides hens with access to outdoor runs, when weather permits.
11
All eggs are washed, inspected (graded), sized and packaged at grading stations, which are registered with the Canadian Food Inspection Agency and licensed by Egg Farmers of Alberta. Part of the inspection includes having the eggs go through a candling process to ensure the eggs are of the highest quality.
12
Feeding your baby the whole egg when they are 6 months old could help prevent an egg allergy.
Peppermint Meringue Trees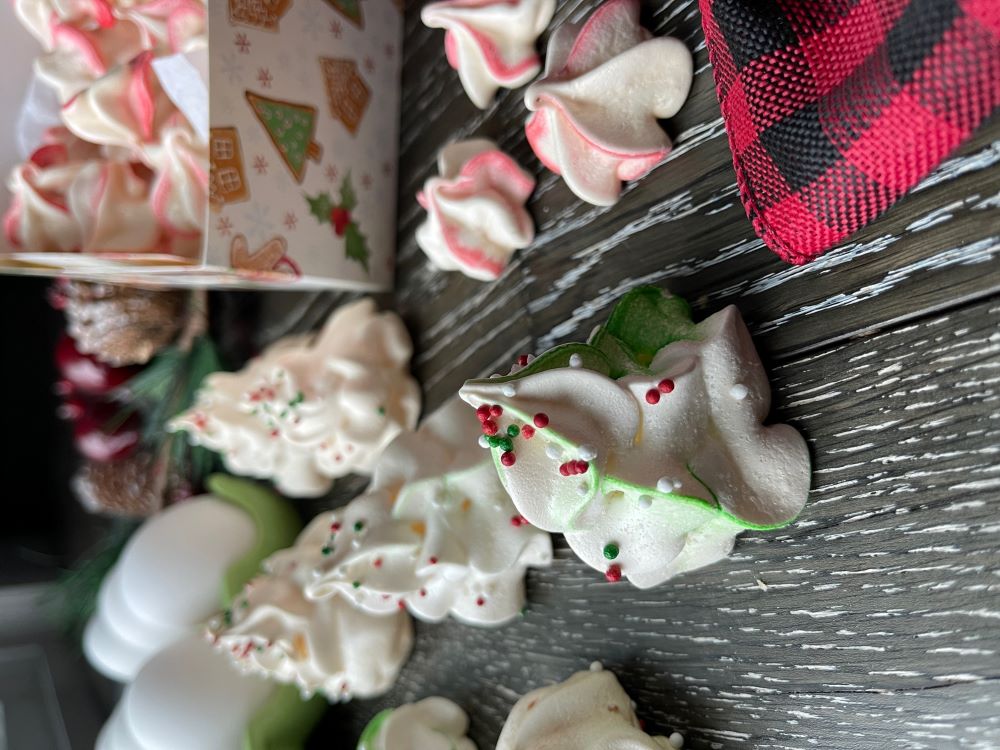 While eggs make a delicious and satisfying meal any time, they are great in baking and desserts. The whites are key to making these peppermint meringue trees! Egg whites are beaten with cream of tartar (a stabilizer) and sugar until they are stiff and glossy. It's stunning to watch them transform!

Peppermint Meringue Trees
Ingredients
4 egg whites
1 cup sugar
¼ tsp cream of tartar
pinch of salt
¼ tsp peppermint syrup
Instructions
Preheat the oven to 200 degrees.
Using room temperature eggs, separate the whites from the yolks and place the whites in a
mixing bowl.
Add cream of tartar and salt to the whites and start beating, starting on low speed and slowly
increasing to high.
Once the whites become frothy, add the sugar slowly. If you're like me, and are impatient, it's
best to add the sugar one teaspoon at a time.
After the sugar has been added, add the peppermint syrup or extract and keep beating until the
eggs for stiff peaks. The egg whites will be smooth and shiny and the tip will stand without
falling or drooping.
Add the meringue to a piping bag and pipe onto a parchment-lined baking sheet. Using a large
tip, pipe one large bottom, a smaller middle, and an even smaller top.
Add sprinkles and bake for one hour.
After an hour, turn off the oven and leave the meringues for two hours.
Store in an airtight container.
7.8.1.2
212
https://foodmamma.com/2022/12/meringue-trees/
Tips
If you're not feeling very minty, the peppermint extract can be replaced with vanilla.
Use the meringue as glue to stick the parchment to the baking sheet. A small dollop on each corner will hold the parchment in place.
Once the meringue is ready, work fast to get it on the baking sheet and into the oven. This will prevent the meringue from drooping.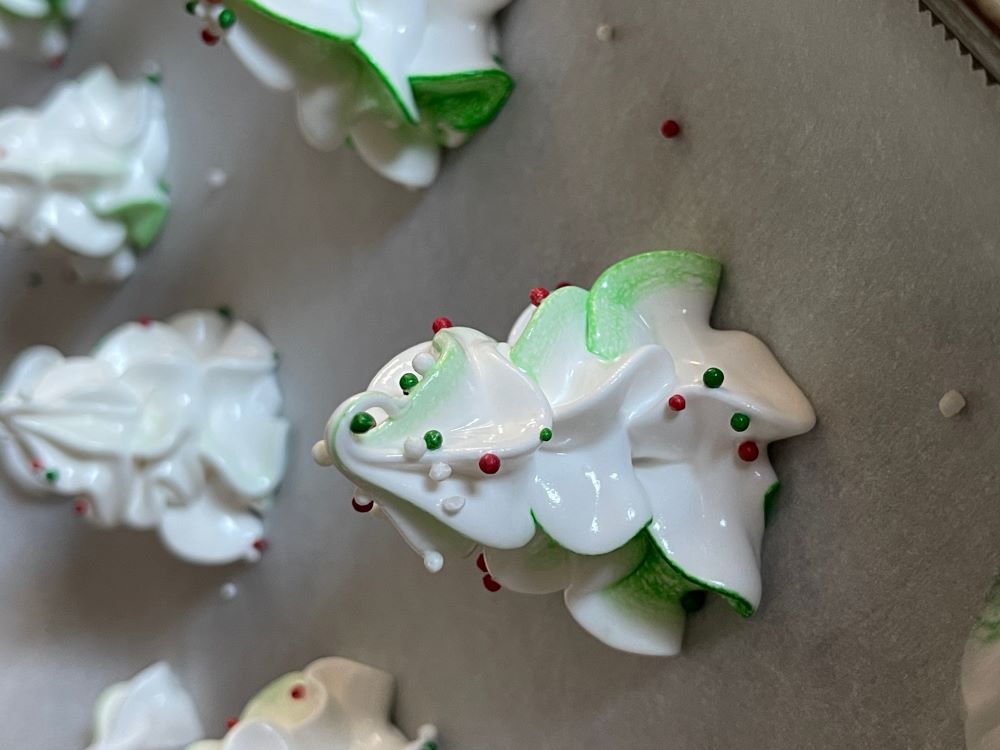 Paint the inside of the tip with two or three lines of gel food colouring for a subtle addition of colour. If you want the whole meringue to be one colour, add a small amount of food colouring when it reaches the stiff peak stage.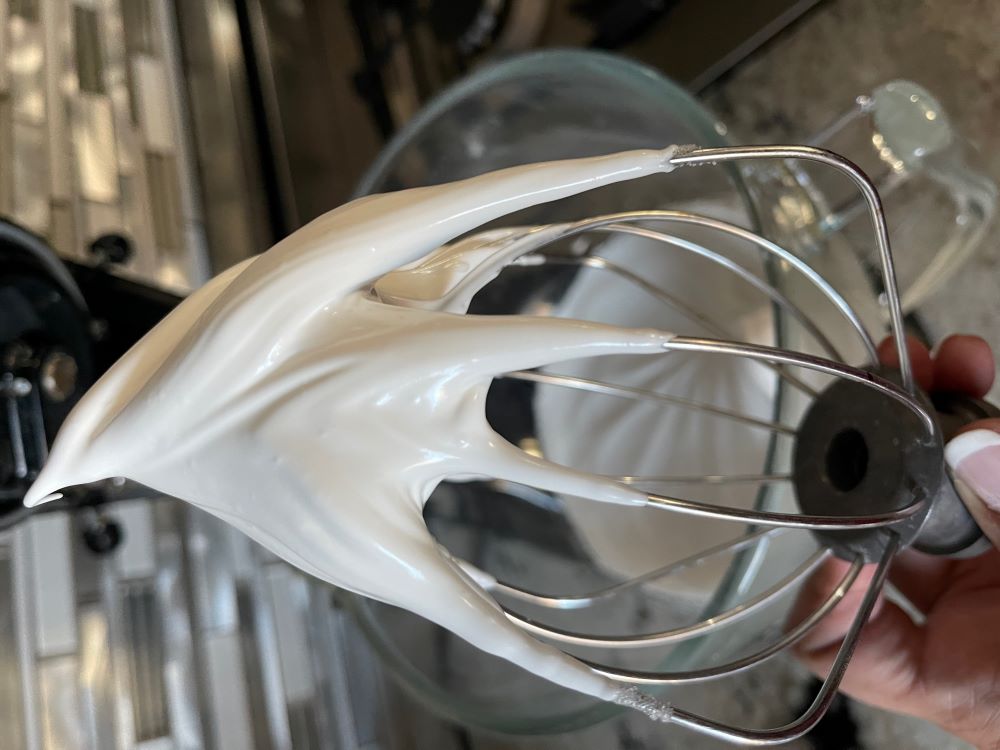 Pipe little kisses instead of trees for a quick homemade gift.
Stay nourished and full this holiday season with pesto egg tarts or egg and cheese waffles.