As much as I enjoy chocolate, I can't eat plain old chocolate ice cream. I need add-ins, like roasted nuts or coffee or chocolate chips. The combination of this chocolate ice cream with nutella (yum!) and roasted almonds is divine. This is an easy recipe, perfect for those nervous about making ice cream with eggs, like me. I am determined to try that one of these days, but for now, the simplicity of this creamy concoction will do just fine. This is the perfect dessert to end a meal, even my parents agree.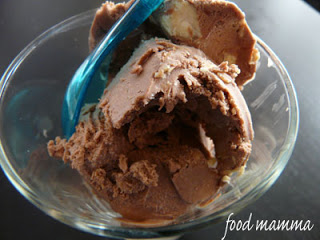 Nutella Ice Cream with Almonds
3 cups whipping cream
1 300 mL can sweetened condensed milk
4 TB cocoa
4 TB nutella
1 cup roasted almonds, coarsely chopped
Whip together the first four ingredients until everything is well incorporated. Place in the chilled canister and follow the directions of your ice cream machine. 5 minutes before your ice cream is ready, add in the roasted almonds. Chill for a couple of hours and enjoy every heavenly bite.